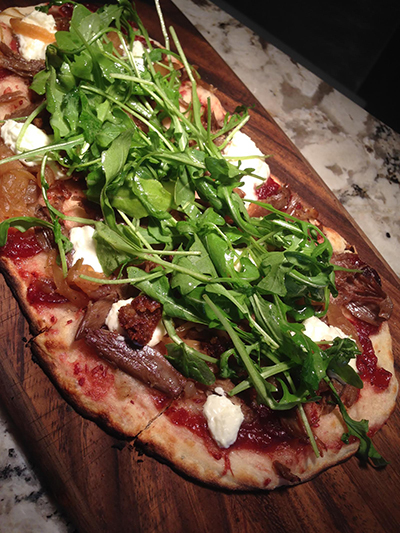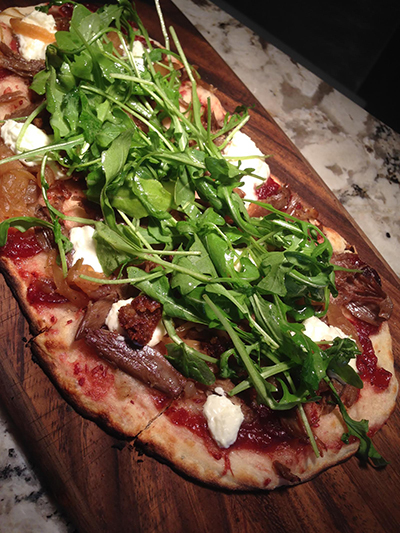 Monday, January 6th marked the beginning of National Pizza Week and diners all over the country will be chowing down in celebration. Of all the food-focused holidays, this is definitely an American favorite. This year, forgo traditional toppings and classic combinations in favor of something unique and unexpected. This "food-oliday" is the perfect excuse to take your taste buds for a ride with these mouth-watering pizza pies:
WK Hearth (Washington DC) – Part of the Wine Kitchen family of restaurants, WK Hearth is located just outside of downtown DC in Purcellville, VA. Chef Justin Garrison's signature pizza features a layered combination of salty and sweet. The WK Flat Bread consists of a House Made Pancetta, Charred Cantaloupe and Red Onion. It's finished with George's Mill Chevre – a handmade artisanal cheese from a family-run farm in nearby Lovettsville, VA.
Pairing Pick: For a dish like this go for a fruity Pinot Noir (like a 2008 David Noyes from Sonoma, CA) or Beaujolais.
Roots Pizza (Chicago, IL) – Chicago may be known for its famous deep dish pizza but Roots proves that this Midwest city offers much more. The team at this Windy City eatery teamed up with local celebrity chef Charlie McKenna of Lillie's Q to create their BBQ Pulled Pork Pizza. This oversized pie boasts Lillie Q's award-winning Pulled Pork, which is smoked over perch wood for eight hours, their Hot Smoky BBQ Sauce and Quad Cities Mozzarella Cheese Blend. It's topped off with Lillie's Q Carolina Dirt BBQ Rub and coleslaw.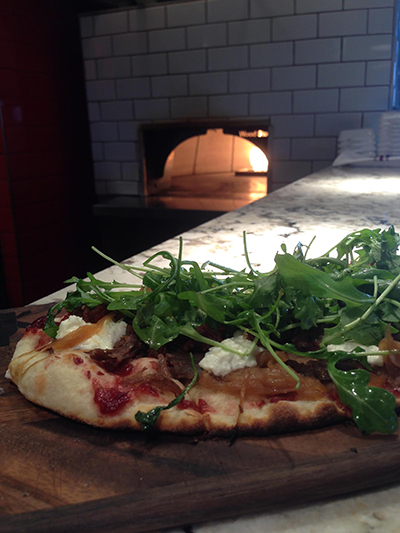 Pairing Picks: This type of pie pairs well with a medium-to-full bodied red wine. Try a Merlot, Chianti or Cabernet Sauvignon. Prefer beer? Go for a porter, which typically pairs well with barbeque and smoky foods.
Due Forni (Austin, TX) – Named for the two types of ovens in which every dish is cooked, Due Forni proves they can do more than just create the perfect pizza crust. Their Wild Boar pizza is topped with Wild Boar Salami, Bufala Casatica and Frisee. As with all of their Neapolitan pizzas this pie is cooked in a 900 degree oven for no more than 90 seconds. The result is a partly chewy, partly crispy crust that allows the unconventional combination of ingredients take center stage.
Pairing Pick: Soft cheeses like Bufala Casatica on this pizza go great with a lighter Pinot Noir. Depending on your palette a full-flavored Zinfandel might be a good way to go.