Bai Brands, makers of Bai 5, a line of all-natural, five-calorie, antioxidant-infused beverages, and Dr Pepper Snapple Group today announced a major distribution agreement.

Dr Pepper Snapple Group, a leading producer of flavored beverages in the Americas and an innovator in the non-carbonated beverages sector, has extensive direct to store and warehouse delivery capabilities. Bai Brands and DPS have been working together over the last two years in select markets across the country, and the two companies will now partner in most major markets.
"Every day we get phone calls and letters from consumers in cities where Bai is not yet on the shelf, asking for the product," said Ben Weiss, Founder and CEO Bai Brands. "Our relationship with Dr Pepper Snapple Group will allow us to rapidly roll-out Bai to new markets and into the hands of those consumers."
"We have tested the Bai brand in select markets with great success over the last several quarters," said Jeff Conrad, Vice President of Market Development for DPS. "There is no question that Bai fits exceedingly well with our portfolio of leading brands, and we expect this new choice to be very well received by consumers from coast to coast."
Recent new marquee retailers which will be serviced by Bai and Dr Pepper Snapple Group include market-leaders such as Jewel-Osco, Stop & Shop, Duane Reade and Safeway, plus more than 100 additional Costco stores throughout the country.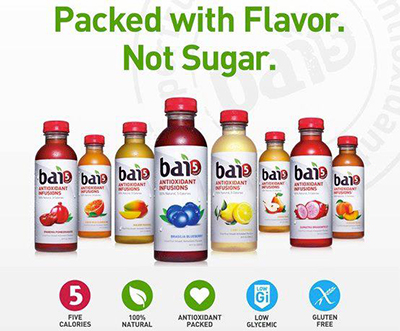 "Over many years, DPS has expertly assembled what we feel is the most competitive route to market for beverages in this country," said Ken Kurtz, President of Bai Brands. "The great taste, all natural ingredients and use of the coffeefruit as a source of antioxidants are driving strong consumer demand for Bai, and so we are very pleased to work with DPS to complete our national distribution footprint."
About Bai Brands, LLC.
Bai Brands, LLC, makers of Bai 5-Calorie antioxidant infusions, is a Princeton-based company founded in August, 2009 by entrepreneur and coffee industry pioneer Ben Weiss. Bai 5-Calorie antioxidant infusions are only five calories, infused with coffeefruit and flavored with exotic fruit juices. They are naturally sweetened, gluten free, Kosher, vegan, soy-, BPA- and GMO-free. For more information about the line of eight Bai 5 antioxidant infusions and the brand named by Beverage World among the "Breakout Brands of 2012", visit drinkbai.com.
About Dr Pepper Snapple Group
Dr Pepper Snapple Group is a leading producer of flavored beverages in North America and the Caribbean. Our success is fueled by more than 50 brands that are synonymous with refreshment, fun and flavor. We have six of the top 10 non-cola soft drinks, and 13 of our 14 leading brands are No. 1 or No. 2 in their flavor categories. In addition to our flagship Dr Pepper and Snapple brands, our portfolio includes 7UP, A&W, Canada Dry, Clamato, Crush, Hawaiian Punch, Mott's, Mr & Mrs T mixers, Peñafiel, Rose's, Schweppes, Squirt and Sunkist soda. To learn more about our iconic brands and Plano, Texas-based company, please visit DrPepperSnapple.com. For our latest news and updates, follow us at Facebook or Twitter.