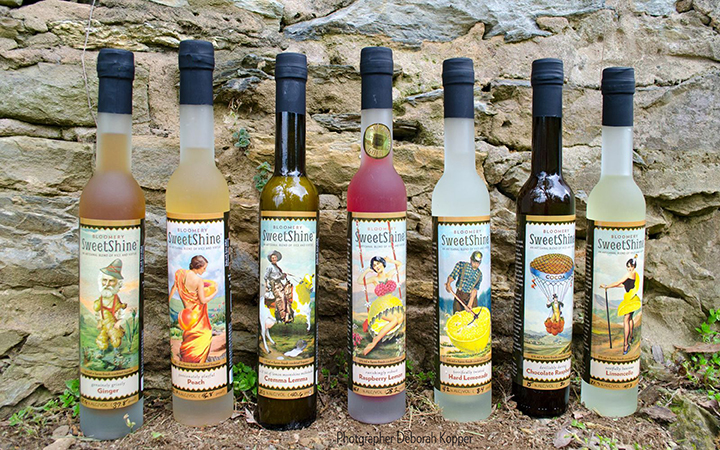 5 'culinary cocktail' recipes that'll make you a home bar rock star this season
By Merilee Kern, 'The Luxe List' Executive Editor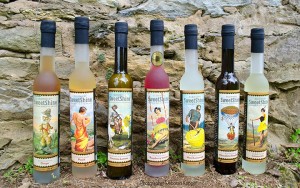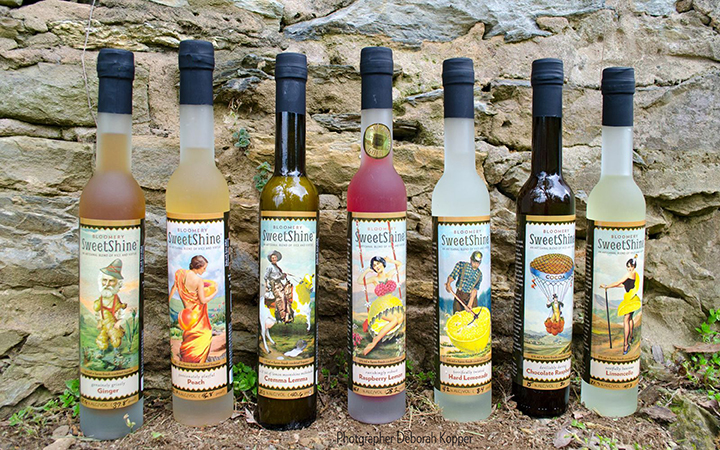 Mix up your spirit selections and take your summer soirées to an unforgettable new level this season with libations that eradicate expectations: easy mix-and-go artisanal craft cocktails featuring Bloomery SweetShine's award-winning line of all-natural, hand-crafted liqueurs that make premium spirits sing. No need to hit the bar for a stellar craft cocktail, as these killer farm-fresh concoctions are a snap to make at home!
Sustainably crafted with 100% natural hand-selected ingredients for a supreme garden-to-glass experience, Bloomery's unparalleled assortment of SweetShine artisanal liqueurs are full of farm fresh fruit, roots and nuts paired with homespun syrups and corn likker—that's it…there are no preservatives, concentrates or artificial ingredients whatsoever.
Mastering mixology and becoming a "home bar rock star" is super-simple with SweetShine's array of distinctive flavors that include "Moonshine Milkshake" Cremma Lemma, Black Walnut, Limoncello, Raspberry Lemon, Ginger Shine, Peach Shine, Chocolate Raspberry, Hard Lemonade and Seasonal Cranberry Clementine and Pumpkin Spice. All are ideal for pairing with the premium spirit of your choice, whether it's vodka, bourbon, gin or champagne—just blend, chill and enjoy! Just a touch of SweetShine quickly creates a classic cocktail with a twist that'll let you bid boring and unadventurous drinking adieu! SweetShine is also incredibly tasty as a beer topper or mixed into your coffee beverage.
"There is a growing resurgence with consumers who want to create craft beverages from high quality, fresh ingredients, but don't want to be burdened with a drink that's too complex to make," notes Linda Losey, founder of Bloomery Plantation Distillery. "Our fans trust our brand in that arena, and are comfortable and confident that when they grab a bottle of SweetShine, they can add it to any of their current cocktails and they'll create a fresher, higher quality, premium cocktail that was a breeze to make."
The freshness of Bloomery SweetShine's ingredients cannot be understated, with all agricultural ingredients grown at the distillery's own farm, local neighboring farms or other small American farms. Each item in the brand's portfolio proffers an exciting and unrivalled flavor profile.
Home Mixology Made Easy
Here are 5 three-step artisanal craft cocktail recipes that'll make your taste buds sing this season:
Ruby Red Slipper: Equal parts Raspberry Lemon SweetShine, Vodka, fresh Ruby Red Grapefruit
Oh my Darlin': Equal parts Cranberry Clementine SweetShine and Gin with a heavy splash of Tonic
Cremmarita: 1 1//4 parts Cremma Lemma SweetShine, 1 part Tequila, ½ part Fresh Lime
Southern Hospitality: 1 part Peach SweetShine, 1 part Bourbon, 2 parts Tea
SweetShine Mule: 1 part Ginger SweetShine, 1 part Vodka, 1 part Fresh Lime
Bloomery SweetShine, a leader in the locally sustainable craft distillery trade, is helping drive the emerging craft beverage category and "culinary cocktail" trend that's now sweeping the globe. With more than twenty-one international awards and too many cocktail aficionado accolades to count, the company is doing its part to take the restaurant, bar and hospitality industries to tasty new heights.
"When Bloomery Plantation Distillery opened its doors in September of 2011, we were the 424th craft distiller federally licensed in the U.S.—today those numbers have exploded," adds Losey. "The critical intersection of local sourcing combined with the handcrafting of approachable spirits like liqueurs is resonating in the marketplace. Consumers like a little bit of the unusual and appreciate our whimsical approach, but quality and taste are paramount—this is why we grow our own Italian lemons and Hawaiian ginger as well as grow and harvest our own black walnuts and pumpkins to craft distinctive, memorable and crave-worthy flavors."
And crave-worthy they are! While entirely versatile with veritable limitless recipe possibilities, here's an at-a-glance glimpse of SweetShine best serving practices:
Limoncello: Traditionally this is best served from the freezer into a chilled glass and we don't argue with this tradition. However this will surprise you as a beer topper too. Spike a nice hefeweisen with a touch for a special treat.
Cremma Lemma: Also great from the freezer into a chilled glass or over ice. This is our "moonshine milkshake." Remember to shake it up before serving. This is made with real milk and can often form a limoncello collar. This collar is the prize in the Cracker Jack box, better than any tequila worm. This tiny bit of lemon cheesecake has a bit of a kick and is certain to put a smile on your face. Try our "moonshine milkshake" in a little bit of bourbon and ooooh, so smooth.
Raspberry Lemon: Best served from the fridge or cooler. Mixes with EVERYTHING! Mixologists love it, bakers and chefs love it. Bottles are also designed to be used with a straw. Try it one to one with vodka and fresh ruby red grapefruit juice. An oh my, martini.
Hard Lemonade: An American favorite. "Moonshine-based" easy sipping. Low alcohol content. Just a great lemonade. Made from fresh hand-squeezed lemons with just enough spike, it's a special hard lemonade designed for hot days or hot dates. Serve from the fridge or the cooler. Depending on the etiquette of your event, you may choose to drink from the bottle or through a fancy straw. Best purchased in quantity. Refrigerate after opening.
Chocolate Raspberry: Chilled is best, never frozen. Please shake before serving and don't bake it in your car! Again all trades love it. Even coffee baristas! A shot in your coffee and it'll change your morning routine.
Peach: This is phenomenal served over ice. Try this with something bubbly too, champagne, prosecco, tonic. Whiskeys call our peach girl a great friend with benefits.
Ginger: Don't let the old guy on the label fool you, this is a new taste in a bottle. Never before has anyone captured ginger snap flavor and capped it. We like this best at room temperature. Try this mixed with ANY brown spirit, rye, scotch, cognac etc. also great with gin. Like the Limoncello, this is a WOW as a beer topper too. Try a bit with your favorite IPA or Pale Ale for a smoothing result.
Black Walnut: Like our Limoncello this is a traditional Italian digestivo, a straight from the bottle sipper after dinner finishing very smoothly. Unlike limoncello this is not as sweet and offers many spice flavors in the finish. The dark color is from all natural unripe or green black walnuts and a mix of spices creating a unique flavor for you to savor!
Seasonal Pumpkin Spice: Miss Seasonality with tons of personality. Crafted after Eric's grandma's pumpkin pie recipe. And, oh boy, did he nail it! The delight of pumpkin and spice in a delectable, chop-licking liqueur.
Moonshine Makeover
Since opening as a mini-distillery in the agri-tourism industry in September of 2011, Bloomery Plantation Distillery has been capitalizing on the craving for locally sustainable craft distilleries, the nostalgia for the prohibition-era and the explosion of fruit flavored liqueurs through its hand-crafted, award-winning SweetShine line. With a sweet spin on moonshine, the company makes moonshine drinkable through its award-winning liqueurs that are hand-crafted from farm-fresh fruits, roots and nuts. As evidence that its approach is resonating in the marketplace, to date, Bloomery SweetShine is currently distributed to retailers, bars and restaurants in 42 states, and continues to expand distribution nationally. More than 60,000 premium drink devotees have visited the West Virginia-based distillery. Situated on a 12-acre parcel of land, the distillery grows farm-fresh ingredients used in the elixirs, including ginger, raspberries and lemons, among others.
Putting their unique spin on the process of making moonshine, Bloomery's all natural SweetShine is crafted using time-honored recipes with 190 proof 'shine, pure cane sugar and garden-grown ingredients. The entire process is hand-crafted—from the hand-zesting of every lemon, to the hand-chopping of the ginger, to the hand picking of raspberries, to the hand-making of its syrups, to the handwriting that goes on every bottle of every label. Each batch is individually proofed; the finished liqueurs range from 40° to 70°. Truly handcrafted.
And it shows. Just a touch of SweetShine quickly creates a classic cocktail with a twist. Goodbye to boring unadventurous drinking!
"The Luxe List" Executive Editor Merilee Kern scours the luxury marketplace for exemplary travel experiences, extraordinary events, and notable products and services. Submissions are accepted at www.TheLuxeList.com. Follow her on Twitter here: www.Twitter.com/LuxeListEditor and Facebook here: www.Facebook.com/TheLuxeList.
Some or all of the accommodations(s), experience(s), item(s) and/or service(s) detailed above were provided and/or sponsored to accommodate this review, but all opinions expressed are entirely those of Merilee Kern and have not been influenced in any way.