Bargetto Winery to Release 2012 LA VITA June 5, 2016

The Bargetto Family has a winemaking tradition in the Santa Cruz Mountains that dates back to the 1890. The Bargetto Family's first commercial winey, South Montebello Vineyard and Wine Company, was founded in San Francisco in 1910. Bargetto Winery in Soquel was founded in 1933, thus, this year Bargetto Winery celebrates 82 years of winemaking in Soquel and remains one of the most historical wineries in California.
On June 5, the new 2012 LA VITA will be released. LA VITS is a blend of Santa Cruz Mountains varietals grown in the Regan Estate Vineyards, The release party will take place in the winery's creek-side courtyard, and will showcase the new LA VITS wine in the courtyard with quaint views of Soquel Creek.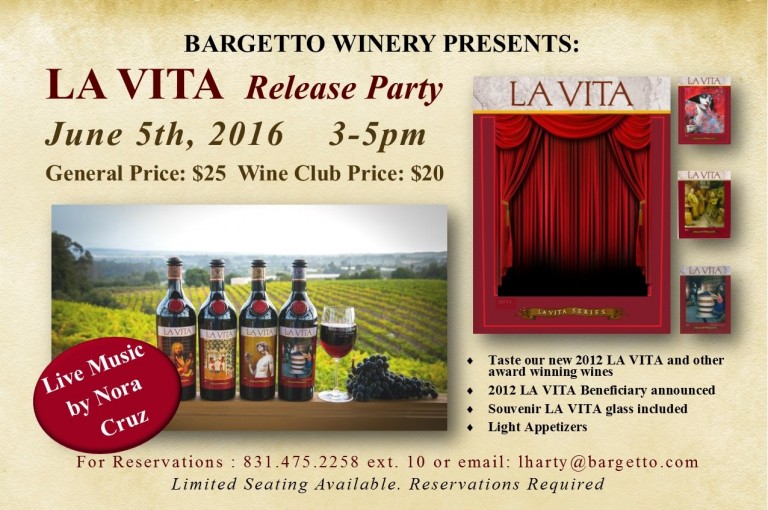 This fifteenth release of LA VITA ("life" in Italian) comes from the 2012 vintage. LA VITA is produced from a unique blend of 40% Refosco, 30% Nebbiolo and 21% Dolcetto. This hand-crafted wine was aged for two and one half years in oak barrels and when aged from an additional one year in the bottle prior to release. The 2012 harvest yielded just 3,696 bottles. With 50% of the vintage pre-sold, a limited number of bottles remain for sale.
Each year LA VITA is released with a brand new wine label that showcases "wine in art." For thousands of years, wine has been an integral part of life in Western civilization; economically, religiously and perhaps most importantly, aesthetically. Part of the wonderful legacy of wine is that down through the ages, wine has proudly portrayed in art from the Egyptians to the present day.
The 2012 vintage LA VITA honors "The Grape Harvest" (Vellum) Tacuinum Santitatis, Arabic School, 13th century. It is a unique piece of artwork from Persia at a time when wine was forbidden.
Each year, a portion of the proceeds from the sale of LA VITS goes to a non-profit organization. At the release party, the Panetta Institute for Public Policy (CSUMB) will be recognized as this year's LA VITA beneficiary. A non-profit study center, the Institute offers a variety of educational and outreach programs with the mission of inspiring men and women to lives of public service and preserving the health and future of our democracy. Tandy Beal Dance will receive their payment from the last year's LA VITS. (Previous beneficiaries were Camaldolese monks, Jacob's Heart, Siena House, Hospice, Santa Cruz County Search & Rescue, Good Shepherd School, St.Francis Soup Kitchen and Porter Memorial Library, CASA, YMCA.)
John Bargetto, director of the LA VITA wine says, "LA VITA wine is our finest effort in winemaking, starting from growing these unique grapes, to producing the wine, to designing the art-series label. Each year the wine gets richer and more complex. The wine series has won numerous gold medals, and the 2006 won "Best Italian Blend in California" award. We are very pleased to be able to, in a formal way, give back some of the proceeds to the Santa Cruz community, which has been so supportive to Bargetto Winey during our past 83 vintages."
The LA VITA release party is set for Sunday, June 5, 2016 from 3-5 p.m. at Bargetto Winery. The release party features the unveiling of the new LA VITA label, tasting of the new wine, live music and Nora Cruz and light appetizers. Tickets are limited to 80wine club members and 80 general public (cost $25). Tickets can be purchased online at www.bargetto.com or by calling Bargetto Winery at 831.475.2258 x 10. LA VITS retails for $60 per bottle.
Bargetto Winery, the oldest winery in the Santa Cruz Mountain, Produces ten SCM Regan estate wines: Pinot Grigio, Chardonnay (and Reserve), four Pinot Noirs, Merlot (and Reserve) and LAVITA.