The world's most Instagrammed fine-fun dining restaurant, from visionary Barton G. Weiss,
opens for dinner on February 15, with lunch and brunch the following week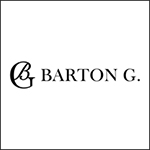 A visit to any Barton G. The Restaurant provides its guests all of the culinary adventure one can fathom, and then some. The new 12,000 sq. ft. Chicago space, opening on River North's vibrant Hubbard Street entertainment strip, is the third outpost of the luxurious, innovative and cutting-edge eatery. The fine-fun dining restaurant will open for dinner on February 15, lunch on February 18 and Brunch on February 23. Situated on the first two floors of the former Sullivan's Steakhouse (415 N Dearborn St.) in one of Chicago's hottest nightlife districts, Barton G. The Restaurant Chicago is among the most highly anticipated openings of 2019. Reservations can be made by visiting www.BartonG.com or OPENTABLE.
Created by renowned restaurateur and special event architect Barton G. Weiss, the venue treats guests to a multisensory experience in which they interact with fellow diners as collective gasps and Instagram moments are shared every time another over-the-top dish is launched from the kitchen.
For nearly 20 years, Barton G. The Restaurant has created an unparalleled and unique experience for all of the senses, pushing sensory and culinary boundaries by expanding the limits of what restaurant-goers previously deemed possible. Barton G. The Restaurant Chicago joins its sister locations in culinary hot spots Miami Beach and Los Angeles, where the restaurant was named one of "America's Top 100 Tables" by OpenTable.
Perhaps summed up best by this Zagat review of its flagship Miami Beach location: "If a restaurant was the circus it would resemble this outlandish South Beach fantasyland, where presentations of its New American dishes are over-the-top with signature trinkets and liquid-nitrogen mixology provides a smoky sideshow, with spot-on food and service and a beautiful garden atmosphere make this the perfect place to wow someone."
Weiss lives to "create shockingly delicious and awe-inspiring dining and event experiences. Everything else, to me, is just boring."
Guests will feast their eyes and delight their taste buds on signature, Instagram-worthy dishes including: the BBQ OF BONES with 12-hour beef ribs, lamb riblets, long-bone chicken wings, an elfin corn-wild mushroom skillet with minted yogurt, house BBQ and scallion chimichurri;KOBE MEATLOAF IN TERRACOTTA with house-made ketchup, whipped yukon golds and quick fire green beans; COCKTAIL BISQUE featuring sherry laced bisque with bronzino and fresh Maine lobster, kennebec potatoes, crisp baguette crouton and fine herbs; WHOLE GRILLED BRONZINI, Asian profiteroles with Thai coconut shrimp filling; ORANGE SALMON made of pan seared salmon loin, roots ratatouille and saffron paint; and SLOW COOKED SHORT RIBS, Angus beef short ribs slow cooked in red wine with mash potatoes, heirloom carrots and mixed mushrooms. Its extensive list of Trimmings & Frills features over-the-top sides including its BRUSSELS SPROUTS BRANCH, which appears to be plucked from the pages of a Dr. Seuss story.
Complementing the food, Barton G. The Restaurant Chicago boasts an expansive and equally imaginative cocktail program that features the Below Zero Nitro-Bar concocting favorites such as: the STAIRWAY TO HEAVEN with Ciroc Vanilla, RemyV, cashew milk, Frangelico and ginger beer; BUDDALICIOUS, comprising Grey Goose Le Poir, lychee, cranberry juice, vodka popsicle; MOONSHINE featuring Ocucaje Pisco, Grey Goose Peach Vodka, mezcal and Cointreau; and DIAMONDS ARE FOREVER with Grey Goose Citron, Cointreau, lemon, vodka popsicle.
CLICK HERE FOR PHOTOS AND MENUS
To ensure the dishes themselves are as delicious as the works-of-art on which they arrive (a process overseen by an on-site engineer), Barton works closely with his talented culinary team led by Starchefs Rising Star and Six Star Diamond Award winner, Corporate Chef and Culinary Director Jeff O'Neill, Corporate Executive Chef Miguel Angel Rebolledo and Chicago-based Executive Chef, Erwin Mallet. Chef Erwin brings his Michelin Star experience and his passion for charcuterie to Barton G. The Restaurant Chicago. Working closely with Weiss, Erwin is responsible for lighting the fire, managing the kitchen and conducting the Barton G. The Restaurant experience in Chicago, daily. While the food leans toward art, the quality of the food is just as important as its visual aesthetics. Weiss' culinary team focuses on organic, sustainable and local for the individual market whenever possible – providing guests not only with a show-stopping spectacle, but also a delectable meal they can feel good about eating.
As Barton G. The Restaurant is notorious for its food, over-the-top events and elaborate presentations, it is considered the most Instagrammed restaurant in the world. Barton G. The Restaurant is redefining the art of being social in a digital world, by creating a platform for guests to socialize with one another in physical proximity to friends, while sharing their experience across the vastness of the Internet through the visually stunning and over-the-top presentations of the restaurant's unique cocktails, appetizers, main courses and desserts.
Barton G. The Restaurant Chicago is open daily for lunch and dinner and brunch on Saturday and Sunday. A stunning second-level private dining room space will be available for larger parties, and guests can also bring a taste of Barton G. The Restaurant Chicago home via the restaurant's off-site catering division. Advance reservations required. For additional information on Barton G. The Restaurant Chicago, visit www.BartonG.com
ABOUT BARTON G. THE RESTAURANT CHICAGO
Located in the vibrant River North neighborhood, Barton G. The Restaurant Chicago is the third location from CEO and founder Barton G. Weiss, a culinary visionary, event planner extraordinaire and iconic restaurateur. Incorporating world-class ingredients and culinary techniques, every menu item created is set against a creative backdrop presented with visually stunning vehicles designed to be both fun and delicious. Serving a comfort-food menu of neo-classic American cuisine that is both dramatic and delicious, the Barton G. shock-and-awe presentation style is designed to stimulate minds as well as appetites. Dining at the restaurant is ideal for date nights, engagements, birthdays, celebrations and celebrities looking for what's new and next. Barton G. The Restaurant Chicago has private dining space and features a full bar and lounge. For more information visit www.bartong.com like us on Facebook and follow us on Instagram and Twitter
Barton G. Weiss exists in a league of his own. When you consider his accomplishments as an event-concept designer, restaurateur, culinary visionary, author and entertainer, finding true modern-day contemporaries to include in the same conversation is nearly impossible. Barton has led an unparalleled operational, culinary and event-production team based in Miami since 1993. During these 24 years, he has created some of the most groundbreaking and decadent gastronomic and event experiences the world has ever seen. His client list is a Who's Who of Fortune 500 companies, international corporations, high-profile professional sports teams and countless celebrity and high society clients. Weiss has appeared as a guest judge on Top Chef and has been featured on Giada De Laurentiis's hit show Behind the Bash. He has also been profiled, and quoted extensively, as an expert on party planning, events creation and his restaurant conceptions in numerous high-profile publications, including The New York Times, The Wall Street Journal, USA Today, Departures, Time, Forbes and The Robb Report. He has also appeared on ABC's Nightline, CNN and CNBC. Barton was an inaugural member of Town & Country magazine's Wedding Advisory Board.
For more information visit www.bartong.com or follow along on Facebook, Instagram and Twitter