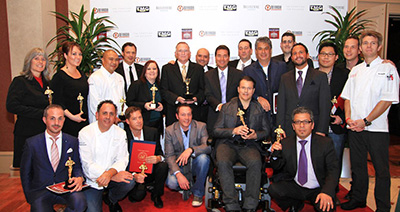 17 Winners along with honorees Kerry Simon, Sirio Maccioni, Emeril Lagasse & Alex Stokes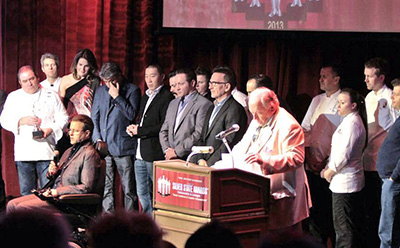 On Friday, Dec. 13 top restaurants, lounges and chefs were celebrated at the Best of Silver State Restaurants & Lounges Awards, an event created and produced by TMG Entertainment in partnership with the Nevada Restaurant Association Educational Foundation (NvRAEF). Proceeds from the night benefited NvRAEF's educational and scholarship programs, such as ProStart, a national high school culinary and restaurant management program that teaches students the skills and knowledge needed to enter the workforce or to continue to postsecondary after high school graduation.
Held at the Sands Showroom inside The Venetian, the ceremony commenced as Chef Kerry Simon was honored with The Visionary Award. Top chefs and restaurateurs gathered onstage to support their friend and colleague, who just last week shared that he is battling a severe form of Parkinson's disease. As the night continued, Sirio Maccioni was presented with the honorary Pioneer Award, Emeril Lagasse received the Leadership Award and Alex Stokes was recognized with the Industry Champion Award.
Hosts Nina Radetich, Dayna Roselli and Robin Leach led the awards ceremony and industry notables announced the winners in each category as determined by more than 13,000 votes cast by the public.
Best New Restaurant, Fine Dining Honey Salt
Best Restaurant, Fine Dining Cut
Best Neighborhood Restaurant Vintner Grill
Best Chef Julian Serrano
Best Bar/Tavern Commonwealth
Best Buffet Wynn
Best Interior Design, Restaurant Andrea's
Best Nightclub XS
Best Restaurateur Elizabeth Blau
Best New Restaurant, Casual Dining Five 50
Best Restaurant, Casual Dining Eat
Rising Star Chef Bank Atcharawan
Best Restaurant Wine/Spirits Selection Aureole
Best Happy Hour Blue Martini
Best Sunday Brunch Wynn Country Club
Best Interior Design, Bar/Nightclub Hakkasan
Best Service, Restaurant Picasso
ABOUT NEVADA RESTAURANT ASSOCIATION
Founded in 1982, the Nevada Restaurant Association is the leading business association serving the needs of food service operators in Nevada. As an affiliate of the National Restaurant Association, and together with the NvRA Educational Foundation, the Association's mission is to promote, protect and educate the restaurant industry, which is comprised of more than 5,000 restaurant and foodservice outlets employing more than 150,000 people.
ABOUT TMG ENTERTAINMENT
Founded in 1991, TMG Entertainment is headquartered in Las Vegas with offices in Miami, Beverly Hills, Houston and Phoenix. Throughout the last two decades, the name TMG has become synonymous with the creation and development of unique and high-profile signature projects. TMG's internationally acclaimed projects have earned their reputation as some of the world's most well-known and respected events.
TMG has produced a wide range of projects from world-class fashion shows to entertainment events and nonprofit projects in Las Vegas, Hollywood, South Beach, Houston, Phoenix, Cannes, Monte Carlo, Venice and many more renowned destinations.