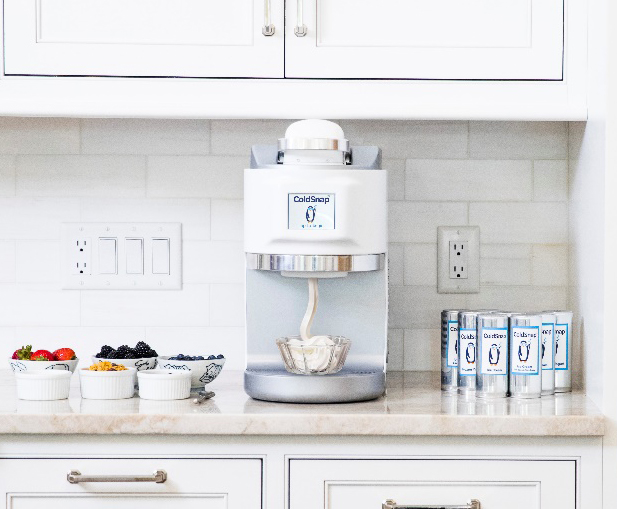 Sigma Phase, Corp. has been selected as a CES® 2021 Innovation Honoree – Home Appliances for the ColdSnap™ rapid freezing appliance, which produces single servings of frozen confections on demandonds with no mess. The CES Innovation Awards announcement was made ahead of CES 2021 – the world's most influential technology event, happening January 11-14, 2021.
The ColdSnap machine accepts shelf-stable, ambient temperature ColdSnap pods – and then freezes and dispenses the contents of these pods within 120 seconds. No preparation of ColdSnap pods is required and no cleanup of the ColdSnap machine is necessary. ColdSnap makes single-servings of ice cream, frozen yogurt, frozen coffee, frozen smoothies, frozen healthy shakes (frozen nutraceuticals), and frozen cocktails.
"We are honored to receive this prestigious CES award for our ColdSnap system," said Matthew Fonte, President of Sigma Phase, Corp. "We have assembled a first-class team and, together, we are moving quickly to create something exciting that doesn't exist on the market today. ColdSnap's patented technology has the promise to disrupt the massive global ice cream market with its delicious, personalized, frozen confectionery experience. Our mission is to transform the way frozen confections are produced, transported, purchased, and enjoyed. The ColdSnap system will be released in 2021 – we look forward to sharing ColdSnap with you!"

About ColdSnap
Sigma Phase, Corp. was founded by serial entrepreneurs in Massachusetts in October 2018 with a goal to create a Keurig®-style machine that generates ice cream on demand without requiring cleanup. ColdSnap pods are shelf-stable and can be shipped at ambient temperature, thereby eliminating the expensive, unreliable, and environmentally unfriendly cold chain used to bring factory-frozen ice cream to market. ColdSnap will capture and grow the already massive global ice cream market including in geographies where the cold chain is weak and unreliable; while being a more environmentally friendly option compared to store purchased ice cream. The Company has 16 awarded patents with another 40 patent applications pending. For more information, see the website: www.ColdSnap.com.