NATC Evaluators Notice an Increase in Quality and Diversity of Single-Service Tea Offerings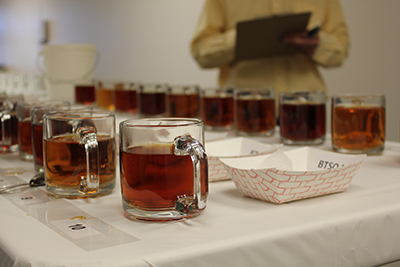 The North American Tea Championship (NATC) named 13 first-place winners in various categories of its Packaged Single-Service evaluation, which took place Nov. 14 – 15, 2013 in Las Vegas, Nev. The Championship is the only independent competition, judged by professional cuppers, to distinguish the highest quality and best tasting teas that are commercially available in the North American marketplace. Some of the winning teas will be featured at the upcoming World Tea Expo at the Long Beach Convention & Entertainment Center, May 29 – 31. See www.WorldTeaExpo.com and www.TeaChampionship.com.
NATC Single Service Tea "It may come as a surprise to many consumers that the ordinary and familiar teabag — such as those filled with fannings [small pieces of tea that are left over after higher grades of tea are gathered to be sold*] — may actually fare better in a competition like this than teabags filled with loose leaf tea," said Lydia Kung, an NATC judge, tea buyer and expert with Eastrise Trading Corp in Monrovia, Calif. "Most tea drinkers are probably predisposed to dismiss the 'lowly' teabag in favor of sachets, etc. that come in fancier packaging. However, as this NATC Single Service competition illustrated, such a generalization is too simple. There were instances where the traditional teabag yielded flavor that surpassed the loose-leaf teabag. Just as there are indeed low quality fannings, there are also loose leaf teas that are not necessarily better just by being in leaf form. So, kudos to those entrants whose single-service teas rose to the top.
Packaged Single-Service Tea first-place winners include (Company, Tea and Category):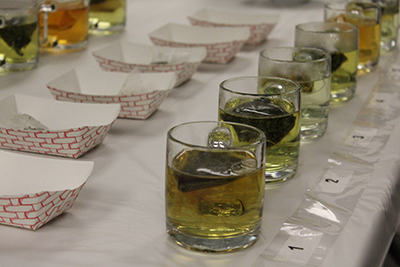 NATC Single Service Tea Pic 3North American Tea Championship Cupping Coordinator Mo Sardella, of The G. S. Haly Company in Redwood City, Calif., said, "As usual, there was a noticeable increase in quality and diversity of offerings entered in NATC's Single-Service evaluation. This is likely due to the increased capability for smaller companies to offer their products in single-serve teabags. Historically, only large companies were able to offer tea bags or single-serve technology. With this increase in diversity and quality, tea consumers are now able to experience a wider variety of unique and seasonal specialty teas that have traditionally only been available in bulk, loose-leaf packaging."
According to Sardella, the NATC evaluators noticed an increase in blended and flavored packaged single-service products, rather than traditional types. "This is most likely due to consumer demand for unique, contemporary and inventive flavor combinations, and the appeal of unlimited customization of tea, rather than established traditional tea standards," noted Sardella.
A complete list of first, second and third-place winners, as well as details on the Championship, is available here.
The next North American Tea Championship, for the fall Hot Tea Class, takes place in February 2014.
About NATC's Packed Single-Service Class
The North American Tea Championship's Packaged Single-Service Tea Class is designed to determine the best tea bags, instant hot teas and other single-service teas that are commercially available in North America. The Class is evaluated once a year in November.
For the recent competition, submissions were evaluated blind and through organoleptic analysis of characteristics, including flavor, body, color, clarity and balance (leaf appearance was not a factor). An overall numerical value on a 100-point scale was calculated based on the ratings of each characteristic, and winning teas were determined by rank.
Teas were evaluated by similar pack size. For example, teas sold in 50 to 100 count packs evaluated against similar packaged teas. And teas packaged in a box under a 25 count — which includes most specialty teas — were evaluated against similar offerings.
All teas that competed were brewed using one single-serve pack (teabag, sachet, portion pack, etc.) and steeped in an eight ounce serving cup. For the evaluation, the water temperature and steep time for each category was according to a specific Brew Plan chart.
About The Beverage Group, a division of F+W Media
The Beverage Group, a division of F+W Media, Inc., is an integrated media company dedicated to providing business solutions to the global beverage industry. Events include: Healthy Beverage Expo, World Tea Expo and World Tea East. The Beverage Group also produces the North American Tea Championship, World Tea Academy and World Tea News.
F+W Media is a community-focused, content creator and marketer of products and services for enthusiasts. The Company offers a diversified portfolio of books, ebooks, magazines, events, competitions, ecommerce, education, video and more. The Company serves 20 different markets, including writing, fine art, genealogy, antiques and collectibles, design, outdoors and horticulture. Its growing portfolio includes print and online properties, free and for-fee subscription sites, educational programs, competitions and events.