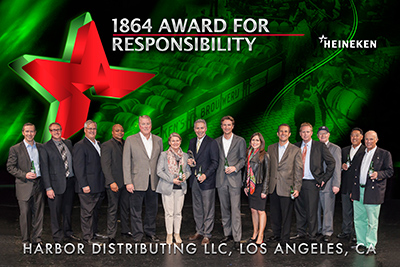 Company recognizes Los Angeles' Harbor Distributing, L.L.C. with seventh annual award; DBI Beverage, Inc. Sacramento and Colorado's High Country Beverage selected as finalists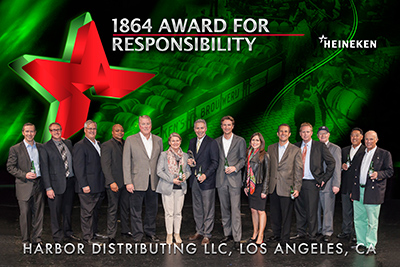 This Alcohol Awareness Month, Heineken USA named Los Angeles' Harbor Distributing, L.L.C., part of the Reyes Beverage Group, as winner of its seventh annual 1864 Award for Responsibility during its National Distributors Conference in Houston, Texas on April 3.
The 1864 Award honors distributors for best-in-class practices in responsible consumption and moderation, cornerstones of Heineken's identity since the company was founded in 1864. Heineken USA also honored DBI Beverage Inc., Sacramento, Calif. and High Country Beverage, Loveland, Colo. as runners-up in the award competition.
"This year's record number of submissions exemplified the strong stance our distributors are taking to promote responsible consumption with their employees, customers and communities," said Stacey Tank, Senior Vice President and Chief Corporate Relations Officer, Heineken USA. "We are incredibly proud to work with this year's 1864 Award winner Harbor Distributing LLC, and all of our distributors who go above and beyond to make a difference."
"Winning Heineken USA's 1864 Award for Responsibility is a great honor," said Tom Reyes, President, Harbor Distributing, L.L.C. "We are grateful for our partnership with Heineken USA and greatly appreciate the effective responsibility programs and tools they provide us to share with our community. Together we support our employees, partners and communities in making responsible decisions."
Distributors were asked to submit their responsible consumption initiatives, many of which integrate Heineken USA programs such as Taxi Magic, a free mobile app sponsored by Heineken USA that Taxi Magic that utilizes smartphone technology to provide consumers with instant safe transportation booking around the U.S., and Health Alliance on Alcohol(HAA), a national public initiative developed in partnership among Heineken USA, New York-Presbyterian Healthcare System, and White Plains Hospital, that provides parents, mentors, and community leaders free and impactful tools to spark conversations with teens to prevent underage drinking..
DISTRIBUTOR RESPONSIBILITY PROGRAM DETAILS
HARBOR DISTRIBUTING, L.L.C.
Harbor has consistently been a leader in promoting a responsible consumption culture. Harbor and Heineken USA were the recognized sponsors of the "National Night Out Crime Prevention and Safety Fair" in Newport Beach, and partnered with Anaheim law enforcement to launch Heineken-branded responsibility programs and HAA materials to reduce illegal or unsafe activity related to alcohol consumption. Harbor creates responsibility campaigns for all Heineken-sponsored events and for all major holidays, delivering responsibility communications and posters focused on Taxi Magic to all related local retailers. It also has a "No Questions Asked" employee reimbursement taxi ride program, for any instance when driving is questionable.
About DBI BEVERAGE INC. SACRAMENTO
DBI reinforces responsibility through its partnership with the National Beer Wholesalers Association (NBWA), offering and extending NBWA sponsored programs (flyers and public service announcements) to customers, consumers, and communities. Responsibility among associates is promoted through innovative alcohol awareness training at the monthly sales meetings that utilizes role playing and quiz games to help keep information current and top of mind. Additionally, DBI embeds Taxi Magic reminders on Heineken USA–branded trucks as well as custom point-of-sale items, holiday flyers, company newsletters, all company associates' email signatures, and its company website. In partnership with Heineken USA, the distributor supports responsible consumption by bringing the Heineken USA Designated Driver program to local community events.
About HIGH COUNTRY BEVERAGE
HCB promotes responsible alcohol consumption through its "Take Care Responsibility" program in the communities it serves as well as three major universities within its territory. Through its "Take Care Responsibility" program, the distributor hires two part-time student interns to help drive home the importance of responsibility to the next generation. HCB has also teamed up with Team Fort Collins – a non-profit that provides drug and alcohol abuse prevention and education services in the Fort Collins community. Lastly, HCB ensures that its employees are responsible consumers with random drug and alcohol screens administered more frequently than required by law and a "No Questions Asked" taxi cab policy.
About Heineken USA
Heineken USA Inc., the nation's leading upscale beer importer, is a subsidiary of Heineken International BV, the world's most international brewer. European brands imported into the U.S. include Heineken, the world's most international beer brand, Strongbow Hard Apple Ciders, Desperados, Amstel Light, and Newcastle Brown Ale. Heineken USA also imports the Dos Equis Franchise, Tecate Franchise, Sol, Indio, Carta Blanca and Bohemia brands from Mexico. For the latest information on our company and brands, follow us on Twitter or visit HeinekenUSA.com