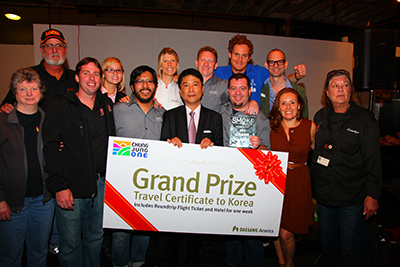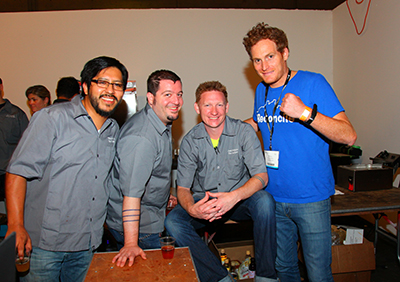 Chef Josh Watkins and his team from The Carillon in Austin, Texas, smoked the competition to win the Grand Championship at Star Chef's International Chef's Congress First Annual SMOKE event in New York City September 28, 2013. Cooking on a MLR-150 competition smoker from Southern Pride BBQ Pits and Smokers for the first time, Chef Watkins and team won the opportunity to compete at the World Food Championships in Las Vegas Nov. 7-10, courtesy of Southern Pride.
Watkins, along with team members Chris Andrews, Plinio Sandalio, Brad Turner, and student-volunteer Samantha Whitlam, competed against nine other premier chef teams from across the country for the title of Grand Champion. Judges ranked dishes for taste, tenderness, presentation and creativity, in three categories: Regional American, New World and Asian. Guests voted for the People's Choice Award, featuring the teams' best Australian Beef Brisket dishes. Ultimately, there could only be one Grand Champion: The Carillon from Austin, Texas.
"Honestly, I was terrified to cook on a Southern Pride smoker because I'd never done so before," Watkins said. "When I learned about the smoker and how it functioned, I was very pleased. You can control so many variables, unlike other smokers."
Watkins and his team used signature pecan shells as their smoke profile, which added a sweet Texan flavor to the smoked quail, yucca crisps, pork butt and brisket.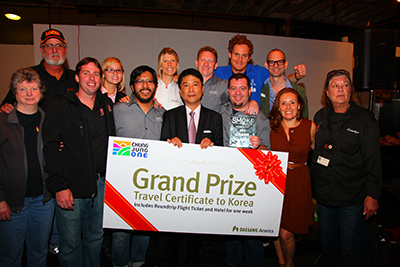 "It definitely brings the Texas flair," Watkins said. "At the end of the day, it's something unique. Why would I come to New York and do what everyone else does? It's all about flavor balance. That's cooking 101. If you can apply that to barbeque in a way that hasn't been done before, you're going to win."
Judging the competition were some of America's leading barbeque experts, including Dave Anderson of Famous Daves, Kenny Callaghan of Blue Smoke, Andy Husbands of Temont 647, Brad Orrison of The Shed and Steven Raichlen of Primal Grill.
Watkins and his team faced a setback in the competition early on, causing them to have less time than anticipated to prepare their entrée for judging. However, the winners gave no complaints.
"There's no such thing as a setback, or you lose," Watkins remarked. "You roll with the punches. The Southern Pride smoker allowed us to recover quickly."
Individual category winners include 4505 Meats for Regional American category, The Belted Cow BBQ for New World category, Carillon for Asian Barbeque category and Who's Your Daddy as Grand Reserve Champion. Team The Carillon placed first in the Asian Barbeque category with Chef Sandalio's Gochujang Pork Butt Bibimbap.
"I had an amazing team here," Sandalio said. "We cooked our hearts out."
As for prizes, Watkins received an MLR-150 competition-level smoker from sponsor Southern Pride BBQ Pits and Smokers and a trip to Korea presented by sponsors Chung Jung One.
"It [MLR-150] is a really amazing piece of equipment," Watkins said. "And you know what? I'm happy to own one now."
For an in-depth interview with team The Carillon at International Chef's Congress First Annual SMOKE Event, visit http://www.youtube.com/watch?v=OpUXl2Fw_mI.
ABOUT THE CARILLON
The Carillon's New American Grill cuisine showcases their passion for fresh, sustainable and seasonal ingredients that are served in an elegant setting reminiscent of the historical architecture that surrounds it. Helmed by Executive Chef Josh Watkins, The Carillon has caught the attention of food critics across the state including a four-star rating by Austin American-Statesman's respected food critic Mike Sutter, a rating in the top ten on Matthew Odam's Top 50 restaurants list and Star Chef's Rising Star Award. The Carillon is located at 1900 University Avenue in the AT&T Executive Education and Conference Center at the south edge of The University of Texas campus. Valet and complimentary self-parking provide easy access to the restaurant and conference center. The restaurant is open for breakfast from 7 am to 10 am and for dinner service from 5:30 pm to 10 pm. Tuesday through Saturday. For more information about The Carillon visit www.thecarillonrestaurant.com
ABOUT SOUTHERN PRIDE
Southern Pride was founded in 1976 when Mike Robertson and his father, B.B., hand built and marketed their first rotisserie and smoker. Today, some 20,000 rotisseries and smokers later, Southern Pride laser cuts, bends and forms their own stainless steel and assembles every element of the cookers, still by hand in their 117,000 square foot manufacturing headquarters in Alamo, TN.
ABOUT STARCHEFS.COM
StarChefs.com, the magazine for culinary insiders, has been serving the restaurant industry since 1995. StarChefs.com's original culinary content is driven by in-person tastings and interviews across the world. Its mission is to catalyze culinary professionals' success and give them the tools they need to overcome their specific challenges. In addition to featuring top chefs, pastry chefs, sommeliers, and mixologists, StarChefs.com's Culinary JobFinder is the leading job board connecting culinary and hospitality professionals to careers in the foodservice industry. StarChefs.com features more than 30,000 published pages of original, chef-focused culinary content, and it generates traffic of over 30 million hits a month and has been nominated for Best Web Site for Food and Nutrition by the James Beard Foundation.