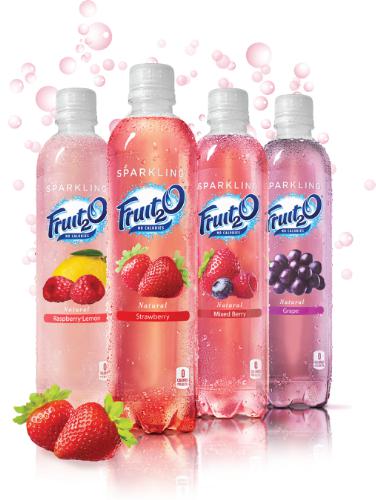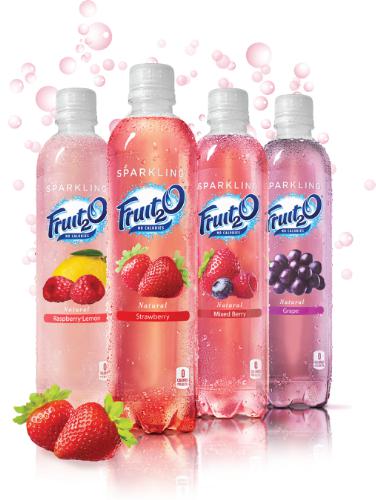 Sunny Delight Beverages Co., SDBC, announced today that it is partnering with Dr Pepper Snapple Group (NYSE: DPS) on the national launch of SDBC's new Sparkling Fruit2O fruit flavored water. Sparkling Fruit2O offers taste in balance–subtle, simple fruit flavors consumers love, recognize and can pronounce balanced with sparkling, pure, refreshing water—no calories, sugar, carbohydrates, or caffeine.
Following a limited distribution in the northeast, Sparkling Fruit2O has seen a positive response both from consumers and retailers. As a result of this initial success, as well as rapid growth within the sparkling water category (+37% vs. year ago), SDBC is taking the brand national with its direct store distribution partners. "DPS is an outstanding distribution partner. We are both proud and honored to be working with them, along with our other distribution partners, to roll out Sparkling Fruit2O nationally," said Russ Mills, director of instant consumption sales at SDBC. "There is room for growth in the sparkling water category, both for new brands and new flavors, and SDBC intends to be part of that growth."
"Consumers want simplicity. They are seeking a trusted brand that can deliver the great tasting, zero-calorie flavors and bubbles they want without all the hype. By meeting this consumer need, we plan to help grow the entire flavored water segment," stated Ed Klene, associate marketing director, SDBC.
Sparkling Fruit2O is available in four flavors: Raspberry Lemon, Grape, Mixed Berry and Strawberry.
The original, zero-calorie Fruit2O pioneered the flavored water category in 1999 and it leads the non-carbonated, non-enhanced segment in past 52 week dollar sales, consumer awareness and consumer loyalty.
About Sunny Delight Beverages Co.
Sunny Delight Beverages Co. is a leading producer of juice-based drinks in North America. It is dedicated to helping moms improve the vitality of their families by creating and marketing more wholesome beverages. The company's brands include SunnyD citrus punch, Fruit2O flavored waters, Veryfine 100% juices and juice drinks, and Elations dietary supplement for joint health. Please visit www.sunnyd.com for more information about the company, its brands and its sustainability reports.
About Dr Pepper Snapple Group
Dr Pepper Snapple Group (NYSE: DPS) is a leading producer of flavored beverages in North America and the Caribbean. DPS's success is fueled by more than 50 brands that are synonymous with refreshment, fun and flavor. DPS has six of the top ten non-cola soft drinks, and 13 of its 14 leading brands are No. 1 or No. 2 in their flavor categories. In addition to flagship Dr Pepper and Snapple brands, the company's portfolio includes 7UP, A&W, Canada Dry, Clamato, Crush, Hawaiian Punch, Mott's, Mr. and Mrs. T mixers, Penafiel, Rose's, Schweppes, Squirt and Sunkist soda. To learn more about the company's iconic brands and Plano, Texas-based company, please visit www.DrPepperSnapple.com. For the latest news and updates, follow the company on Facebook or on Twitter.