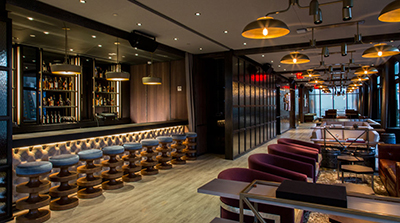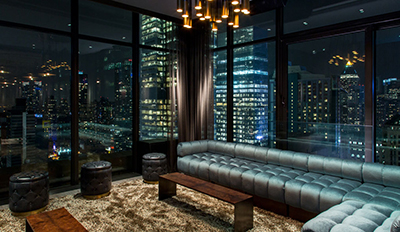 The Skylark, a sophisticated cocktail bar perched above the skyscrapers of New York's most fashionable district opens on October 29. The contemporary, but classic, tiered lounge boasts spectacular panoramic views of the Hudson River and Gotham skyline including the Empire State Building, Chrysler Building, Times Square and Financial District. The central location also perfectly positions The Skylark to become the premier spot for after work and evening cocktails and small bites in Midtown.
A passion project of a diverse group of principals, The Skylark, draws from its creators' experience in the hospitality, culinary and real estate industries. The principals include: David Rabin, a veteran in New York's nightlife and restaurant scene, he co-founded such popular venues as The Lambs Club, Bar Naná, JIMMY, Lotus and The Double Seven; Jim Kirsch and Alison Awerbuch of revered catering company, Abigail Kirsch; and leading real estate executives Bob Savitt and Bob Conover of Savitt Partners. "I'm thrilled to be part of this team and this venture. We think we've created a timeless and stylish destination for socializing over a great cocktail and a delicious bite of food," explained Rabin. "By building The Skylark on top of an existing commercial building in the increasingly diverse Garment District, we hope to attract not only those who work in the fashion and media worlds, but also the ever growing tech industry, not to mention banking, law and the thousands of people who visit Broadway each day," added Bob Savitt of Savitt Partners who owns 530 Seventh Avenue as well as a number of other properties in the area.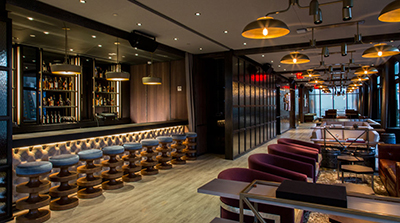 Abigail Kirsch's Jim Kirsch and Alison Awerbuch and chef Cassandra Quinlan-Ashford, known for her work with Tabla and Judson Grill, have created a menu of creative small bites that play on classic dishes with a contemporary twist. A few selections of flavorful bites are perfect for after work, pre- or post-theater or a late night snack. Guests will enjoy such dishes as lobster tacos with roasted poblanos and avocado crema; jicama wraps served either sashimi style with wild salmon or vegan style; blanketed chicken franks with grain kraut mustard and house cured pickle chips; wild mushroom kebabs with Mediterranean tapenade and arugula pesto; mac and cheese cupcakes with smoked tomato chutney; harissa lamb meatballs with mint cucumber raita; yuzu misted tuna crudo flatbread with shaved fennel, radish and grapefruit; and the signature Skylark sliders and spiked granitas (frozen mojito and limoncello ices served in citrus wedges. "We are excited about the menu we have created which is filled with unique small bites bursting with flavor. The design of the menu enables guests to sample a variety of dishes in one visit," noted Awerbuch.
The management team tapped mixology consultant Johnny Swet to craft a cocktail selection that complements the tailored food menu and is perfect for everything from celebratory sunset toasts to post work gatherings. The namesake Skylark cocktail, a blue-hued martini that reflects a cloudless sky expertly combines Hendrick's gin, Zu vodka, St. Germain, dry vermouth, blue curacao and grapefruit bitters juxtaposed with a brandied cherry. Other signature concoctions include The Coco (five botanical and floral liquors, champagne and floating strawberry pearls); Aztec Empire (Herradura silver tequila, cumin liqueur, chocolate bitters, cinnamon, red jalapeno and lime); The Harvest (anejo rum, pear, lemon juice and flamed rosemary) and The Sommelier (malbec, Crop Organic Cucumber Vodka, St. Germain, crème de cassis, muddled peppercorn and fig bitters). "I wanted to develop a beverage program that is nostalgic, but versatile and fresh," Swet commented. "However, expect the cocktails to change with the season from comforting, heavier cocktails during the winter to light, fruitier options for summers on the Roof Deck."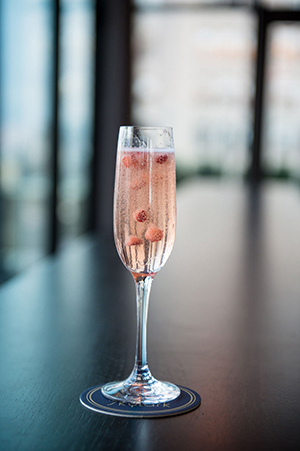 The 7,000 square foot lounge was designed to mirror The Skylark's fashionable clientele by creating intimate spaces for socialization and reflection. The black tailored hostess dresses and sultry navy server uniforms, designed by Monika Chang and Maria Pinto respectively, reflect the sensuality and sophistication of the space. The multi-level core and shell was constructed by Thomas McKay and Christian Rietzke, of McKay Architecture and Design, and features an indoor lounge with floor to ceiling windows that will be open year round and comfortably accommodates approximately 200 people. Situated one flight of stairs above is a wrap around, seasonal Roof Deck complete with multiple outdoor heating units and a weatherproof flat screen television. There are also two plush private areas, a Living Room for 30 people and a Pool Room with a billiards table that converts to a dining table for 12. The decor, by renowned interior designers Will Meyer and Gray Davis of Meyer Davis Studio, oozes luxury with a rich, textured color palette of custom-made furniture and fashion photography. Upholstered couches and armchairs, made of velvets, mohair, saddle leather and animal hides, balance the rich wood coffee tables and metallic end tables. "We wanted the space to instill a sense of wandering exploration and discovery. Each area has a slightly different feeling but maintains a common theme of understated glamour," explained Will Meyer. "We were inspired by classic places in New York, and The Skylark is sure to become a new classic," added Gray Davis.
For more information about The Skylark visit their website, and find them on Facebook and Twitter.