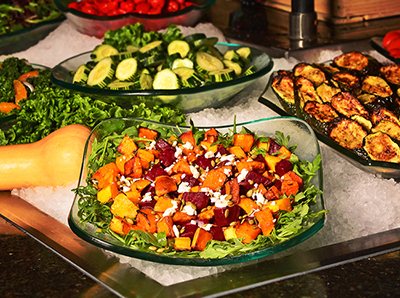 Traditional Fall Flavors with a Twist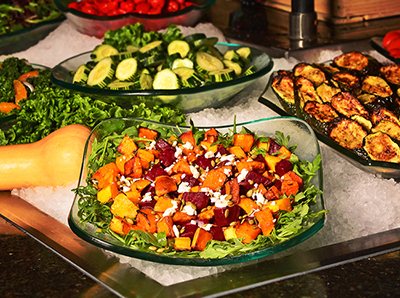 Two new seasonal salads are being introduced at Fogo de Chão on November 1st that will highlight the already impressive, 30+ item salad bar. Just in time for autumn and winter dining, Fogo de Chão's culinary team has created a tasty Orange & Kale Salad and a Roasted Beet & Butternut Squash Salad.
Orange & Kale Salad:
Kale, one of the healthiest leafy greens, is a perfect complement to hearty skewered meats. The traditional Brazilian recipe features fresh curly kale mixed with mild red onion, lightly laced with delicious citrus dressing, all topped with colorful orange sections.
Roasted Beet & Butternut Squash Salad:
As winter root vegetables are now in season, Fogo de Chão is proud to present its rich and satisfying addition to their seasonal salad menu. The Roasted Beet & Butternut Squash Salad stars a colorful combination of cubed roasted red beets and butternut squash, tumbled with feta cheese crumbles, sprinkled with toasted pumpkin seeds, and tossed with a tangy garlic, lime and rosemary herb salad dressing.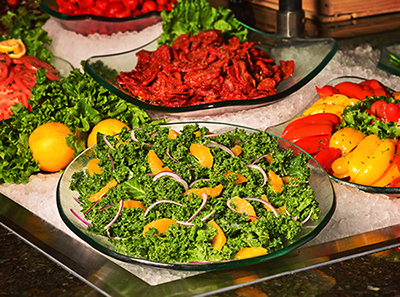 This authentic Southern Brazilian steakhouse offers 16 delectable cuts of fire-roasted meats that are carved tableside by Brazilian-trained gaucho chefs or churrasqueiros, who prepare and cook each cut. Specially carved to each guest's preference, diners may choose from grilled beef, lamb, pork, chicken, and sausage. Additionally, Fogo offers a 30+ item gourmet salad bar, and southern Brazilian side dishes such as warm cheese bread, garlic-mashed potatoes, crispy polenta and caramelized bananas are served family style. A tempting dessert menu and award-winning wine list complement the dining experience.
Fired up? Please contact me to book your Fogo de Chão Gaucho Chef for a live guest appearance/cooking demo at your TV studio. Or come out with your crew to the restaurant for an open fire cooking and salad preparation demo on premise. We'd love to share the culture and flavor of Fogo's Brazilian-inspired recipes and gaucho chef secrets that will interest your viewers/readers just in time for the Thanksgiving season.
About Fogo de Chão
Fogo de Chão Churrascaria – Brazilian Steakhouse was founded in 1979 in Porto Alegre, Brazil and expanded into the U.S. in 1997. There are currently 21 locations throughout the United States and eight locations in Brazil. Further expansion is planned for 2013 including New York City and Sao Paulo, Brazil; San Jose to follow in 2014. For more information, please visit www.fogo.com. Follow FOGO on Facebook.