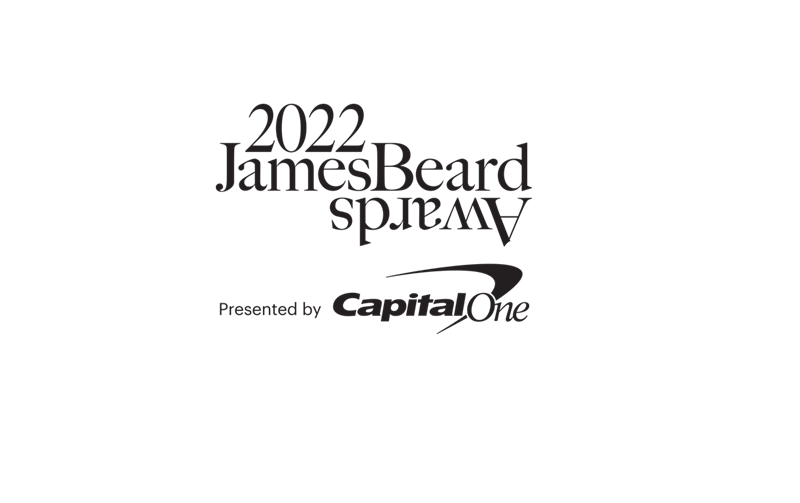 The James Beard Foundation® announced today its 2022 Restaurant and Chef Award winners during the live James Beard Awards® Restaurant and Chef Awards ceremony presented by Capital One. The winners, who were honored at the Lyric Opera of Chicago, can be found below and on the James Beard Foundation website.
The Restaurant and Chef Awards ceremony, which was broadcast via the James Beard Foundation's Twitter feed, was hosted by Kwame Onwuachi, actor, chef, author, and executive producer at Food & Wine Magazine. Approximately 1,800 guests were in attendance.
Presenters included Maneet Chauhan, chef, television personality, and judge on the Food Network's Chopped; Ashley Christensen, chef, restaurateur, and author; Christian Clemenson, actor in HBO's hit series Julia, Apollo 13, and The Big Lebowski; Dominique Crenn, three-time James Beard Award-winning chef and owner of Atelier Crenn; Claudia Fleming, executive pastry chef and former judge on Beat Bobbly Flay, Chopped, and Top Chef: Desserts; Tahiirah Habibi, sommelier, founder of The Hue Society, and James Beard Awards Committee member; Ingrid Hoffmann, TV personality, restauranteur, and host of the Food Network's Simply Delicioso; Tanya Holland, Chef, Trustee, and Awards Committee Chair; Lori Lightfoot, 65th mayor of Chicago; Marcus Samuelsson, seven-time James Beard Awarding-winning chef, author, and restaurateur; Monti Carlo, TV personality, food writer, and host of the Food Network's Help My Yelp; Paola Velez, James Beard Award-nominated pastry chef and activist; Jeremy Allen White, actor, author, and star of the new FX show, The Bear; Andrew Zimmern, Emmy-winning and four-time James Beard Award-winning TV personality, chef, writer, and teacher; among others.
"We are delighted to finally be back in Chicago celebrating the 2022 Restaurant and Chef Awards and bringing attention to our industry, that still needs support," said Clare Reichenbach, CEO of the James Beard Foundation. "Tonight, as we recognize outstanding food and beverage professionals, we also honor our entire industry—and the incredible resilience, fortitude, talent, and leadership so many have shown over the past two years."
"Congratulations to our 2022 winners, nominees, and semifinalists—a well-deserved recognition from industry peers and the public for the culinary excellence and dedication you have put into your craft," said Dawn Padmore, VP of Awards, James Beard Foundation and Tanya Holland, chef, trustee, and Awards committee Chair, James Beard Foundation. "This beautiful evening will be featured in a national broadcast TV spot later this summer on August 13 on CBS."
"I am honored to celebrate the return of the Restaurant and Chef Awards after a two-year hiatus," said Kwame Onwuachi, James Beard Award-winner and host of the 2022 Restaurant and Chef Awards ceremony. "As we know, a James Beard Award can be transformative to a career or business, and as we move forward from the pandemic, this weekend was an important opportunity to lift up the independent restaurant community as a whole, doing amazing work across the country."
"We are thrilled to see the winners' list after a year of new processes," said Allecia Vermillion, executive editor of Seattle Met and vice chair, and Adrian Miller, James Beard Award-winner, James Beard Foundation Restaurant and Chef subcommittee and chair, and The Soul Food Scholar. "It is an honor to see the work come to fruition with our new Awards mission and showcase the outstanding culinary and cultural diversity across our industry."
Visual media assets from this year's Restaurant and Chef Awards can be found here. Show photos will be uploaded by midnight.
The James Beard Awards, considered to be among the nation's most prestigious honors, recognize exceptional talent in the culinary and food media industries, as well as a demonstrated commitment to racial and gender equity, community, sustainability, and a culture where all can thrive.
Restaurant and Chef Award Winners
The James Beard Foundation's Restaurant and Chef Awards were established in 1990 with the first awards given in 1991 and is one of five recognition programs of the Awards. An overview of the voting process can be viewed here and all categories and eligibility criteria can be found here.
The 2022 Restaurant and Chef Award Winners are:
Outstanding Restaurateur
Chris Bianco, Tratto, Pane Bianco, and Pizzeria Bianco, Phoenix
Outstanding Chef
Mashama Bailey, The Grey, Savannah, GA
Outstanding Restaurant, Presented by Acqua Panna® Natural Spring Water
Emerging Chef, Presented by S. Pellegrino® Sparkling Mineral Water
Edgar Rico, Nixta Taqueria, Austin
Best New Restaurant, Presented by BentoBox
Outstanding Pastry Chef
Warda Bouguettaya, Warda Pâtisserie, Detroit
Outstanding Baker
Don Guerra, Barrio Bread, Tucson, AZ
Outstanding Hospitality, Presented by American Airlines
Outstanding Wine Program
Outstanding Bar Program
Best Chefs, Presented by Capital One (by region)
Best Chef: California
Brandon Jew, Mister Jiu's, San Francisco
Best Chef: Great Lakes (IL, IN, MI, OH)
Erick Williams, Virtue Restaurant & Bar, Chicago
Best Chef: Mid-Atlantic (DC, DE, MD, NJ, PA, VA)
Cristina Martinez, South Philly Barbacoa, Philadelphia
Best Chef: Midwest (IA, KS, MN, MO, NE, ND, SD, WI)
Dane Baldwin, The Diplomat, Milwaukee
Best Chef: Mountain (CO, ID, MT, UT, WY)
Caroline Glover, Annette, Aurora, CO
Best Chef: New York State
Chintan Pandya, Dhamaka, NYC
Best Chef: Northeast (CT, MA, ME, NH, RI, VT)
Nisachon Morgan, Saap, Randolph, VT
Best Chef: Northwest and Pacific (AK, HI, OR, WA)
Robynne Maii, Fête, Honolulu
Best Chef: Southeast (GA, KY, NC, SC, TN, WV)
Ricky Moore, SALTBOX Seafood Joint, Durham, NC
Best Chef: South (AL, AR, FL, LA, MS, PR)
Adam Evans, Automatic Seafood and Oysters, Birmingham, AL
Best Chef: Southwest (AZ, NM, NV, OK)
Fernando Olea, Sazón, Santa Fe
Best Chef: Texas
Iliana de la Vega, El Naranjo, Austin
More information about the 2022 Restaurant and Chef Awards ceremony and winners can be found here.
Previously announced winners of the James Beard Achievement Awards as well as the Restaurant and Chef America's Classics Awards were also celebrated on stage:
Humanitarian of the Year: Grace Young has been recognized as Humanitarian of the Year for her work to save America's Chinatowns amid Asian American and Pacific Islander (AAPI) hate during the COVID-19 pandemic. The Humanitarian of the Year recipient
Lifetime Achievement: Martin Yan is one of the most prolific chefs on TV with 3,500 episodes and 30 cookbooks. Yan has brought the joy of Chinese cooking to America with his motto, "If Yan Can Cook, So Can You!"
Read more about Young and Yan here.
Restaurant and Chef America's Classics Award Winners:
Each year, this committee-chosen Award recognizes establishments in six of the 12 Restaurant and Chef Award regions. For more information on this year's America's Classics honorees, see here.
The Busy Bee Café, Atlanta, GA; Owner: Tracy Gates
Casa Vega, Sherman Oaks, CA; Owner: Christy Vega
Corinne's Place, Camden, NJ; Owner: Corinne Bradley-Powers
Florence's Restaurant, Oklahoma City, OK; Owner: Florence Kemp
Solly's Grille, Milwaukee, WI; Owner: Glenn Fieber
Wo Hop, New York, NY; Owners: Huang Family
A post-Awards celebration immediately followed the ceremony at Chicago's Union station, featuring tastings and beverages from chefs from around the country:
Gregory Collier, Leah & Louise, Charlotte, NC
Alexandra Gates, COCHINEAL MARFA, Marfa, TX
Mariana Gonzalez-Trasvina, Bar 'Cino/La Vecina Taqueria, Newport, RI
Vaughn Good, Fox and Pearl, Kansas City, MO
Ron Hsu and Aaron Phillips, Lazy Betty, Atlanta
Gene Kato, Momotaro Restaurant, Chicago
Ji Hye Kim, Miss Kim, Ann Arbor, MI
Mei Lin, Daybird, Los Angeles
Lona Luo Powers, Lona's Lil Eats, St. Louis
Cristina Martinez, Casa Mexico, Philadelphia, PA
Johnny Ortiz-Concha, / shed, NM
Margaret Pak, Thattu, Chicago
Natasha Pickowicz, Never Ending Taste, NYC
Ellie Tiglao, Tanám, Somerville, MA
Samuel Yoo, Golden Diner, NYC
The 2022 James Beard Awards are the first in two years, after a hiatus during which the Awards underwent a full audit of its policies and procedures, continuing the work to remove bias, increase transparency and accessibility, and make the program more aligned with the Foundation's mission and values. James Beard Awards policies and procedures can be viewed at jamesbeard.org/awards/policies.
The 2022 James Beard Awards are presented by Capital One, the official credit card and banking partner of the James Beard Foundation. The James Beard Awards are proudly hosted by Choose Chicago and the Illinois Restaurant Association and presented in association with Chicago O'Hare and Midway International Airports, as well as with the following partners: Premier Sponsors: Acqua Panna® Natural Spring Water, American Airlines, the official airline of the James Beard Foundation, BentoBox, S.Pellegrino® Sparkling Natural Mineral Water; Supporting Sponsors: All-Clad Metalcrafters, Moët & Chandon, Skuna Bay Salmon, Valrhona; Reception Sponsors: Ecolab, Kendall College at National Louis University, Lavazza, Windstar Cruises, the official cruise line of the James Beard Foundation; Additional Support: Château d'Esclans, Cristaux International, HMSHost, National Restaurant Association, The Spire Collection, VerTerra Dinnerware. Intersport is the Official Broadcast Partner of the 2022 James Beard Awards.
For more information about the James Beard Foundation Awards, visit jamesbeard.org/awards. For up-to-the-minute news about the Awards follow @beardfoundation on Twitter and Instagram and keep an eye out for posts using #jbfa.
About the James Beard Awards
The James Beard Awards recognizes exceptional talent and achievement in the culinary arts, hospitality, media, and broader food system, as well as a demonstrated commitment to racial and gender equity, community, sustainability, and a culture where all can thrive. Established in 1990, the James Beard Awards are among the nation's most prestigious honors recognizing leaders in the culinary and food media industries. The Awards are overseen by the Awards Committee. Each Awards program (Books, Broadcast Media, Journalism, Leadership, and Restaurant and Chef) has its own subcommittee members who volunteer their time to oversee the policies, procedures, and selection of judges for their respective program. All James Beard Award winners receive a certificate and a medallion engraved with the James Beard Foundation Awards insignia. For more information, subscribe to the Awards digital newsletter.
About the James Beard Foundation
The James Beard Foundation (JBF) celebrates and supports the people behind America's food culture, while pushing for new standards in the restaurant industry to create a future where all have the opportunity to thrive. Established over 30 years ago, the Foundation has highlighted the centrality of food culture in our daily lives and is committed to supporting a resilient and flourishing industry that honors its diverse communities. By amplifying new voices, celebrating those leading the way, and supporting those on the path to do so, the Foundation is working to create a more equitable and sustainable future—what we call Good Food for Good®.
As a 501c3 non-profit organization, JBF brings its mission to life through annual Awards, industry and community-focused initiatives and programs, advocacy, and events. Current programs include the Open for Good Campaign, Chef's Bootcamp for Policy and Change, Beard House Fellows, Legacy Network, Scholarship Programs, Smart Catch, and Women's Leadership Programs. In addition, JBF celebrates the chefs and local independent restaurants at the heart of our communities with numerous events and partnerships nationwide throughout the year—including the Taste America culinary tour, JBF Greens events for foodies under 40, the soon-to-open Pier 57 Market Hall, food festivals, and more.
For more information, subscribe to the digital newsletter Beard Bites and follow @beardfoundation on Facebook, Twitter, Instagram, TikTok, and LinkedIn.
About Capital One
At Capital One we're on a mission for our customers – bringing them best-in-class products, rewards, service, and experiences. Capital One is a diversified bank that offers products and services to individuals, small businesses and commercial clients. We use technology, innovation, and interaction to provide consumers with products and services to meet their needs. Through Capital One Dining and Capital One Entertainment, we provide our rewards cardholders with access to unforgettable experiences in the areas they're passionate about, including dining, music and sports. Learn more at capitalone.com/dining and capitalone.com/entertainment.