Winemaker Matt Ortman tackles his first harvest at VSJ in a brand new production facility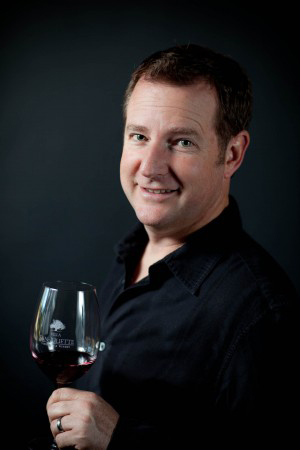 It isn't every day that a winemaker gets a brand new production facility and a near-perfect growing season, but that's exactly what Villa San-Juliette Winemaker Matt Ortman enjoyed this year.
"I'm pretty amazed at how lucky we've been with this incredible winery and one-in-a-hundred growing season," said Ortman, who became head winemaker for Villa San-Juliette in January 2013. He joins fellow Central Coast vintners and growers in proclaiming the virtues of 2013. "A moderate summer with a heat spike in early August had everyone scrambling as brix levels jumped but tannins were still very hard. The heat was followed by a cooling trend, which provided us with additional hang time to achieve full ripening. This additional hang time developed amazing color and phenolics, greater than I've ever seen. Our whole production team has worked extremely hard this year, so we are all thankful to be rewarded with some very promising wines."
Villa San-Juliette Vineyard & Winery has been on the Paso Robles wine scene since 2008, but it wasn't until this year that a new production facility was built to receive the winery's estate-grown fruit. Phase I of the facility, which was designed with input from Ortman, includes state-of-the-art web-based technology that allows him to monitor cellar operations 24 hours a day both onsite and remotely.
When Phase II is completed, the expanded winery building will comprise about 16,000 square feet, including a 4,000 square-foot covered crush pad, 2,400 square feet of administration offices, and a 1,400 square-foot mechanical yard. The current Phase I project includes a 3,200-square-foot fermentation pad for new tanks, a 2,300-square-foot crush pad, and 1,200 square feet of mechanical buildings, as well as a wastewater pond to handle Villa San-Juliette's long-term production needs.
About Villa San-Juliette
Villa San-Juliette is the vision of iconic television producers of Ken Warwick and Nigel Lythgoe who believe in bringing the best talent together to create remarkable experiences. At Villa San-Juliette, the experience is world-class wines in an extraordinary setting. The vineyard's combination of soils, aspect, and elevation create exceptional Bordeaux, and Rhône varietal wines of richness, depth and character. The Villa, nestled on the 168-acre estate with 132 acres of bearing vineyards planted to 11 varietals, provides a gracious setting for enjoying a one-of-a-kind experience in Paso Robles wine country. For more information about Villa San-Juliette visit www.VillaSanJuliette.com. Villa San-Juliette is located at: 6385 Cross Canyons Road, San Miguel, CA 93451.
Save
Save