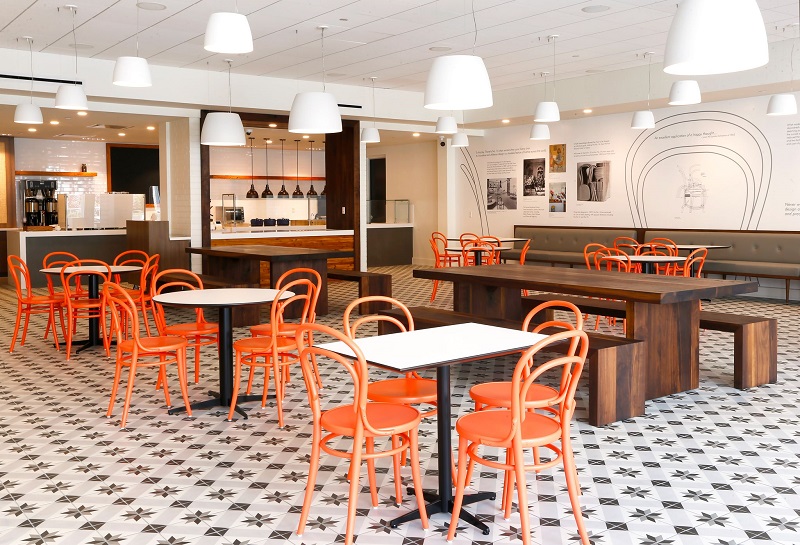 Bistro at Sarasota Art Museum of Ringling College launched a new fall menu in line with its latest museum exhibitions, including Steven and William Ladd: Lead With a Laugh and Journeys to Places Known and Unknown: Moving Images by Janet Biggs and peter campus. Operated by a team of culinary experts from Constellation Culinary Group, Bistro draws inspiration from Florida's fruit stands and farmers markets by focusing on locally sourced and seasonal ingredients. Bistro's menu is curated by Executive Chef Kaytlin Dangaran, a Tampa native who trained at the French Culinary Institute.
The autumn menu highlights warm and comforting soups, including Wild Mushroom Soup ($11) topped with truffled Parmesan crisp and Matzoh Ball Soup ($12) with roasted chicken, thyme and celery. Garden-fresh salads include Winter Chicories ($15), a flavorful mix of roasted butternut squash, brown butter vinaigrette and toasted almonds; Artisan Lettuces ($16), featuring lemon crema, crispy maitake, smoked blue cheese and toasted hazelnuts; Waldorf Chopped Salad ($16), with shaved celery, bloomed golden raisins, red grape coins, bacon, spiced walnuts and white verjus vinaigrette; and Winter Citrus & Golden Beets ($17), combining watercress, blood orange vinaigrette, ricotta salata, avocado and pistachio.
The menu also features an assortment of fresh sandwiches served with house-made bread and butter pickles, including Griddle Cheese ($12), with fontina Mornay, sharp white cheddar, tomato jam on pullman bread; Lemon Dijonnaise Chicken Salad ($16), featuring little gem lettuce, pickled red onion on a croissant; Grilled Chicken Club Sandwich ($18), served on sourdough with house-made bacon, avocado smash and sprouts; Jambon Beurre ($16), which includes ham and Gruyère on a warm baguette; and Toasted Corned Beef Reuben ($17), with Norfolk sauce, sauerkraut and Swiss cheese on rye.
The crisp and cozy tartine selection served with freshly baked baguettes from C'est La Vie bakery includes Butternut Squash and Ricotta ($15), with truffled-maple brown butter and sage; Wild Mushroom ($16), topped with a six-minute egg, truffle and fontina Mornay; and Salmon Tartine ($17), served with dill crème, capers and heirloom tomato.
Inspired by the 1926 M. Leo Elliott neo-Gothic building and Paul Rudolph's 1951 Modernist building, Bistro's design pays homage to both eras and calls upon the buildings' origins as a high school and public space to create an environment for museum-curated art experiences coupled with artfully crafted fare. Bistro offers patrons outdoor seating within the Museum Plaza, the perfect spot to enjoy a meal surrounded by interactive sculptures, including Staccato by Molly Hatch and Ernest and Ruth (Exuberant Pink) by Hank Willis Thomas.
Bistro is open daily from 9 a.m. to 3 p.m. For more information, visit sarasotaartmuseum.org/bistro.
About Bistro at Sarasota Art Museum of Ringling College
Bistro at the Sarasota Art Museum of Ringling College features a Florida farmstand-inspired menu focusing on locally sourced and seasonal ingredients that can be enjoyed within the interior dining space complemented by thoughtfully curated exhibits, on the go, or outdoors within the Museum Plaza. Menu specials are featured on the blackboard behind the counter, a nostalgic nod to the former high school. For more information, visit sarasotaartmuseum.org/bistro.
About Constellation Culinary Group
Launched in 2008 and reimagined in 2018, Constellation Culinary Group provides best-in-class dining experiences for one-of-a-kind events, cultural centers, professional settings, restaurants and cafes. With over 19 locations in eight cities, including internationally renowned cultural institutions Carnegie Hall, the Philadelphia Museum of Art, the New York Botanical Garden, Clark Art Institute, and Pérez Art Museum Miami, Constellation brings culinary visions to life. As part of the Elior North America family, Constellation Culinary Group consistently creates unforgettable experiences with the help of its skilled and thoughtful people who believe in the company's mission and philosophy that good food connects us. For additional information and a full list of Constellation dining and venues, visit constellationculinary.com.
About The Sarasota Art Museum of Ringling College
Sarasota Art Museum is Ringling College of Art and Design's dynamic laboratory for the
exploration and advancement of contemporary art. As Sarasota's only museum solely focused on contemporary artists and their work, Sarasota Art Museum offers visitors a place to see thought-provoking exhibitions and participate in education programs that start conversations and amplify the city's creative spirit.
Located in the historic Sarasota High School, Sarasota Art Museum opened to the public in 2019 and features 15,000 square feet of dedicated exhibition space, the outdoor Marcy & Michael Klein Plaza, the Great Lawn featuring temporary sculpture and site-specific installations, Bistro , and SHOP . Sarasota Art Museum is home to a robust portfolio of education programs for all ages, including the Studios @ SAM, a vibrant studio arts program, and the Osher Lifelong Learning Institute (OLLI) at Ringling College, which offers a variety of courses for adult learners.
Sarasota Art Museum is located at 1001 South Tamiami Trail, Sarasota, Florida, 34236. To stay in the know, become a Sarasota Art Museum Member, sign up for Museum email updates, visit our website at SarasotaArtMuseum.org.