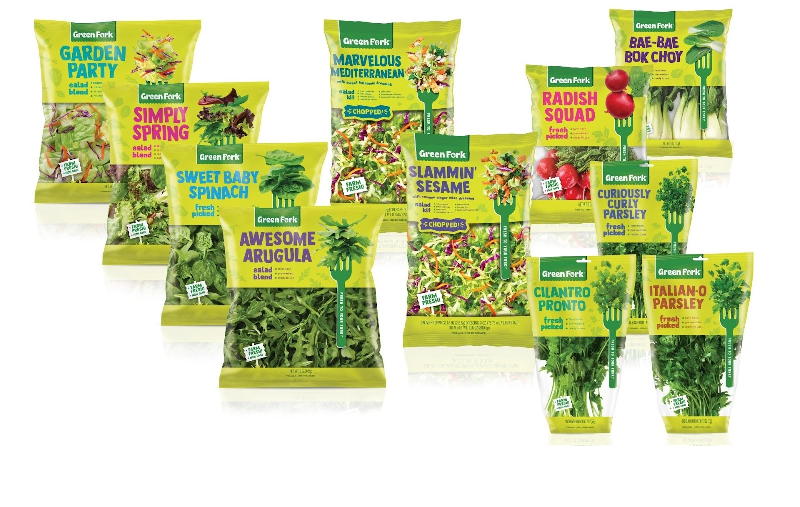 Celebrated vegetable grower Boskovich Fresh Food Group is debuting an inventive, fresh new brand to buyers called Green Fork with 11 SKUs under the Fresh Prep, LLC label this month! Green Fork is set to change the way customers think about meals with inviting and playful prepackaged salad kits, tender leaves, salad blends, and packaged vegetables.
Deep Silver, Senior Director of Marketing at Fresh Prep, LLC and Boskovich Family Farms, devised the new line as a way to bring new personality and an elevated, youthful edge to the pre-packaged category. Green Fork finally fills this gap in grocery offerings and is poised to capture new customers.
This exciting new line waves goodbye to boring bagged salads by introducing modern flavors and delicious combinations in brightly colored packaging. Green Fork will launch with two salad kits, Slammin' Sesame and Marvelous Mediterranean, two tender leaves and two salad blends, Awesome Arugula, Sweet Baby Spinach, Garden Party, and Simply Spring, and five pre-packaged vegetables, Cilantro Pronto, Italian-O Parsley, Curiously Curly Parsley, Radish Squad, and Bae-Bae Bok Choy.
There's something extra special about the veggies, too; they each come with individual UPC codes, a first for the category, making self-checkout a breeze. The packaging also combats customers' concern about food safety, reassuring shoppers that the vegetables aren't sitting in open air or being handled by others.