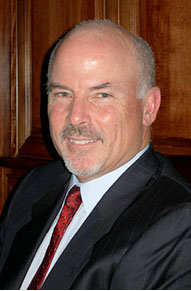 Childress assumes immediate responsibility for managing worldwide direct, systems integrator, and distributor sales forces, as well as all marketing and business development programs.
Moving strategically to add enterprise level management experience to its rapidly expanding business development efforts, NanoLumens® today announced the appointment of Brad Childress to the position of Executive Vice President of Sales & Marketing. Effective immediately, according to NanoLumens President & CEO Rick Cope, Childress assumes complete responsibility for developing and implementing all worldwide direct and channel sales programs as well as all national and regional marketing programs.
"NanoLumens has more than doubled in size in each of the last three years," Cope said today. "We have implemented specific sales programs involving a direct sales management team, a systems integrator network, and an international distributor network. It is now time to bring in a seasoned sales and marketing executive who has the kind of enterprise level management experience to integrate these distinct sales teams into a single, highly productive and motivated sales force. Brad is just the person to do this and lead all of our sales and marketing teams to the next, higher level of success."
In accepting his new appointment, Childress noted that, "As the head of sales and marketing for NanoLumens I am responsible for continuing the rapid sales growth of the company for all of our channels worldwide. This is an awesome responsibility that presents all of us with an extraordinary opportunity to participate in the success of this great company. I am extremely fortunate to have a team of experienced, respected sales directors and marketing professionals and to work with some of the best engineering and customer service minds in the digital media industry."
Brad Childress brings nearly 30 years of sales and marketing experience to his new position at NanoLumens. Most recently, he was a partner at TechCXO, where he helped large and small technology companies accelerate their sales efforts through sales process design, territory, account and opportunity planning and high-impact go-to-market strategies. Prior to this he served as the Executive Vice President of Sales & Marketing for nuBridges, where he played an integral role in the completion of a strategic sale of the company to Liaison Technologies.
Previous sales experience includes serving as the President & COO of The Complex Sale, Inc., where he was responsible for all company operations globally, and worked with dozens of companies worldwide to help them optimize their sales process. He also held the position of VP & General Manager for the Southern Region at Dun & Bradstreet Software, Inc. and served as Vice President of Solutions Marketing for Management Science America, Inc. Childress was awarded a Bachelor of Science degree in Management from the Georgia Tech College of Management at the Georgia Institute of Technology.
NanoLumens' technology has been named 'Best Large-format LED Display' of the year by Signage Solutions magazine in its 2012 Product of the Year awards program, as well as being recognized by Entrepreneur magazine as a 2011 future-proof tech trend and cited by The Wall Street Journal in its 2010 Technology Innovations Awards. NanoLumens' technology also received the 2011 Breakthrough Technology of the Year Award at the American Technology Awards. Digital Signage Magazine awarded the NanoLumens NanoFlex a 2011 DIGI Award for "Best New Display Device – Non-LCD or Plasma."
About NanoLumens:
Headquartered in Atlanta, Georgia, NanoLumens, Inc. (www.nanolumens.com) is a privately held corporation engaged in the research, product development, marketing and sales of unique flexible and fixed large-format LED display solutions in any size, shape, or curvature, that address a yawning technology gap in the $14 billion digital display industry. Since its founding in 2006, NanoLumens has built a portfolio of more than 20 international families of issued and filed patents on its flexible display technology that effectively address the commercial market void between relatively small flat-panel displays and huge, limited application LED boards. NanoLumens technology is not constrained by standard sizes and shapes, or by the weight, heat, noise and cost issues traditionally associated with commercial LED products.
###