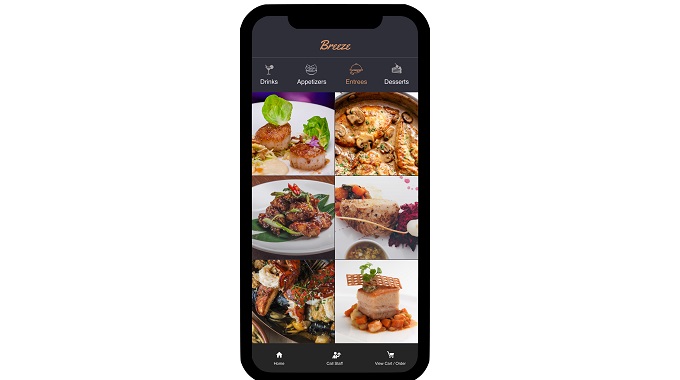 Breeze, a new software solution has launched to reinvent the dine-in restaurant experience and assist the hospitality industry in preparing to reopen and maintain a safe and profitable establishment, while adhering to the National Restaurant Association's new social distancing guidelines.
A sophisticated platform, Breeze is a digital interactive smart menu specifically created to facilitate the dine-in experience at a restaurant post lockdown. The platform allows dine-in customers to view menus, order and process payments from their personal devices by scanning a QR code — avoiding the hassle of downloading an app and eliminating the frequency of face-to-face interactions with restaurant staff. There is no need to download an app or sign up to an account, as the software integrates directly with a restaurant's existing POS system.
The platform is designed to be concise, navigable and aesthetically engaging. The sleek and minimalistic layout improves user experience, increases size compatibility with various menus and POS systems, and enhances loading speed and efficiency — leading customers to order more and faster. The platform is visually-led and allows restaurants to highlight their best items, update in real time and create multiple menus that are instantly interchangeable. Providing an interactive menu experience for customers will also increase average spend and ultimately drive incremental increases in revenue — allowing the restaurant to be sustainable and operate in a new post lockdown era.
"Our goal was to create a tool that reassures customers it is safe to dine at their favorite restaurants, without facing inconvenient or awkward measures such as temperature checks," says Stefan Kouumdjiev, founder of Breeze. "When executed thoughtfully, technology doesn't have to undermine the vibe or hospitality at a restaurant and can enhance the experience."
Set up and integration process is easy and seamless. A Breeze representative will integrate the software with the restaurant's POS and test the platform on-site which takes no more than an hour. Once installed, a restaurant manager can update and make changes through their manager portal. Rather than taking a commission of restaurant sales, Breeze is a subscription-based service and charges a monthly flat fee.
A number of New York and New Jersey based restaurants are already implementing Breeze as the way forward as they prepare to reopen in the coming weeks. Breeze is readily available to restaurants in the tri-state area. For more information on Breeze and to sign up, visit https://www.breezetab.com