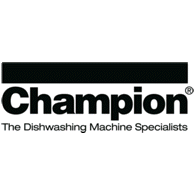 Brent Blanton Named New National Service Manager for Champion Industries
WINSTON-SALEM, N.C. (Nov. 11, 2015) ­ Champion® Industries, manufacturer of a full line of premier commercial warewashing systems, is pleased to announce Brent Blanton as the newly hired National Service Manager. Blanton will replace Gary Tuttle who is retiring from his position at the end of 2015 after 44 years with Champion. Blanton began his career in foodservice in 1995 as the Managing Partner and Branch Manager of National Food Equipment Services for 17 years before accepting the Service Manager position at Carpigiani in 2012. Blanton will assume his new role effective January 1, 2016.
"We want to publicly thank Gary for his leadership and friendship shown to our team, and we look forward to the value Brent brings to our staff," President of Champion Industries Lin Sensenig said.
ABOUT CHAMPION INDUSTRIES
Champion Industries is a division of the Ali Group based in Winston-Salem, NC. Champion manufactures an array of versatile commercial dishwashing equipment ranging from under counter machines to single-rack door machines, rack conveyor machines and upright conveyor/flight machines. Other products include powered soak sinks and pot and pan washing systems. Champion also manufactures the Trisys waste division that can reduce waste up to 95 percent. The Trisys waste division includes Pulper Systems, the Slow Speed Grinder (SSG), Centrifuge and Pheonix dehydrator. Champion's ability to customize products makes Champion the preferred brand for foodservice operations of all sizes – from coffee houses and restaurants to hospitals, schools and other institutions.
For more information on Champion Industries call toll free 800-532-8591, or visithttp://www.championindustries.com.
ABOUT THE ALI GROUP
Founded in 1963 by Luciano Berti, the Ali Group is an Italian corporation with headquarters located in Milan, Italy and North American operations based in Chicago, Illinois. The company, through its subsidiaries, designs, manufactures, markets and services a broad line of commercial and institutional foodservice equipment used by major restaurant and hotel chains, independent restaurants, hospitals, schools, airports, correctional institutions and canteens.
The Ali Group and its 77 global brands employs over 10,000 people in 33 countries and, in terms of sales, is one of the world¹s two largest groups in this industry. It has 58 manufacturing facilities in 14 countries and sales and service subsidiaries throughout Europe, North America, South America, the Middle East and Asia Pacific.
For more information on Ali Group products and services, visit www.aligroup.com.