And The Kitchen Counter by Wolfgang Puck within the Historic Amway Grand Plaza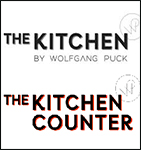 The Kitchen and The Kitchen Counter by Wolfgang Puck is pleased to welcome Gergely "Greg" Seregi as executive chef. In his new role, Greg will oversee all aspects of The Kitchen and The Kitchen Counter by Wolfgang Puck's culinary operations within the Amway Grand Plaza, Curio Collection By Hilton.
A Budapest native and fourth generation chef, Greg's passion for the culinary arts began at an early age and was heavily influenced by Hungarian and French-styled cuisine. Greg began his career at St. Jupat Restaurant in Budapest where he became executive chef during his 16-year tenure prior to joining Nobu to pursue his passion for Asian-fusion cuisine. Greg will bring new menu concepts to the restaurant, inspired by his culinary experiences with global comfort foods focusing on new Asian-fusion dishes.

"Chef Greg's background rooted in European cuisine and passion for Asian-fusion make him the ideal candidate to oversee The Kitchen by Wolfgang Puck," said Chris Madsen, executive chef, Amway Grand Plaza. "His expertise perfecting made-from-scratch comfort fare in addition to authentic global classics will be integral in elevating seasonal menus and new concepts for the restaurant."
Prior to joining The Kitchen by Wolfgang Puck, Greg served at several of Nobu's international outlets, including opening Nobu's first London location as well as outposts in Miami Beach, Las Vegas and Lāna'i City in Hawaii. A graduate of Gundel Karoly Culinary School, Greg received a masters of culinary arts.
About Amway Grand Plaza
The Amway Grand Plaza originally opened in 1916 as the Pantlind Hotel along the Grand River in Grand Rapids, Michigan. Today, the 682-room hotel boasts numerous bars and restaurants, a full service salon, spa, pool, sauna
and 47,000 sq. ft. of meeting space. Known as an icon within the city, the hotel has hosted presidents, celebrities and locals. The property is part of AHC+Hospitality, including the JW Marriott Grand Rapids, the Downtown Courtyard by Marriott and Peter Island Resort & Spa in the BVI. AmwayGrand.com
About AHC+Hospitality
AHC+Hospitality is a management company specializing in customized hospitality solutions for a portfolio of major hotel and restaurant brands including Marriott International, Hilton Hotels & Resorts, Preferred Hotels & Resorts, Hyatt Hotel Corporation, Wolfgang Puck Worldwide, Ruth's Hospitality Group and more. AHC+Hospitality has a proven track record of identifying and implementing operational and revenue-generating efficiencies for it's collection of top-performing hotels and restaurants through the creation of innovative alternatives to the traditional hospitality experience.