BUBBA GUMP SHRIMP CO. RAISES MONEY FOR THE 'REAL LT. DANS' TO SUPPPORT OUR NATION'S HEROES
Forrest Gump-themed Restaurant Celebrates 20 Years with Nationwide Beard Cutout Campaign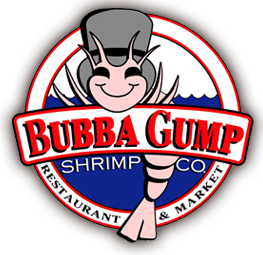 Bubba Gump Shrimp Co celebrates its 20th anniversary and is partnering with the Gary Sinise Foundation, an organization that supports active military and veterans through special programs, and Mountain Dew Kickstart for the official "Run Forrest Run" beard cutout campaign.
Beginning May 26, diners can purchase an official "Run Forrest Run" beard cutout for $1 at the 28 Bubba Gump Shrimp Co. locations nationwide. After purchasing, guests are encouraged to take a photo with their beards and post to the restaurant's social media channels using hashtags #ForTheRealLt.Dans and #BUBBAGUMPTURNS20 for the chance to win exciting prizes and giveaways all summer long.
"This fundraising event is the perfect way to celebrate our 20th anniversary and our goal is to donate $1 million for the Gary Sinise Foundation to support the 'Real Lt. Dan's of today," said Jim Dufault, Chief Operating Officer of Landry's, Inc. "These brave men and women should be recognized for their sacrifices; and we look forward to honoring them in our restaurants."
Launched in 2011, the Gary Sinise Foundation supports America's active military, veterans and their families through a variety of special programs, including the Building for America's Bravest program that builds custom homes for severely wounded veterans and the Invisible Spirit Festivals, a day-long celebration that is intended to boost morale at military medical centers across the United States.
Bubba Gump Shrimp Co. is committed to the local communities it serves, supporting several nonprofit organizations throughout its 20 years. Since opening its first location in Monterey in 1996, Bubba Gump has organized hundreds of community initiatives across the country, which includes assembling care packages and organizing supply drives for soldiers overseas. Change "which includes" to "including such programs as assembling care packages etc.
For more information, visit www.bubbagump.com. Follow Bubba Gump Shrimp Co. on social media channels – Bubba Gump Shrimp Co. Restaurants, Inc., @BubbaGumpCo, and @officialbubbagump.
ABOUT LANDRY'S, INC.
Landry's, Inc., wholly owned by Tilman J. Fertitta, is a multinational, diversified restaurant, hospitality, gaming and entertainment company based in Houston, Texas. The company operates more than 500 high-end and casual dining establishments around the world, including well-known concepts such as Landry's Seafood, Bubba Gump Shrimp Co., Rainforest Cafe, Morton's The Steakhouse, The Oceanaire, McCormick & Schmick's Seafood, Chart House, Saltgrass Steak House, Claim Jumper and Mastro's Restaurants. Landry's also operates a group of signature restaurants, including Vic & Anthony's, Grotto, Willie G's and others. Landry's gaming division includes the renowned Golden Nugget Hotel and Casino concept, with locations in Las Vegas and Laughlin, Nev.; Atlantic City, N.J.; Biloxi, Miss.; and Lake Charles, La. Landry's entertainment and hospitality divisions encompass popular destinations including the Galveston Island Historic Pleasure Pier, Kemah Boardwalk, Aquarium Restaurants and other exciting attractions, coupled with deluxe accommodations throughout the Houston and Galveston area, including the luxurious San Luis Resort, Spa & Conference Center on Galveston Island.
ABOUT GARY SINISE FOUNDATION
Launched in 2011, the Foundation honors its defenders, veterans, first responders, their families and those in need by creating and supporting unique programs designed to entertain, educate, inspire, strengthen and build communities. For more information, please visit www.garysinisefoundation.com