Califia Farms Launches First Dairy-free, Nitro Draft Cold Brew Latte

Beverage visionary and RTD cold brew leader untaps next great coffee adventure: introduces nitro-powered cold brew mixed with almond and macadamia milk in sleek, recyclable on-the-go bottle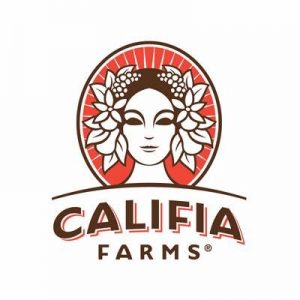 Califia Farms today announced the launch of Califia Nitro Cold Brew, the first completely dairy-free, nitro-infused cold brew coffee latte. The new Califia Nitro Cold Brew line marries creamy almond and macadamia milks with a cold brew made from a specially-curated, signature blend of direct-sourced beans, and infuses it with a jolt of nitrogen that brings out the natural sweetness of the coffee in a silky micro-foam reminiscent of a dark draft beer. Packaged in a sleek, recyclable, on-the-go aluminum bottle, Califia Nitro Cold Brews come in three on-trend flavors: Latte, Mocha, and New Orleans.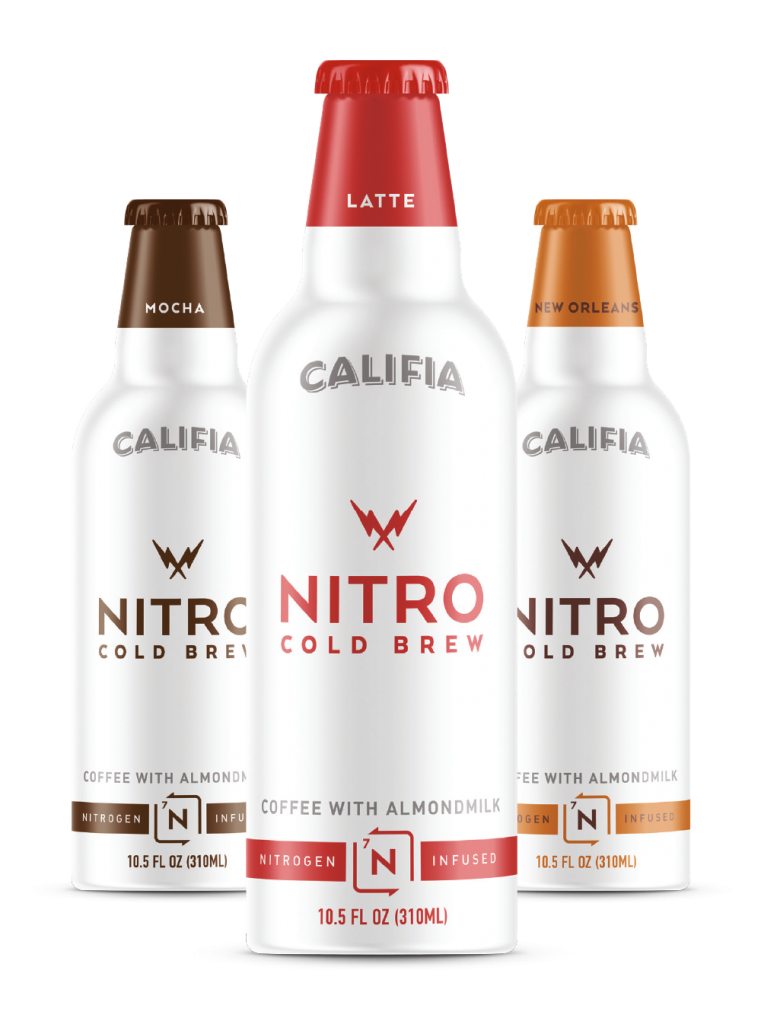 Cold brew coffee has experienced dramatic growth (115%) in the past year with 24% of consumers reporting they are drinking it, according to Mintel.[1] Califia Farms, which is already a leader in RTD coffee drinks (and outpacing Starbucks in specialty retailers[2]) aims to lead innovation in the fourth wave coffee craze. The company, which is known for disrupting retail refrigerator shelves with its iconic, curvy Almondmilk carafe, showcases the new Califia Farms Nitro Cold Brews in a similarly disruptive eye-catching RTD aluminum bottle that is unique to the category.
"With our new Nitro Cold Brew, we have untapped the next great adventure in coffee: a creamy, yet dairy-free, cold brew latte that explodes in a thousand tiny bubbles of rich coffee flavor," said Greg Steltenpohl, CEO of Califia Farms. "We know, and baristas confirm, that Almondmilk provides the perfect, velvety milk base to allow the complexities of coffee to shine through. Our Nitro Cold Brew features our signature coffee blend, curated with directly-sourced Columbian, Guatemalan and El Salvadorian beans, deliciously amplified by nitrogen's effervescence."
Califia Farms' expert R&D team has developed an exclusive process for creating and maintaining thousands of nitro bubbles in the cold brew coffee and almond-macadamia milk blend in its RTD aluminum bottle. The coffee beans for Califia Farms Nitro Cold Brew are sourced through direct, ethical trade relationships that enable supply chain transparency, encourage sustainable growing practices and, ultimately, benefit the growers through premium pricing. The selected coffee beans are roasted and ground for Califia Farms' proprietary cold brewing and nitrogenizing process.
"Califia Nitro Cold Brew is a healthy, non-alcoholic alternative to a refreshing craft beer experience," continued Steltenpohl, "and is a tastier, plant-powered option for fans of Nitro coffee who like it creamy and prefer not to consume cow's milk."
Alternatives to cow's milk have been increasingly displacing dairy milk in America's diet and Nielsen recently reported that almond milk is America's favorite milk substitute, boasting sales growth of 250% over the past five years.[3] Califia Farms, with its iconic bottle and premium-tasting Almondmilk, is a significant force behind that revolution, accounting for 50% of the nut-milk category sales growth in the natural channel.[4]
The Califia Nitro Cold Brew line-up is completely vegan, dairy-free, GMO-free, soy-free and carrageenan-free and includes: Califia Nitro Cold Brew Latte, a perfectly balanced blend of Califia's award-winning creamy Almondmilk, direct-sourced cold brew coffee and nitrogen-infused micro-foam; Califia Nitro Cold Brew Mocha, with an extra rich blast of cocoa, and Califia Nitro Cold Brew New Orleans, which is jazzed with uniquely smooth NOLA-influenced notes of chicory.
"Whether purchased to drink on-the-go or poured into a glass for a gleaming head of foam, we are excited to be making this kind of frothy artisan brew conveniently available to consumers at retailers nationwide, while also serving the growing ranks of customers (particularly millennials) seeking premium, clean energy swaps for high-sugar carbonated and coffee drinks," concluded Steltenpohl.
Califia Nitro Cold Brew will begin shipping to retailers across the U.S. starting in July; look for it in the refrigerated coffee section.
Join the conversation with @CalifiaFarms on Facebook, Twitter and Instagram.
About Califia Farms (pronounced "Cal-lah-fee-ya," like California)
Inspired by the bounty of California, Califia Farms' (www.califiafarms.com) mission is to innovate delicious plant-powered foods for mindful nourishment. The Company is a leader in the revolution to de-commodify the food and beverage industry by creating innovative, healthy and great-tasting premium beverages that make it easy for consumers to go 'plant-powered' and dairy-free, without compromise. Founded in 2010 by a farmer's co-operative based in the San Joaquin Valley and headed by beverage visionary Greg Steltenpohl, Califia Farms is a uniquely California company. Its Bakersfield, Calif. manufacturing plant, which uses artisanal processes to create healthy and delicious plant-based beverages, is eco-friendly, energy efficient and repurposes more than 90 percent of its post-production byproduct. Califia Farms is one of the fastest-growing natural beverage companies in the U.S., as well as the leading brand in the natural products coffee drinks category. In 2015, Califia Farms was named "Brand of the Year" by BevNet and a "Breakout Brand" by Beverage World.
[1] http://www.mintel.com/press-centre/food-and-drink/us-cold-brew-coffee-sales-grow-115-from-2014-2015
[2] SPINS 52 Weeks Ending 3/20/16
[3] http://www.nielsen.com/us/en/insights/news/2016/americans-are-nuts-for-almond-milk.html
[4] SPINS Satori Natural Channel, 52 Weeks ending 3/20/16