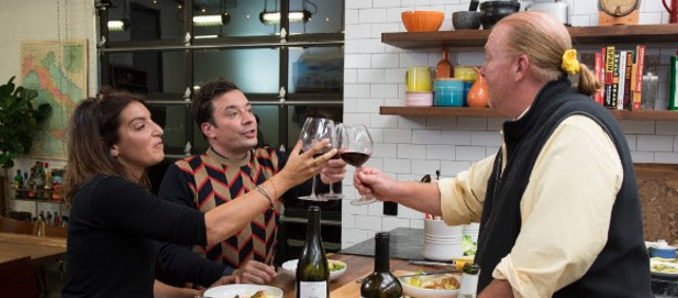 JIMMY FALLON AND MARY GIULIANI JOIN MARIO BATALI
FOR NEW EPISODE OF MOLITISSIMO
In the latest episode of Moltissimo, presented by Microsoft Surface, Mario Batali welcomes Tonight Show host Jimmy Fallon and author and caterer Mary Giuliani to the MUNCHIES Kitchen for a lesson in wine-opening and ravioli-making.
MUNCHIES is excited to release the latest episode of MOLTISSIMO, hosted by food icon Mario Batali. Sponsored by Microsoft Surface, the episode features Batali hosting two dear friends into the MUNCHIES Kitchen: Tonight Show host Jimmy Fallon and New York City's author and caterer Mary Giuliani.
Watch MOLTLISSIMO exclusively on MUNCHIES:
Mario welcomes his guests with a very special menu of pollo alla romana and ravioli al'amatriciana, two dishes which hail from the Lazio region of Italy. In between Jimmy's rapid fire impressions — highlights include John Travolta, Yosemite Sam, Rosie Perez, and a VICE correspondent — Batali teaches the pair how to fold and cut ravioli and how to properly open a bottle wine.
As Mario prepares his Italian feast, Mary and Jimmy talk about they both got their starts in their industries. A SNL alumni, Fallon recounts his two auditions for the show with legendary SNL Producer Lorne Michaels. After losing out to Tracy Morgan for the gig, Fallon ultimately swayed Michaels with his Seinfeld impression. Mary recounts her own path to becoming a world-renowned caterer, accidentally ending up on that career path after years as a struggling actor.
ABOUT MUNCHIES
MUNCHIES is a James Beard award-winning website and digital video channel from VICE Media dedicated to food and its global purpose. Launched in 2014, MUNCHIES offers groundbreaking content from a youth-driven perspective. The channel chronicles the wide spectrum of the global culinary experience and the diverse voices that are pulling us forward: chefs and home cooks, makers and consumers, the politics and policies of food, "front" and "back of house" restaurant life, old wives tales and innovative news, and culturally significant indicators in the modern food world. Through engaging original video content, compelling editorial features, articles, how-to's, recipes and events, MUNCHIES offers a signature perspective on the intersection where humans and food connects.