Cantina Laredo, Las Vegas' go-to spot for Modern Mexican cuisine, introduces several new dishes to both their lunch and dinner menus. Located in Tivoli Village, Cantina Laredo is the prime destination in West Las Vegas for savory Mexican cuisine and refreshing signature cocktails. New menu items are now available. The freshly introduced options include: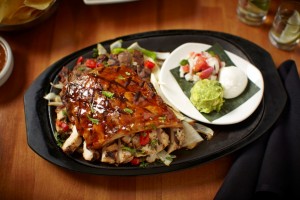 Costillas Con Fajita: Ribs basted in Jose Cuervo Tequila barbecue sauce with beef and chicken fajitas
Torta de Costillas: Griddle baked sandwich with slow-roasted short rib, apple-jicama slaw, jalapeños and black
Tacos de Costillas: Slow-roasted short rib with tomatillo sauce, monterey jack cheese, roasted red peppers and queso
Tacos de Hongos: Grilled portabello mushrooms in balsamic glaze with goat cheese, roasted red pepper and queso
Pollo Mango Mole: Grilled chicken with mango mole sauce and toasted pine nut
Cantina Laredo is located at 430 S. Rampart Blvd, Suite 110, Las Vegas, NV 89145 inside Tivoli Village. The nrestaurant is open for lunch and dinner: Sunday – Thursday 11 a.m. to 10 p.m. and Friday – Saturday, 11 a.m. to 11 p.m. For more information or to view a full menu, visit www.CantinaLaredo.com, call (702) 202-4511 or find us on Facebook.