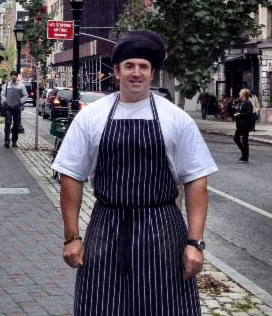 Chef Craig Jones of Saint Lucia's Cap Maison Debuts at City Grit NYC Culinary Salon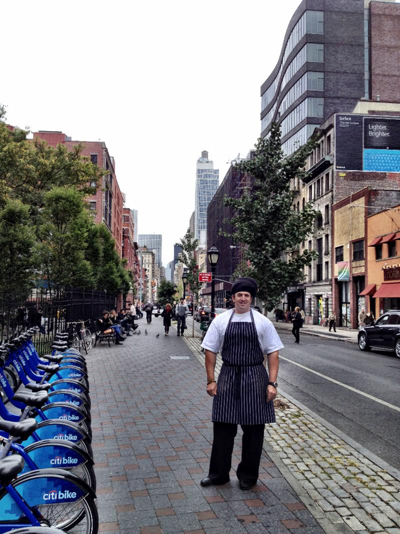 Chef Craig Jones and his team from Cap Maison's Cliff at Cap have just returned from New York City, after a successful debut at City Grit, the culinary salon in NoLIta that offers chefs from the world over a platform to showcase their talents and cook for a New York audience. The dinners that Chef Jones cooked on October 11 and 12 marked the first time that a Caribbean chef has cooked at City Grit.
City Grit's non-traditional setting and hipster environment was a comfortable fit for Jones and Cliff at Cap restaurant, known in Saint Lucia for bringing Pop Up dinners to the most unexpected places around the island.
For Chef Jones, cooking at City Grit was "a chance for me to let our Caribbean flavors come through and give New Yorkers a taste of Saint Lucia to match their sophisticated palates."
Jones' ambitious menu paid homage to the Caribbean while simultaneously turning island classics on their head. His City Grit menu started with pork belly in chick pea curry with mangos and avocados. Then there was a dish with five variations on a sweet potato: as a beignet, puree, crisps, powder and pomme frites, served along with foie gras. The seafood course was a tortellini of spring lobster served with caramelized ripe plantain and a foam of star anise, lime leaf and lemon grass. That was followed by Chef Jones' riff on the classic West Indian pepper pot, translated for foodie Manhattanites using Kobe beef, caramelized Scotch bonnet peppers, star anise, nutmeg and honey. Desserts included a chocolate truffle made from Saint Lucian chocolate, a banana beignet a la crème, and homemade avocado ice cream with local almonds, pistachios, pecans and pumpkin seeds that had been roasted with a Saint Lucian honey.
Upon returning to Saint Lucia, the team from Cap Maison was welcomed home with the good news that the resort had been voted by the readers of Condé Nast Traveler as one of the "Top 10 Hotels in the Caribbean" in the magazine's 2013 Readers' Choice Awards survey results. This all comes during a spectacular 5th Anniversary year for Cap Maison, which won a 2013 Fodor's 100 Award, a TripAdvisor's Certificate of Excellence 2013 and its first Wine Spectator Award of Excellence in 2013.
Cap Maison, set on a stunning four-acre, cliff-top parcel of land just minutes north of popular Rodney Bay, features 50 artfully appointed suites and guest rooms. A member of Virtuoso and Preferred Boutique Hotels, Cap Maison has been a Condé Nast Traveler "Hot List" Hotel and was awarded TripAdvisor's Certificate of Excellence for 2013, the third year in a row it has claimed the distinction. Cliff at Cap, the resort's signature restaurant with breathtaking panoramic views of the Caribbean Sea, is where Executive Chef Craig Jones serves a French West Indian-inspired contemporary menu based on fresh local products and seafood. In 2013, it earned its first Award of Excellence from Wine Spectator. The resort features a 2,000 square foot serene spa with an adjacent garden that provides herbs for signature indigenous treatments. Cap Maison's private 46-foot luxury yacht, Cap Maison 1, is available for evening voyages, wedding parties, special events and day or overnight excursions to any of the nearby Windward Islands.