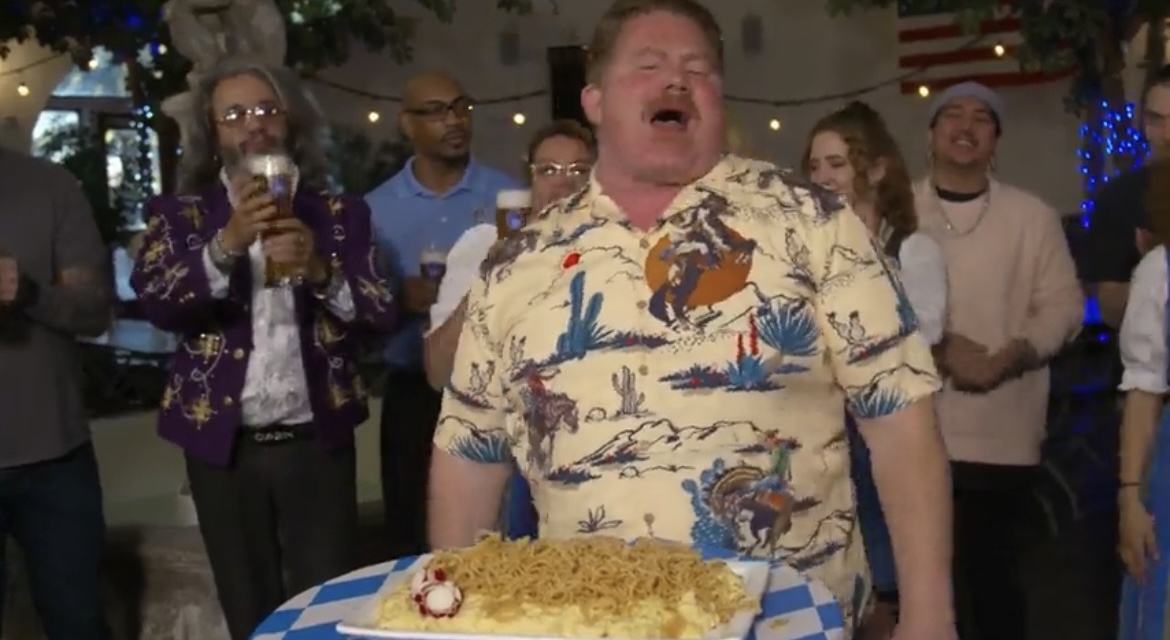 Casey Webb, the host of the Travel Channel's Man v. Food, travels the country in search of America's most delicious dishes and ultimate eating challenge. He made his way to Las Vegas to fight his way through the 4½ -pound Käsespätzle Challenge at Hofbräuhaus Las Vegas, an authentic German beer garden and restaurant.
Hundreds have attempted to finish the dish, are layered with doughy dumpling noodles and covered with Swiss cheese and fried onions in under an hour to win a Hofbräuhaus beer stein, but all have failed.
Will Casey win and then drink beer from his beer stein in celebration?
Las Vegas entertainers to cheer him on included the cast from Chippendales and Fantasy, headliner Mike Hammer (magic and comedy), and cast members Michael T. Ross (Raiding the Rock Vault), John Acosta (Bee Gees Gold), and Jayne and Eric post (Marriage Can Be Murder).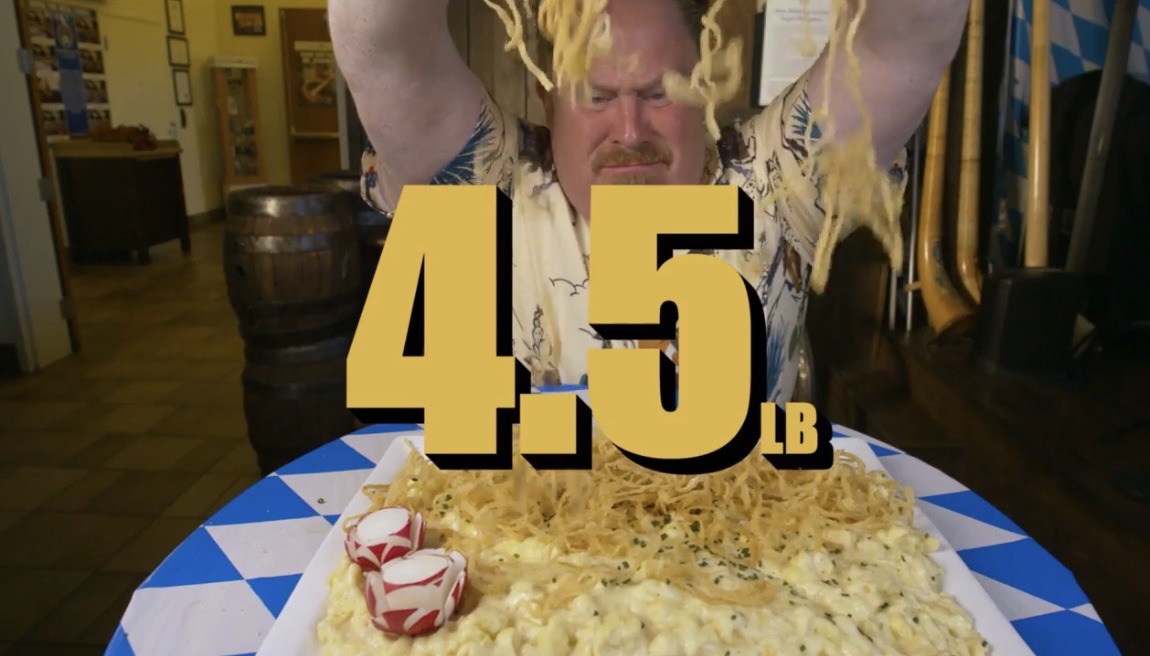 The Käsespätzle Challenge might be undefeated, but as Casey screamed before he started, "Your luck is just about to run out, so get out of here!"
Mike Hammer did bend a fork before making it disappear. Before the big challenge, Casey indulged in ski shots with the cast of Fantasy—a row of shot glasses attached to a ski. "Just make sure you don't have too good of a time," admonishes Casey. Casey observed how the chef prepared the dish to build up his confidence.
Then it was time.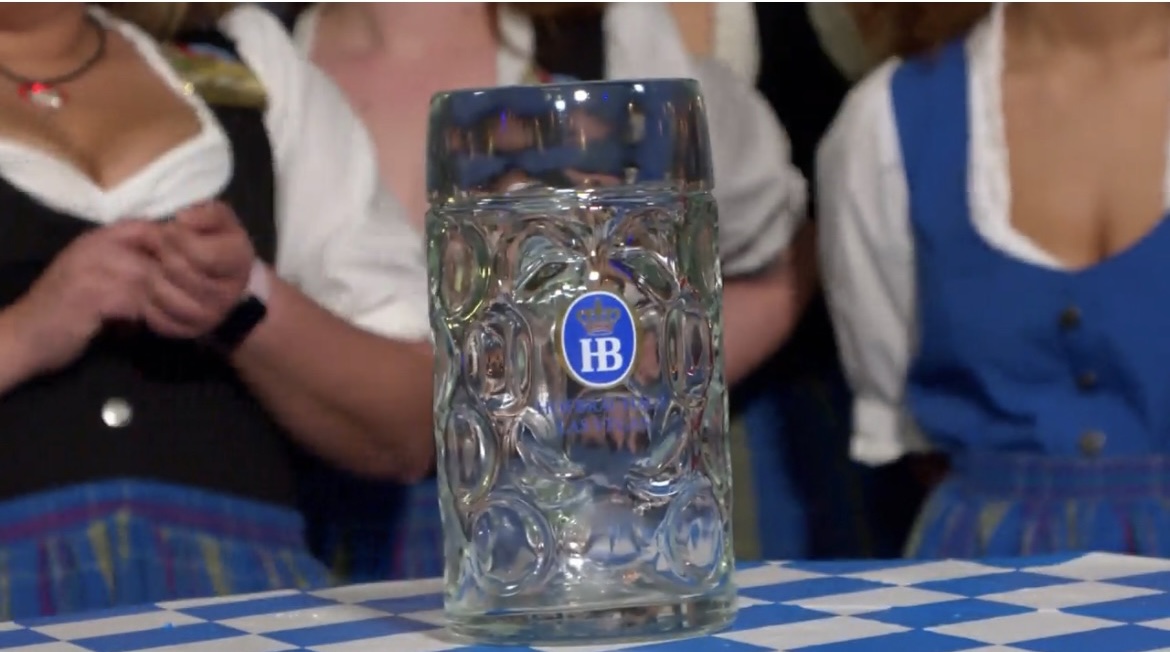 To a cheering crowd, Casey walked out and moved the fried onions to the side, singing along while taking gulps of food. "It is a long shot for me to be the first winner, but you never know; you can always get lucky in Vegas." He was taught a move that was supposed to "compact" the food, and he went all in to become the first winner. The Vegas chanted to "down that pasta," and he did manage to eat it all. However, Casey could not eat the ½ pound of fried onions, and the food won in the battle of Man v. Food. However, he was still given a beer stein.
Featuring authentic cuisine, adding the flavor of celebrity keg tapping while night after night diners can witness men asking (actually begging) to be spanked attracts a very enthusiastic clientele. Hofbräuhaus Las Vegas was created as the exact replica of the legendary Hofbräuhaus in Munich and the first German beer hall and restaurant in Las Vegas.
Classic Bavarian sausage specialties, a big staple in German food, are made fresh and served in the traditional style of Europe with yummy sides to enhance the meat. As for the beer, this divine beverage is brewed using original recipes handed down by the Duke of Bavaria and imported directly from Munich's brewery. A brewmaster in Germany oversees the brewing of its three beer varieties available all year, plus seasonal specialties like Oktoberfest, Maibock, and Hefe Weizen Dunkel.
Human Nature will continue the Oktoberfest festivities as they serve as the ceremonial keg tappers at Hofbräuhaus Las Vegas on Friday, Sept. 23. Reckless in Vegas will serve as the keg tapper and kick off the evening of beloved Bavarian fun on Saturday, Sept. 24.
An annual celebration in Munich, Germany, since the 19th century, Oktoberfest is the world's biggest beer party. Hofbräuhaus Las Vegas, 4510 Paradise Road, plans to host its boisterous and beloved 18th annual celebration through Oct. 31. Revelers can expect daily specials, stein-holding contests, live entertainment, bar games, prizes, dancing in the aisles, and more.
For more info, visit hofbrauhauslasvegas.com and follow on Facebook, Instagram, and Twitter.
Casey will continue to travel the country, challenged by a four-pound Reuben sandwich in Milwaukee to a gallon-sized ice cream sundae in New Orleans. Casey is a foodie, actor, and restaurant business veteran. For more info about the show, visit here and here.