Bringing the Sake category to the main stage and giving it a new voice in the US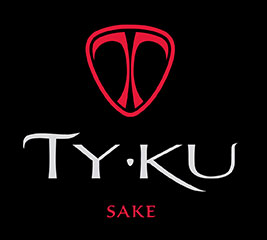 Have you been approached by other liquor brands and offered ownership?
I have been approached by other liquor brands in the past, however TY KU is the first brand that I had interest in taking an ownership position in as I'm excited about creating a category that we Americans have yet to discover. The TY KU team has an entrepreneurial spirit and culture, which is a great fit for me. Partnering with a brand like TY KU has helped to diversify my business outside of music and allows me to really get involved above and beyond on the business side.
Why did you choose to work with Ty Ku?
The TY KU brand was very intriguing since, like me, it is an innovator in its field and pushing boundaries; TY KU is pioneering the first premium brand name in the sake space. It is incredible that people are eating sushi and drinking sake all the time, yet most can't name a single brand or even a type of sake. That is why my partnership with TY KU is so important—together, TY KU and I are creating the first premium brand name sake, paving the way for the entire sake category to grow. We were the first sake brand in the U.S. to have a nationally televised commercial. Being a part of beverage history and being the first is exciting. I also admire that TY KU Sake & Spirits are best in class and award winning; the best sake I have ever tasted in all my travels. Then of course, there is the fact that TY KU is a sexy looking brand … just like me.
Was Sake always your drink of choice?
I have always found sake to be a provocative and sexy drink. I love Japanese culture, food and art. Now with TY KU, it is about sharing sake in new and different ways, like at the club or with a great steak. I also love tequila and one of my favorite cocktails is simply TY KU Citrus Liqueur and Patron. Also, I have recently lost 30 lbs with eDiets, so TY KU Sake it is the perfect complement to my diet because it is naturally low in calories and gluten free.
What is your personal goal for TY KU in the next few years?
I would like to help TY KU continue to grow into being the leader in sake; it has been the fastest growing sake in the U.S. for the past 3 years, so we are on our way. The name brand TY KU should be synonymous with premium sake – much like Patron is with the tequila category. Also, to help educate and bring TY KU Sake outside of the sushi restaurant and onto more wine lists. Again, look at the premium tequila category, you see brands like Patron and Don Julio everywhere, not just in Mexican restaurants. TY KU has the ability to grow into the next big brand not just in sake, but in the beverage industry.
Are you seeing an emergence in the gluten free market? Do you agree with Dr. Oz when he speaks of people using gluten free products when it is unnecessary and just adds unnecessary calories?
Although we are proud to share that TY KU is naturally gluten free and low calorie, those are not the only drivers of the brand. It is important for people to know what they are consuming and TY KU Sake is a safe option for drinkers that have sensitivities to gluten, but isn't a "diet" drink. TY KU Sake is not a fad, sake is an ancient beverage and has been around for centuries— it is the original beverage of health conscious drinkers.
How do you see TY KU vs. traditional sake?
TY KU is authentic Japanese sake and the entire premium sake portfolio, other than TY KU Sake White, is produced in Nara, Japan, the birthplace of sake. TY KU Sake takes the best of Japanese sake and is presenting it in a way that is sexy, modern and relatable. We are bringing traditional sake into the 21st century; Asian culture is very cutting-edge, so we want to bring some of that into the TY KU lifestyle as well.
Where do you see this brand heading in 2-5 years?
I see the TY KU brand growing into a million case plus brand and being the leader in the beverage category. Also, we may introduce some new TY KU products down the line … but I can't give away our secrets!
What trends are you seeing in the food & beverage industry that companies should be on the lookout for?
I like that there has been a return of fresh and all-natural ingredients. There are a lot of companies out there that are proving that quick and easy doesn't have to mean processed. Also with the rise of social media, I think F&B is becoming more culturally diverse, which is why it is a great time for buyers out there to try TY KU Sake & Spirits and Share On!