Newcastle Uses Lore of Mythical Creature to Sell More Beer This Fall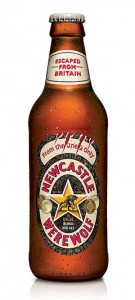 Newcastle Brown Ale, the leading imported ale in the USA, today announces that it is bringing back its popular Newcastle Werewolf limited edition brew just as the heat of summer fades to the cooler days of fall. On shelves from August through October, Werewolf is a dual-character, "blood red" ale that starts smooth and mellow and transforms suddenly to offer a bite of bitterness that is long and lingering.
"We are thrilled to bring back the popular Newcastle Werewolf, a proven favorite among consumers, 21 and older, retailers and on-premise operators," said Brett Steen, Brand Manager for Newcastle, HEINEKEN USA. "During the 2012 fall season, Werewolf sales increased over 100% versus 2011 and outperformed other major seasonals during this key selling period. This year, we have the incremental support in place to scare up even greater sales and profit for our trade partners."
This fall, Newcastle is adding a dedicated Werewolf TV spot (national) to its arsenal of support to create even more interest and drive traffic to local retail and on-premise accounts. Local sampling (where legal) and Werewolf themed display and POS materials will be available to stop traffic and encourage patrons to experience the bite of a Werewolf for themselves.
Newcastle Werewolf is brewed with rye malts, making it naturally blood-red in color. It has an alcohol by volume (ABV) of 4.5 percent with 23.4 International Bittering Units (IBUs). Werewolf stays true to the characteristics of Newcastle Bown Ale but offers a seasonally advantageous palate – sweet berry fruit with roasted caramel notes up front followed by a bite of bitterness from the Fuggle and Golding hops at the finish.
"Werewolf's creative label design leverages the brand's intriguing personality," added Steen. "What better way to toast the changing season than to offer your customers this formidable dual character brew."
Newcastle Werewolf is available nationally from August 2013 through October 2013 in 6-packs and 12-packs priced comparably to Newcastle Brown Ale. Werewolf will also be available on draught at pubs in most major markets.
# # #
About HEINEKEN USA
HEINEKEN USA Inc., the nation's leading upscale beer importer, is a subsidiary of Heineken International BV, the world's most international brewer. European brands imported into the U.S. include Heineken Lager, the world's most international beer brand, Heineken Light, Amstel Light, Newcastle Brown Ale, and Strongbow cider. HEINEKEN USA also imports the Dos Equis Franchise, Tecate Franchise, Sol, Indio, Carta Blanca and Bohemia brands from Mexico. For a safe ride home, download the HEINEKEN USA-sponsored Taxi Magic™ application from your smartphone at taximagic.heineken.com <http://taximagic.heineken.com/> .