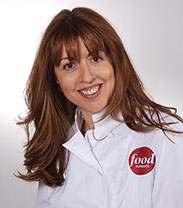 Katherine Alford has been promoted to Senior Vice President of Culinary for Food Network, Cooking Channel, and the food category at Scripps Networks Interactive, it was announced today by Brooke Johnson, President, Food Network and Cooking Channel. Katherine had previously served as Vice President Culinary, where she was responsible for overseeing all recipe development and testing for Food Network Magazine. As SVP, Alford will continue to manage the test kitchen for Food Network and Cooking Channel, while expanding her oversight to include culinary projects for TV, digital and new business.
"Our kitchen truly represents the heart and soul of our brands," said Johnson. "Katherine has been an invaluable member of the team, most recently launching and continuing to steer our magazine to great success; her skill and passion will undoubtedly help us continue to feed our audience. I am thrilled she has agreed to take on this expanded role."
Food Network & Cooking Channel's kitchen is a full-service working kitchen that supports every department across both brands. In her new role, Katherine will now oversee a staff of 30 culinary professionals who specialize in TV food production, food styling, location cooking, recipe and product development, research and catering. As culinary content development becomes increasingly more important for Food Network & Cooking Channel, Alford will be leading all culinary efforts.
A graduate of Pomona College, the New York Restaurant School, and Ecole de Cuisine La Varenne in Paris, Katherine has been with Food Network since 2000. Along with the Food Network culinary team, she has helped create countless packages of recipe content for FoodNetwork.com.
Alford lives in New York City with her husband and daughter.