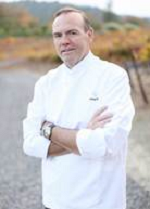 When Mirbeau Inn & Spa Rhinebeck opens this fall, it will introduce a culinary titan to the Hudson Valley food scene with Willow by Charlie Palmer. The world-renowned chef will consult on all food and beverage operations at the 50-room resort, managed by Mirbeau Hospitality Services. In addition to Willow, that includes Mirbeau Inn & Spa Rhinebeck's in-room dining, Aqua Terrace light fare, Willow Bar and catering programs.
"Fine cuisine has always been an integral part of the Mirbeau experience, and as we prepare to open our third resort, we're thrilled to partner with one of the culinary world's true legends," said Michael Dal Pos, chief executive officer of Mirbeau Hospitality Services. "Willow will feature the Progressive American Cuisine for which Chef Palmer is renowned, executed at a level that is a hallmark of the Charlie Palmer collective. At the same time, the restaurant will stay true to the Mirbeau food and beverage concept and our guests will recognize several signature items, like grilled oysters and the Mirbeau burger, from the menus of our Skaneateles and Plymouth resorts."
Located on the first floor of Mirbeau Inn & Spa Rhinebeck, Willow is an easy walk from anywhere in the village. From its open-air back deck, guests are treated to forever-wild forest views dotted with willow trees, the inspiration for the restaurant's name. In fact, willow trees are a signature of all Mirbeau resorts, inspired by those at Claude Monet's Giverny. Willow's interior will feature a chic and comfortable design aesthetic.
"We are putting together a great team for this project and are thrilled to become part of this community. We look forward to showcasing all that the Hudson Valley's farms have to offer," said Palmer.
Willow will be open for breakfast, lunch and dinner daily to the public as well as resort guests. Willow staples will consist of whole grilled Maine lobster with an assortment of farm-stand sides, charcuterie and accoutrements. A deep wine list will complement the menu and a separate wine bar menu of lighter fare and appetizers will be available for guests seated at the bar. In a region known for its flourishing food scene, Willow will set itself apart as the place to go for Rhinebeck's most buzzworthy breakfast, while its lunch program will cater to Mirbeau's spa guests with a more casual focus.
About Mirbeau Inn & Spa Rhinebeck
Mirbeau Inn & Spa Rhinebeck, opening fall 2019, introduces the award-winning Mirbeau philosophy of bringing balance to modern living to New York's Hudson Valley. Reminiscent of an old-world chic Parisian hotel, the 50-room Rhinebeck resort will offer gracious accommodations, a 12,000-square-foot Spa Mirbeau, progressive American dining at Willow by Charlie Palmer, and 3,000 square feet of sophisticated meeting and event space. Just two hours north of New York City, Mirbeau Inn & Spa Rhinebeck is set on 2.8 secluded, private acres, in the center of the village's historic downtown and two miles from Rhinecliff Train Station servicing the Amtrak Northeast Corridor line. It is managed by Mirbeau Hospitality Services. Visit rhinebeck.mirbeau.com.
About Mirbeau Companies:
For nearly 20 years, The Mirbeau Companies have successfully developed and managed European-inspired boutique hotels, spas and resorts including the award-winning Mirbeau Inn & Spa and Spa Mirbeau brands. Family-owned and operated, Mirbeau Inn & Spa is a nationally renowned destination resort brand, with locations in Skaneateles, N.Y., Plymouth, Mass., and Rhinebeck, N.Y. (opening fall 2019). The first Spa Mirbeau, a unique "Day Resort" concept offering all of the amenities of a full resort experience to regional customers close to home, opened in fall 2017 in Albany, N.Y. Mirbeau, loosely translated as "reflected beauty," embraces characteristics of French Impressionist art including introspective reflection and simple elegance throughout its facilities. For more information about Mirbeau, visit mirbeau.com.
About Charlie Palmer
Since the beginning of his celebrated career, master chef, hospitality entrepreneur and hotelier Charlie Palmer has received critical acclaim for his signature Progressive American cooking, a style built on rambunctious flavors and gutsy combinations with a deep and lasting infusion of classical French technique. Aureole, his award-winning fine dining restaurant now in its 30th year, sits at the head of the Charlie Palmer Collective of 12 restaurants and two rooftop bars. Palmer is an admired and respected hospitality industry veteran and business leader. The James Beard Foundation named him "Best Chef in America" in 1997 and welcomed him as a member of their illustrious "Who's Who of Food & Beverage in America" in 1998. A frequent guest on NBC's Today Show, Bravo's Top Chef, The Rachael Ray Show and more, Palmer is also the author of six cookbooks, and a devoted father and husband. For more information, visit charliepalmer.com