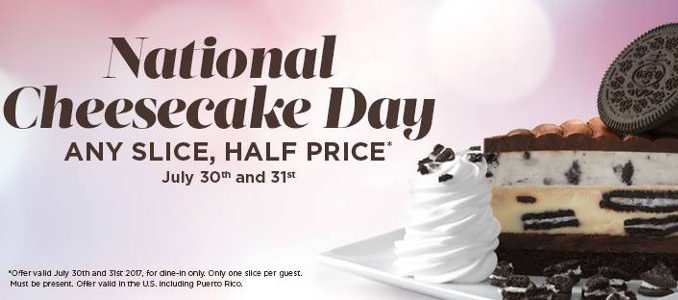 THE CHEESECAKE FACTORY CELEBRATES NATIONAL CHEESECAKE DAY WITH ANY SLICE FOR HALF PRICE ON

JULY 30 AND 31
Just In Time To Celebrate: New Celebration Cheesecake Debuts on July 30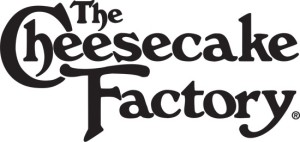 The Cheesecake Factory® is embracing its favorite holiday of the year – National Cheesecake Day – in a big way with a two-day celebration on July 30 and 31 offering dine-in guests any slice of its more than 30 legendary flavors of cheesecake for half price at any of its 193 restaurants nationwide.* The Cheesecake Factory will also debut its newest cheesecake creation – Celebration Cheesecake.
Featuring layers of Original cheesecake, vanilla cake, strawberry, chocolate and vanilla mousse topped with cream cheese frosting and finished with brightly colored confetti, the Celebration Cheesecake is the picture-perfect dessert to commemorate National Cheesecake Day. The Celebration Cheesecake will be available beginning Sunday, July 30 and for every slice sold through August, The Cheesecake Factory will donate 25 cents to Feeding America®, the nation's largest domestic hunger relief organization. Since 2008, The Cheesecake Factory has donated more than $4.2 million to Feeding America through the sale of its specially designated cheesecakes.
"National Cheesecake Day has become an annual tradition at The Cheesecake Factory and we look forward to it all year," said David Overton, Founder and CEO of The Cheesecake Factory Incorporated. "Along with offering our dine-in guests any slice for half price, we are so pleased to mark the occassion by introducing our delicious new Celebration Cheesecake."
*One slice of cheesecake per dine-in guest. Must be present. Offer valid at restaurants in the U.S.A. including Puerto Rico.
For more information about The Cheesecake Factory®, please visit www.TheCheesecakeFactory.com
About The Cheesecake Factory Incorporated
The Cheesecake Factory Incorporated created the upscale casual dining segment in 1978 with the introduction of its namesake concept. The Company, through its subsidiaries, owns and operates 207 full-service, casual dining restaurants throughout the U.S.A. and Puerto Rico, including 193 restaurants under The Cheesecake Factory® mark; 13 restaurants under the Grand Lux Cafe® mark; and one restaurant under the RockSugar Pan Asian Kitchen® mark (rebranding to RockSugar Southeast Asian Kitchen™). Internationally, 16 The Cheesecake Factory® restaurants operate under licensing agreements. The Company's bakery division operates two bakery production facilities, in Calabasas Hills, CA and Rocky Mount, NC, that produce quality cheesecakes and other baked products for its restaurants, international licensees and third-party bakery customers. In 2017 the Company was named to the FORTUNE Magazine "100 Best Companies to Work For®" list for the fourth consecutive year. To learn more about the Company, visit www.thecheesecakefactory.com.
FORTUNE and FORTUNE 100 Best Companies to Work For® are registered trademarks of Time Inc. and are used under license. From FORTUNE Magazine, March 15, 2017 ©2017 Time Inc. Used under license. FORTUNE and Time Inc. are not affiliated with, and do not endorse products or services of, The Cheesecake Factory Incorporated.