Chef Austin Simmons will host the next of his "CollaborEIGHT" dinner series with former mentor, two-time contestant on "Top Chef," and three-time James Beard nominee Chef John Tesar. Themed "Protege and Mentor," the dinner will take place at TRIS in The Woodlands, Texas on Monday, Jan. 14 from 6-9 p.m.
In his "CollaborEIGHT" dinner series, Simmons pairs up with locally and nationally acclaimed culinary talents to curate an eight-course dining experience with wine pairings.
Recently named Eater Houston's "Chef of the Year," Simmons is pushing the culinary envelope in The Woodlands with his implementation of worldly flavors and classic technique. Prior to TRIS, Simmons developed his love for fine dining and honed his craft under Tesar at the Rosewood Mansion on Turtle Creek. He also helped Tesar with the opening of his eponymous restaurant, Tesar's Modern Steak & Seafood in The Woodlands.
"I am excited to reunite with John and present guests with an unforgettable dinner," said Simmons. "John was an instrumental figure in my culinary journey, and it is an honor to collaborate with him at my restaurant."
"I'm thrilled to return to The Woodlands and cook alongside Austin," said Tesar. "Austin is an incredibly talented chef, and it has been a privilege to watch him grow. I'm excited to see TRIS and can't wait for guests to experience dinner."
The dinner is priced at $175 per person and guests will be able to purchase a signed copy of Tesar's cookbook, "Knife: Texas Steakhouse Meals at Home," for an additional $25. Reservations are required and guests are encouraged to purchase tickets early as seats are limited. To make a reservation, visit triswoodlands.com/collaboreight or call (281) 203-5641
About Chef Austin Simmons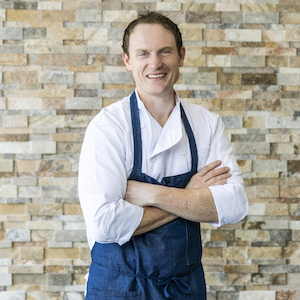 A graduate of Le Cordon Bleu College of Culinary Arts, Texas-born and raised Chef Austin has been impressing guests all over the world, first at Dallas's famed Mansion on Turtle Creek, and later at John Tesar's Modern Steak & Seafood. Today, Chef Simmons sources ingredients from around the world and combines them with unrivaled technique and vision at TRIS, The Kitchen, and Cureight. The result is a cuisine that is unmatched in The Woodlands and among the finest in Texas. Follow Chef Austin on Facebook, @Chef_Austins on Twitter, and @ChefAustinSimmons on Instagram.
About TRIS
Located in The Woodlands, Tex., TRIS is one of three concepts from restaurant management group Hubbell & Hudson. Headed by Executive Chef Austin Simmons, TRIS is named after his beloved daughter. Offering an explementary dining experience, Chef Simmons' menu combines worldly flavors from his extensive travels with classic culinary technique, paired with re-envisioned classic cocktails, select craft beer, and ever-evolving new and old-world varietals. TRIS is located at 24 Waterway Avenue Suite # 125 The Woodlands, TX 77380, and is open Tuesday through Saturday from 11 a.m. to 10 p.m. For more information, visit triswoodlands.comand follow on social at facebook.com/triswoodlandsand @triswoodlandson Instagram and Twitter.
About Chef John Tesar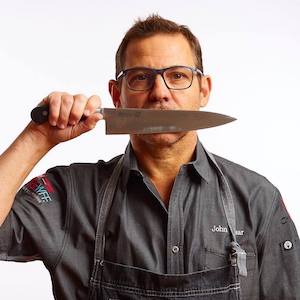 An iconoclastic celebrity of the food world, Chef and restaurateur John Tesar is renowned for his daring and bold American cuisine prepared with classic European techniques. His fearless culinary perspective and no-nonsense personality have garnered tremendous acclaim throughout his 20+ years in the restaurant industry, including several noted positions in New York, Las Vegas and Dallas. He has been called "the single most talented cook I ever worked with" by Anthony Bourdain, who modeled the character "Jimmy Sears" in his books closely on Tesar. A four-time James Beard "Best Southwest Chef" semifinalist and two-time "Top Chef" contestant, Tesar was also winner of the inaugural season of Food Network's "Extreme Chef." Currently, Tesar is wowing diners with his popular steakhouse Knife at The Highland Dallas–named among the best in the country by Bon Appetit, Eater, and Esquire among others–as he prepares several other concepts at all levels of dining experience and continues to be a sought-after personality on the food festival circuit. Additionally, he has his first book "Knife: Texas Steakhouse Meals at Home." Follow John on Facebook at facebook.com/chefjohntesar, Instagram at @ChefJohnTesarand Twitter at @ChefJohnTesar.