Cuisine to highlight multiple regions of Spain with inclusion of seafood from the pacific northwest.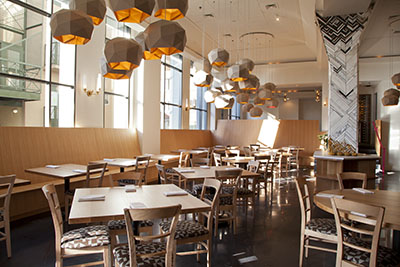 After many months of anticipation, fans of Chef Jason Stratton are now able to dine at his new Spanish restaurant and bar, Aragona. Aragona has 55 seats in the main dining room that includes a dining counter with direct views of the plancha (flattop grill) and open kitchen, bar seating for 45 guests, and a private dining space that will accommodate an additional 25 guests
Stratton's vision for Aragona is influenced by his time living in Spain, and his interest in the region's history that has shaped traditional and modern Spanish cuisine. Dishes will draw primarily from the districts of Catalonia, Valencia and Andalucía. Matched with contemporary presentation, Stratton, and Chef de Cuisine Carrie Mashaney, will create straight forward and sophisticated versions of Spanish dishes using the products of small, local farmers and local and imported artisans. Rice will be a focal point of the menu and the closest offering to classic dishes of the country. While respecting the strong tradition built over hundreds of years, ingredients in Stratton's rice dishes will range beyond basic versions of Spanish paella that are most familiar to American diners.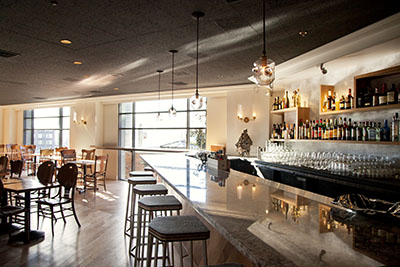 Stratton sees a lot of similarity in spirit at Aragona to what he does at his northern Italian restaurant, Spinasse. "We start with a very traditional dish from the countryside and riff on it depending on what's in season- or perhaps we do a very straight read on it, while refining it in a way." Seafood will have a larger place on the menu at Aragona than it does at Spinasse and Artusi, given the restaurant's location near the Seattle waterfront and Pike Place Market. Other cooking techniques will be truly expressive of Spanish cuisine; plancha cooking, especially for fish and shellfish; deep-frying, a high art form in AndalucÍa, and lots of local vegetables.
As a prominent element, the wines of Spain will be the foundation of Aragona's beverage offerings focusing on smaller producers and terroir-driven wines. The wine list will be segmented into four primary sections: New Empire, Old Empire, New World and Specialty Dessert Wines and Rose. Assembled by Chris Tanghe, Master Sommelier, the list solidifies the bond between Modern Spain's food and wine culture that Tanghe describes as: "at the same time fiercely traditional and ultra progressive, creating a diverse and fascinating breadth of wines with varying styles."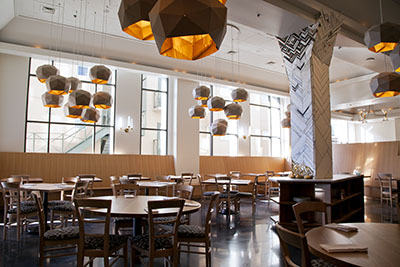 Desserts, crafted by budding pastry chef Clare Gordon, will be rustic and highlight ingredients like single origin chocolate, nuts, fruit, eggs and cream with a rotating cookie plate. Additionally, there will be an ice cream selection inspired by Stratton's favorite ice cream shop in Granada. Aragona's bar will offer a separate menu designed to complement its distinct libations. Stratton has engaged noted bar man, David Nelson, to create cocktails that highlight Spain's passion for gin and tonics along with brandy, sherry and rum and seasonal specialty drinks.
The focal point of the restaurant is the dining room, with high ceilings and an open view of the cooks and chefs in the kitchen. In collaboration, zeroplus architecture firm provided the overall design of the space and Seattle-based designer, Erich Ginder, created the lighting design along with custom interior design pieces and finishes. The visual showpiece of the dining room is a mosaic-tiled column, created by internationally-recognized, Seattle mosaic artist, Kate Jessup. Surrounding the column is a central service table; a place for decanting wine, carving ham and dishing out the rice dishes. Architecturally, Aragona feels like a mixture of both Spinasse and Artusi; offering a warm, homey, farmhouse sensibility merged with the Stratton's artistic inclination and the modern restaurants that diners would find in Madrid, Barcelona or Valencia.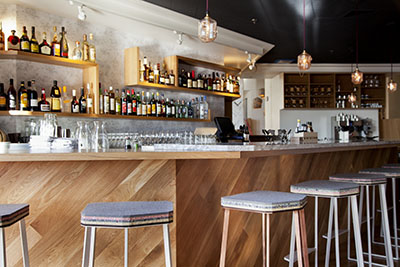 ABOUT THE RESTAURANTS OF JASON STRATTON:
ARAGONA
Located at 96 Union Street, off First Avenue, Aragona is directly across the street from the Four Seasons Hotel Seattle. The restaurant is open for dinner service Monday through Thursday from 5pm-10 pm and Friday and Saturday from 5pm-11pm. The bar is open Monday through Thursday, 5pm-11pm and 5pm-midnight on Friday and Saturday. Aragona will be closed on Sunday. The restaurant's telephone number is (206) 682-3590. More information at Aragonaseattle.com.
ARTUSI
The casual, next door companion to Spinasse, Artusi opened in 2011. Artusi is located at 1535 14th Avenue in Seattle's Capitol Hill neighborhood. With seating for 50, Artusi restaurant and bar is open from 5 pm to midnight Sunday- Thursday, from 5 p.m. to 1 a.m. on Friday and Saturday. More information at Artusibar.com. (206) 678-2516. Follow them on Twitter @Artusibar and on Facebook at Artusi.
SPINASSE
Opened in August of 2008, Cascina Spinasse captivated local and national attention for its authentic incorporation of Piedmontese dishes, including handmade pastas and use of local and Italian ingredients. Spinasse, with 50 seats and 13 at the counter, is located at 1531 14th Avenue Seattle, Washington 98122. More information at Spinasse.com. (206) 251-7673. Follow them on Twitter @spinasse and on Facebook at Spinasse.