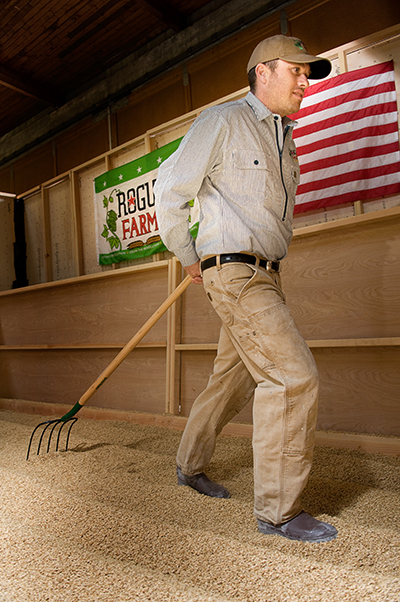 Rogue Ales & Spirits, celebrating Anniversary, brought home two gold awards at the 17th Annual Great its 25th International Beer & Cider Competition held in Providence, Rhode Island. Rogue Farms Dirtoir Black Lager took top prize in the Schwarzbier Category and Shakespeare Oatmeal Stout won the Stout Category.
At the festival this year over 575 beers and ciders from breweries and cideries around the world entered in the competition. Each beer was judged in a blind tasting format by 98 professional brewers, beer industry professionals and beer journalists.
With farms in Independence and Tygh Valley, Oregon – Rogue Ales & Spirits is an agricultural based brewery and distillery, growing more than a dozen ingredients for its beers and spirits including seven varieties of hops, two varieties of malting barley, rye, honey, pumpkins, jalapeños and marionberries.
We floor malt and micro malt our barley and rye at the Farmstead Malt House in Tygh Valley; kiln, cool and bale our hops at our farm in Independence; as well as roast and smoke our malts and jalapeños at our Brewery in Newport, Oregon.
We grow our own to create a proprietary palate of flavors of known origin for Brewmaster John Maier, ensuring him of a reliable supply of quality ingredients as he crafts unique ales, porters, lagers, stouts, mead, kolsch and spirits of distinction.
Rogue Farms Dirtoir Black Lager: One of Rogue Farms' original beers, Dirtoir Black Lager is mashed with Rogue Dare and Risk malting barley grown and floor malted at our farm and Farmstead Malt House in Tygh Valley, Oregon. The recipe also includes Independent, Rebel and Revolution hops grown, picked, kilned, cooled and baled at Rogue Farms Farms in Independence, Oregon. Shakespeare Oatmeal Stout: One of our most critically acclaimed beers, now crafted with Rogue Farms grown ingredients. Shakespeare Oatmeal Stout is mashed with Dare™ and Risk™ malting barley that was grown and floor malted at our farm and Farmstead Malt House in Tygh Valley, Oregon.
Rogue Farms Dirtoir Black Lager and Shakespeare Oatmeal Stout are available on draft and in 22oz serigraph bottles nationwide and Shakespeare Stout is also available in six packs starting February 1st.
From Ground To Glass, grown in collaboration with Mother Nature, you can taste the difference. Rogue Farm tours are available year round, come visit us and see how we grow beer and spirits. It all begins in the dirt. Grow the Revolution!
About Rogue Ales & Spirits
Rogue is a small revolution, which expresses itself through handcrafted Ales, Porters, Stouts, Lagers and Spirits, and this is the way we conduct our business. The spirit of the Rogue brand, even the name, suggests doing things differently, a desire and a willingness to change the status quo. A Rogue Ale, Porter, Stout, Lager or Spirit is crafted to give it unique character, innovative in its makeup and brewing, a process that has not compromised quality. We believe if a Rogue Ale, Porter, Stout, Lager or Spirit cannot be all of these things, it should not be made at all. For more information please visit Rogue Ales on the web.