Greene St. Kitchen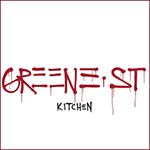 Joe Zanelli joined Andy Masi's Clique Hospitality in December 2018 as the Executive Chef of Greene St. Kitchen at the PALMS Casino Resort. The new gastro cuisine concept blending street art and food inspired by New York's SoHo neighborhood debuted at PALMS in April 2019.
He recently led a supper series pop up at the 2019 Sundance Film Festival for Greene St. Kitchen, serving the likes of Kevin Bacon, David Arquette, Zac Efron and more.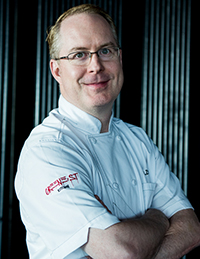 Background: After attending the New England Culinary Institute in Vermont, 1995. The first stop was the World Trade Center in Boston under Chef Tom Barton. Zanelli then moved to San Francisco and worked for Annie & David Gingrass at Hawthorne Lane, after working his way through the kitchen he took the knowledge to Las Vegas where he had a stint working for Wolfgang Puck at Spago while waiting for Bellagio Hotel to open. He opened Aqua at the Bellagio as Sous Chef under Chef Michael Mina and Chef de Cuisine Mark Lorusso.
By 2000 he moved to New York City where he worked under Laurent Tourondel at Cello. (3 stars NY Times), his next job was Sous Chef at Asian Seafood Restaurant AZ under Patricia Yeo (3 stars NY Times), after a year at AZ he was offered a job at one of Daniel Boulud's restaurants. Café Boulud (3 stars NY Times) with Chef Andrew Carmellini. Working the Fish station next to Chef Carmellini daily was culinary dream come true. After departing Café Boulud with a grand classic seafood experience, he opened Pazo with Patricia Yeo as Executive Sous Chef cooking Mediterranean Style Cuisine.
In January 2003, he was enlisted by Mansion at MGM Grand by Tony Angotti (F&B Director.) At the world renowned Mansion, he began as Executive Sous Chef under Daniel Boulud's protégé Phillippe Rispolli. After only 5 months, Phillip departed and Joe was promoted to Executive Chef of the Mansion. This allowed him to create his curated menu of cuisine for high end casino players, A-List entertainers and sports stars alike, for over a year and a half. He then accepted a new position as Chef de cuisine of Lutece at the Venetian Hotel. In December 2005 he left to join the opening team at the Wynn Hotel under Chef Grant MacPherson, formally the Executive Chef of Bellagio. Joseph then accepted the Executive Sous Chef position at the New American Steak House. For the next twenty months he found himself running the daily operations and cooking perfectly charred steaks and his creative new takes on many American classics.
In October of 2006 he was offered another opportunity within the hotel. Joseph became head Chef of the Garde Manger Kitchen, producing all the cold food for the fourteen different Wynn Hotel food outlets. In March of 2008 he joined the opening team of Steve Wynn's newest five star hotel "Encore" as the Executive Chef of IRD, with 2034 rooms and 19 villas.
In May 2010 he began a new project at the Wynn Hotel, Cooking Contemporary American Seafood with a focus on seasonal ingredients. "Lakeside" restaurant would be his fifth restaurant opening. As the chef de cuisine he was responsible for the creation of the menu and all daily operations of the 326 seat location.
In September of 2012, he accepted a new opportunity to join the team of Elizabeth Blau's newest restaurant group. As head chef/partner of Elizabeth's new farm to table concept "Honey Salt". Zanelli has been worked closely with corporate chef Sean Kahlenberg on research and menu development. While running Honeysalt they achieved "best new restaurant " and "best off the strip restaurant in Las Vegas" as well as "top 20 dining location in the city."
For the next two years he opened four locations for the Blau group, including Buddy v's, Made tavern and Andiron Steak & Sea. In August 2015 he joined the Wynn team for his third time and open Jardin restaurant. Jardin is a 230 seat, three meal period new American concept with focus on sustainability and seasonality. Jardin does an average of 1000 covers per day, with 14 million in annual revenue.
@JoeyZ37 on Instagram