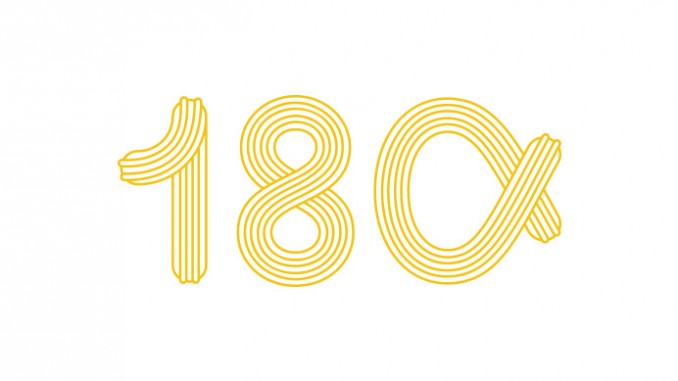 CHEF JOSÉ CHESA OPENS 180, PORTLAND'S FIRST AUTHENTIC SPANISH XURRO SHOP
The favorite communal treat from the streets of Spain will spread happiness from its NE Portland location daily from 8 a.m. to 4 p.m. starting January 29th
Friday, Portland's first dedicated Xurreria, 180, begins offering authentic Spanish xurros (chu ­rōs) to Portlanders. Whether looking for a celebratory treat, a morning indulgence or a satisfying snack; fresh, made to order xurros from award winning chef José Chesa and his wife Cristina Baéz will bring happiness to any occasion. Long time friend David Martin will be joining the couple as a chef/partner. The small shop, located at 2218 NE Broadway, Portland, Ore., will feature large windows exposing the open kitchen creating an inviting and casual atmosphere where friends and family can gather as xurros are made to order in an industrial xurros machine imported from Spain. To celebrate the opening and introduce Spanish comfort food, 180 will give out complimentary small xurros 3 packs and chocolate dipping sauce on opening day from 8 a.m. – 4 p.m., while supplies last. In addition to the complimentary xurros 3 pack, the full 180 menu will also be available for purchase on opening day.
Chesa grew up sneaking pieces of piping hot xurros from his grandmother's frying pan as he hid under the kitchen table. The crunchy, sweet fritters transport him to the warm family kitchen of his childhood in Spain. He, Baéz and Martin wish to share that experience with the rest of Portland.
"Spanish xurros are the ultimate, irresistible snack for any occasion throughout Spain. Xurro shops are notorious for opening by 5am, providing a spot for Spaniards to come together and enjoy breakfast early in the morning and late night snacks earned after a game or dinner," says Chesa. "We hope to immerse our guests into this experience right here in Portland at 180; a communal place for everyone to enjoy, celebrate or just relax with a warm and indulgent snack."
Husband and wife team Chesa and Baez as well as Martin, met while working at Restaurant Racó de Can Fabes, in Sant Celoni, Spain back in 2004 and became fast friends. "We knew then that we would always work together in some way or another. We all laugh about going from working together at a three star Michelin restaurant in Barcelona, to a Xurreria in Portland. We are all so passionate about xurros, the craftsmanship in making them, the memories they conjure up for us and how a really great xurreria can bring people together. What's so surprising is how challenging it is to make this simple pastry perfect, given its iconic place in Spanish culture. It is actually the perfect collaboration for us to embark on together," says Martin.
Fried at about 180° Celsius (hence the name), xurros are made to order, ready to be dipped in housemade drinking chocolate, marshmallow cream, caramel/peanut butter sauce and/or enjoyed with a hot coffee. The menu will feature chocolate coated, sugar and cinnamon sprinkled and plain xurros. 180's xurros also have the unexpected benefit of being vegan friendly. A variety of filled xurros will also be available including traditional crema catalana, dulce de leche, and the more Portland­-centric flavor, chocolate and Jacobsen's salt. For more information and opening details visit www.180pdx.com.
Xurros, dipping sauces, and coffee will all be available through Portland delivery service, Caviar. Large orders of three dozen or more xurros require 24 hours notice, call the store directly at (503) 477-9163 or check out Caviar for ordering options.
180 MENU
Xurros
Made to order, traditional xurros are fried at about 180° celsius and come out with a scrumptious crunchy exterior and warm fluffy interior. 180's xurros also have the unexpected benefit of being vegan friendly. Xurros are available plain or with a sprinkle of sugar and cinnamon.
Xurros Bañados
Xurros Bañados are traditional xurros served with a delicious coating of xocolata and finished with Jacobsen's salt.
Housemade Dipping Sauces
Xurros are made to order and ready to be dipped in a housemade sauce with Cocanú chocolate, the classic dip for xurros, but also a drinking chocolate! the best part! Other sauces include caramel/peanut butter, marshmallow cream, and a special seasonal sauce.
Fillings
Xurros will be available with a selection of different fillings including traditional crema catalana, dulce de leche, or the more Portland-­centric flavor, housemade crema de xocolata.
Xuixos
Another traditional pastry from Catalonia; xuixos are a sweet cylindrical fritter that are available daily until "we sell out", rolled in sugar and cinnamon and filled with crema catalana.
Coca Bread
A flat bread native to Catalonia, Coca Bread won the hearts of patrons at Chef José Chesa's first Portland restaurant, Ataula. Perfect for a simple bite at home, whether sweet with a swipe of chocolate spread or savory with tomato for Catalonian pa amb tomáquet. This scrumptious bread is made fresh daily will be available by the loaf while supplies last in the 180 xurro shop.
Café
Xurros without rich drinking xocolata or dark roasted espresso is like Oreos without milk, the beverages are a necessity for the ultimate Spanish experience. The 180 team researched extensively for local purveyors that could supply the taste of Spain in Portland, Oregon. Chesa and Martin found the nostalgic taste of the flavors they had growing up in Portland with Cocanú chocolate for the essential drinking xocolata and Local Roasting Co. coffee beans for 180. Homemade almond and hazelnut milks, such Spain's classics as Cafe Bombón and Cortado. Coffee is also served with a variety of milk options to meet most dietary restrictions.
About 180
Although Americans may be familiar with the churro they get every year at the local county fair, it doesn't compare to authentic xurros ( chu r­ō) from Spain. Originally dreamed up by husband and wife team José Chesa and Cristina Baéz, long time friend David Martin joined forces with the couple to bring 180, Portland's first xurreria, in order to share the traditional and beloved Spanish xurros. José and David were raised eating these scrumptious treats in Spain and are eager to transport those young and young at heart to the streets of their youth, where they can watch xurros made to order and fried at about 180 degrees celsius (hence the name) through large windows in the open kitchen space. The menu features plain, sugar & cinnamon, chocolate covered, or filled xurros, expertly paired with hot chocolate supplied by Cocanú and coffee from Local Roasting Company. Address 2218 NE Broadway St.,Portland Ore. 97232 Website: www.180pdx.com; Twitter/Instagram: @180pdx; email: hola@180pdx.com Phone:(503) 477-9163