Michael Mina 74: High-Energy American Bistro-Lounge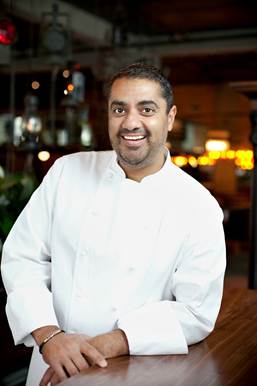 Award-winning chef and restaurateur Michael Mina and Fontainebleau Miami Beach are proud to announce his newest restaurant concept, Michael Mina 74 opening this fall in the main lobby of the legendary Fontainebleau. Michael Mina 74 will be the first concept of its kind created uniquely for the hotel by the celebrated chef, delivering a dynamic culinary and social destination that – even for Miami Beach – blurs the lines between a restaurant, bar and ultra-lounge.
True to his philosophy that "balance in everything creates memories and experiences", at Michael Mina 74 Chef Mina has produced a sophisticated American bistro-style menu focused on his passion for unlocking fantastic flavors and irresistible combinations that will complement and satisfy the high-energy yet relaxed rhythm of Miami. He's developed a menu with no boundaries, balancing bold, global flavors with elements of spice, richness, acidity and sweetness. And special attention went into creating fun, whimsical dishes that are easy to share and perfectly suited to Miami's sultry climate.
Selections include starters and shareables such as a customized shellfish cart featuring local shellfish and ceviches, Kobe Beef Shabu Shabu, Alderwood Smoked Salmon, Crispy Fish Tacos and a Kale & Artichoke Caesar Salad.
Chef Mina will showcase his taste extremes through globally inspired dishes like a selection of Gulf favorites including Potato-Crusted Pompano, Grilled Red Snapper, Spiny Lobster Spaghetti, 'Jerk' Quail with foie gras rice and sugar pumpkin, Roasted Sucking Pig Cubano style, Miso-Glazed Black Cod with ramen noodles, karashi and shitake consommé.
Classics with a twist from his repertoire will include a Moroccan short rib with roasted pepper couscous and coriander jus, Amish Chicken Tagine with saffron rice, tomato relish and jalapeño aioli, Black Truffle Omelet, Lobster Pot Pie, and Tomato Tarte Tatin with warm burratta, caper berries and watercress.
The beverage program will be satisfying and provocative including expertly crafted classic cocktails and house-made infusions for those with more exotic tastes. The wine selection will reflect Michael Mina's renowned, expansive palate with an interesting selection of wines from old-world classic styles to unusual blends and emerging world regions.
"I am delighted to debut Michael Mina 74 at Fontainebleau. It's truly the perfect balance of delicious food, an upbeat sophisticated ambiance, the magic of Miami Beach and this iconic hotel that will deliver a fantastic dining experience for guests," said chef Michael Mina.
Michael Mina 74 will appeal to those who want a dynamic, high-energy scene with their food and drinks, where their evening will transform into an ultra-lounge that embraces the joie de vivre of life, music and people, with a nod to lavish parties. A balance of dimly lit chandeliers, deep leather couches and a welcoming ambiance will transform what starts as an intimate dinner into an endless nighttime celebration.
Michael Mina 74 is being created by the award-winning design firm, AvroKO and will evoke a rich, stylish tone with design details that carefully blend elements of urban street with warm, relaxed comforts of a beachside Mediterranean villa. Tables and chairs designed specifically to evolve from a dinner setting to a late-evening scene along with comfortable booths and plush banquettes create very intimate spaces for couples or small crowds. The atmosphere will be low lit with candles on tables and ambient lighting throughout and a DJ who will evolve the ambiance and tempo throughout the evening.
"We are honored to bring chef Michael Mina and his new concept to Fontainebleau. Michael Mina 74 will inspire evenings that create vivid experiences and memories for our guests. Michael's food is unique and exciting and a perfect fit with the sophisticated style and modern glamour Fontainebleau is known for," said Phil Goldfarb, President and COO of Fontainebleau Miami Beach.
Michael Mina 74 is scheduled to open this November 2013 at Fontainebleau Miami Beach and will debut as the fourth pillar to the successful Signature dining restaurants, including: Scarpetta, Gotham Steak and Hakkasan. More information is available upon request.
About Michael Mina
The Mina Group is a San Francisco-based restaurant management company specializing in creating and operating upscale, innovative restaurant concepts. Mina Group is led by Chef/Owner Michael Mina whose accolades include James Beard Foundation "Who's Who of Food and Beverage" inductee, Bon Appétit Chef of the Year, Food Arts Silver Spoon Award Winner, San Francisco Magazine Chef of the Year, and International Food and Beverage Forum's Restaurateur of the Year. Operating since 2002, Mina Group currently operates 18 restaurant properties including MICHAEL MINA in San Francisco (Esquire Magazine's Restaurant of the Year 2011); BOURBON STEAK and CLOCK BAR at The Westin St. Francis on Union Square in San Francisco; RN74 at Millennium Tower in San Francisco and RN74 at the Joshua Green Building in Seattle; STRIPSTEAK at Mandalay Bay in Las Vegas; MICHAEL MINA Bellagio at Bellagio in Las Vegas; AMERICAN FISH at City Center in Las Vegas and The Handle Bar in Jackson Hole.
For a complete list of restaurants please visit http://michaelmina.net
Follow Michael Mina on Facebook, twitter, and Instagram at ChefMichaelMina.
About Fontainebleau Miami Beach
A spectacular blend of Golden Era glamour and modern luxury, Fontainebleau Miami Beach merges striking design, contemporary art, music, fashion and technology into a vibrant guest experience. A revered landmark and symbol of style and sophistication since its opening in 1954, Fontainebleau Miami Beach boasts 1,504 guestrooms and suites appointed with lavish amenities and iMacs; 12 restaurants and lounges including three AAA Four Diamond signature restaurants Gotham Steak, Scarpetta and Hakkasan; two dynamic nightlife venues including the world-famous LIV Nightclub; the 40,000-square-foot Lapis spa with mineral-rich water therapies and invigorating treatments; a dramatic oceanfront pool-scape offering lush cabanas and sun loungers; and is home to BleauLive, the innovative concert series that combines intimate performances with memorable weekend escapes.