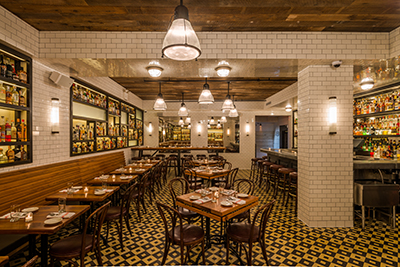 The Smith New York City has opened a newly designed private bar and dining room at its East Village location, which can be booked for sit-down dinners and cocktail parties of up to 100 people.
Building on the success of the The Smith's relaxed yet refined American Brasserie atmosphere, award-winning design studio nemaworkshop draws from the brand's signature material palette yet distinguishes this location from the pack with unique design elements.
nemaworkshop sought to create a visual experience within the space, whether full or empty, by bringing the most definitive aspect of the back-bar to the forefront: the liquor bottles. Custom, full-height metal tube shelving with integrated lighting displays an eclectic collection of bottles. The close proximity patrons have to the bottles is meant to make them feel like insiders, merely an arm's length away from pouring themselves another round. With this main design element on all walls and above banquettes, each seat feels just as important as any other, a priority Corner Table Restaurants set for this private retreat in the heart of East Village.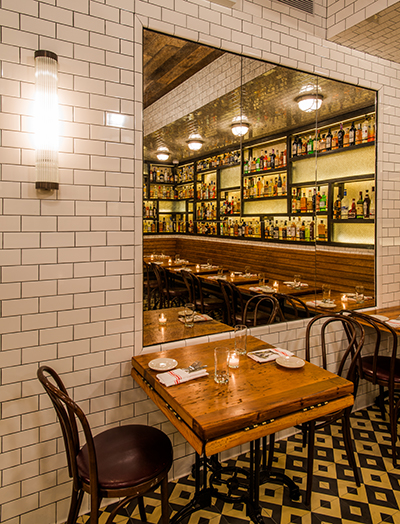 About nemaworkshop
Award-winning architecture and design studio nemaworkshop is a team of architects, designers, and thinkers who create spaces that are conceptually bold yet highly sensitive to cultural and social contexts. Firm principal Anurag Nema, AIA founded New York-based nemaworkshop in 2004, and the firm has since become a leader specializing in hotel, restaurant, residential, retail and brand design. The studio has many projects in the works including the upcoming W Mexico City and a concept for a new hotel property in Shenzhen, China. Notable projects include the W New Orleans – French Quarter, The Smith, Cafeteria, d'espresso, Delicatessen, and Toby's Estate.
For more information on all of nemaworkshop's happenings, visit nemaworkshop.com and follow the studio on Twitter and Facebook
About The Smith
The Smith is co-owned by chef Glenn Harris and Jeffrey Lefcourt. The two first met working in the industry in 1995 and ultimately became business partners, forming Corner Table Restaurants. Their first property, Jane Restaurant, opened in the West Village in May of 2000 with Harris conceptualizing the menu and Lefcourt as managing partner. With proven success with their first approachable American bistro, the two then went on to open The Smith in Manhattan's East Village in November of 2007. Since then, The Smith has grown into Manhattan's beloved neighborhood brasserie with three locations: East Village, Midtown and Lincoln Center, serving comfort food classics and craft cocktails in an upbeat atmosphere.