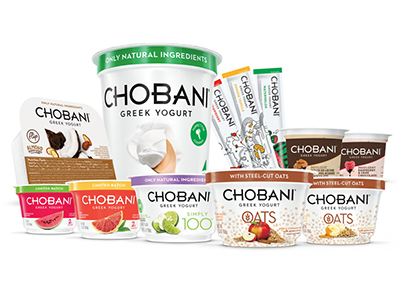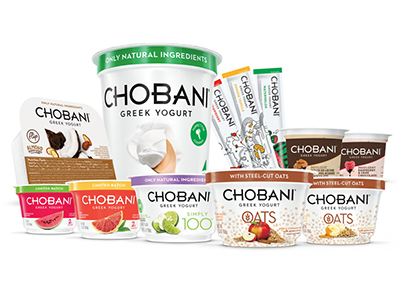 Chobani, LLC, maker of America's No. 1-selling Greek Yogurt brand, today announced the most significant portfolio expansion in the Company's history with six new product innovations for July alone that push Greek Yogurt beyond breakfast and provide better food for more people throughout the day. The new products include Chobani Greek Yogurt Oats, authentically strained Greek Yogurt mixed with real fruit and whole grain steel-cut oats, Chobani Indulgent, the brand's first dessert product and Chobani Kids, among several others.
"We've always believed that if we can't do something better, we won't do it at all. With our new products and innovations, we are extending the way people enjoy Greek Yogurt in America and bringing better food to more people," said Hamdi Ulukaya, Chobani Founder and CEO, Chobani. "We're just getting started."
Through Chobani's product innovations, the pioneer and leader of the Greek Yogurt category is further expanding and growing the category, introducing new ways to enjoy yogurt. USDA estimates per capita consumption of yogurt has leapt from roughly two pounds in 1975 to about 14 pounds today. That remarkable growth, however, remains well below the approximately 40 pounds consumed in countries such as Germany and France or even the 20 pounds in Canada.
Peter McGuinness, Chief Marketing and Brand Officer, said, "The yogurt story in America is just beginning and as the category leader we are creating new ways to enjoy Chobani's delicious, nutritious, natural products throughout the day." McGuinness added: "Our new flavors and formats bring new experiences with Greek Yogurt and deliver on our founding premise that people have good taste, they just need more good options"
The six new innovations will join the fast-growing Chobani family beginning June 2014:
Bridging the breakfast gap between yogurt and oats, Chobani Greek Yogurt Oats is chilled, hearty and satisfying, with creamy,authentically strained Greek Yogurt mixed with real ripe fruit and whole grain steel-cut oats. In traditional flavors such as Banana Maple, Apple Cinnamon, Blueberry and Cranberry, the product is a cup of protein-, grain- and fiber-packed nourishment for those looking to start their day off right — Chobani's take on oatmeal.
For people looking for a rich taste experience, Chobani Indulgent is the brand's first dessert product, mixing creamy full-fat Greek Yogurt with luscious all-natural ingredients in beautiful clear packaging for a decadent treat. Real cream, dark chocolate and ripe fruits meet in Dulce de Leche, Raspberry Dark Chocolate Chunk, Mint Dark Chocolate Chunk and Banana Dark Chocolate Chunk flavors — indulgence has never been so innocent.
Made with only natural ingredients, no artificial growth hormones (rbst free) low-fat plain Greek Yogurt, and real fruit, Chobani Kids is the delicious snack that packs the nutritional high protein, low sugar punch that moms want and new fun, finger-friendly packaging and new flavors that kids will love — grape, watermelon, vanilla chocolate dust among others—all about active enjoyment
With a focus on flavor, Chobani Seasonal is an exciting seasonal twist to the core line – new, seasonally-inspired flavors that tap into trends and emerging tastes. The limited flavors will refresh each season, kicking off this summer with Watermelon and Pink Grapefruit — great fall flavors to come.
Building on the tremendous success of its recently launched natural 100-calorie yogurt, new blended flavors of Chobani Simply 100 Greek Yogurt in Key Lime and Pineapple Coconut will continue to deliver great-tasting, low-calorie options for weight managers looking for light yogurt made with only natural ingredients — the first and only 100 calorie Greek Yogurt using only natural ingredients.
The introduction of 4% whole milk Chobani Kitchen inspires the chef in all of us and answers consumers' call for full-fat dairy products — delicious nutrition now available in a multi-serve format for recipes or a single-serve occasion — perfect for baking or on top of a baked potato, chile and fajatas.
About Chobani
Maker of America's No. 1–selling Greek Yogurt brand, Chobani was founded on the belief that people have great taste — they just need great options. Chobani produces high-quality authentic strained Greek Yogurt products made with only natural ingredients from its New Berlin, N.Y., and Twin Falls, Idaho, plants. Chobani is committed to using milk from regional-area farms and strengthening its surrounding local economies. Chobani gives 10 percent of its annual profits to charities worldwide through the company's charitable foundation. All Chobani products — including Chobani Greek Yogurt, Chobani Flip and Chobani Simply 100 are kosher certified, contain five live and active cultures, and are made with milk from cows not treated with rBST*, with most of its products offering two times more protein than regular yogurt[1]. Chobani products are available nationwide in the U.S., Australia and in countries in Asia and Latin America. For more information, please visit www.chobani.com and www.facebook.com/chobani.
* According to the FDA, no significant difference has been found between milk derived from rBST-treated and non-rBST treated cows.
[1] Protein content of regular nonfat yogurt is 10g-13g protein per 8 oz. serving; nonfat Chobani Greek Yogurt contains 11g-14g protein per 5.3 oz. serving.