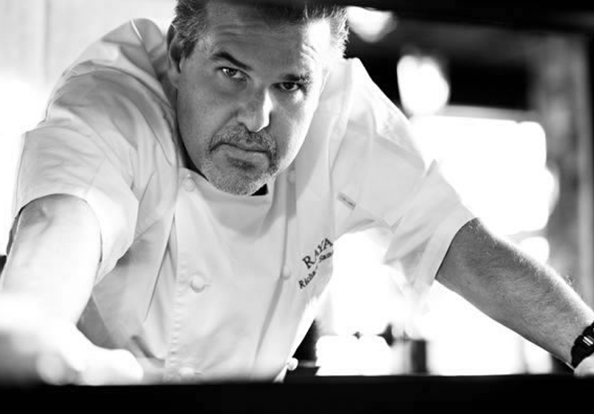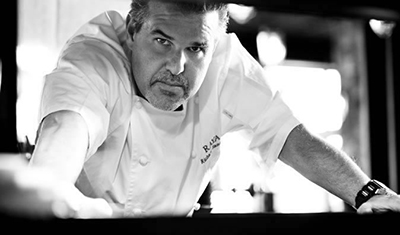 Acclaimed Chef Richard Sandoval, who owns and operates the Latin-Asian inspired restaurant Zengo, announces the debut of an exciting new menu as part of the restaurant's wildly popular "Test Kitchen" series. Every few months, Sandoval and his culinary team research and develop new recipes featuring the cuisine and spirits of one Latin and one Asian country. The result is a menu of specialty small plates and cocktails that showcase the flavors and techniques from each region. Each new dish will be marked with a special "TK" symbol on the menus at Zengo, noting that they are exclusive and available for a limited time only. The Test Kitchen: Japan to Mexico menu will be offered exclusively at Zengo restaurants nationwide – located in Denver, Washington, D.C., Santa Monica and New York – from Jan. 2, 2013, through March 31, 2013.
"With every Test Kitchen menu, my goal is to give my customers the opportunity to experience a burst of flavors that they would otherwise never have," says Mexican-born restaurateur Sandoval, who currently has plans to open a fifth Zengo location at the Royal Meridian in Dubai, UAE. "For this new menu, I drew inspiration from the rich and flavorful street foods of Japan and Mexico."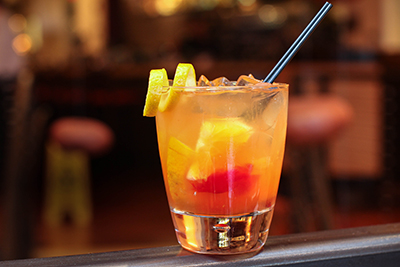 Zengo offers an innovative blend of Latin-Asian cultures, as chef Sandoval spins regional ingredients into beautifully balanced dishes designed for sharing. In fact, the new Test Kitchen menu will give guests the opportunity to explore the fusion of Japan and Mexico through an artful blend of seasonal ingredients, with tempting dishes such as achiote shrimp tempura roll made with avocado, jicama, chile, limon, chile toreado aioli and charred scallion; octopus aguachile tiradito with ginger green chile broth, white soy, Asian pear, avocado, nori and sesame; teriyaki pork belly gorditas "sliders"with crispy masa, Oaxaca cheese, guacamole, caramelized pineapple and pickled chilies, as well as kabayaki glazed lamb shank barbacoa with ginger, chiles, tamarind, arroz verde and pickled vegetable.
For dessert, Corporate Pastry Chef Jose Luis Flores has created a tempting avocado panacotta comprised offresh avocado custard, tropical fruit salad and peanut chocolate cookie crumbs.
To complement these distinctive dishes, national beverage director Robert Day crafted unique cocktails with the flavorful fruits, spices and spirits of Japan and Mexico, including a calamansi old-fashioned cocktailmade with Japanese whiskey, fresh calamansi juice, agave and bitters, as well as a shiro margarita made with nigori, 100% agave blanco tequila, fresh lime juice, simple syrup and house-made sour.
**Editors Note: After a little sweet talking, Chef Sandoval and his team were amazing and shared a few of their favorite recipes for you. We hope you enjoy!!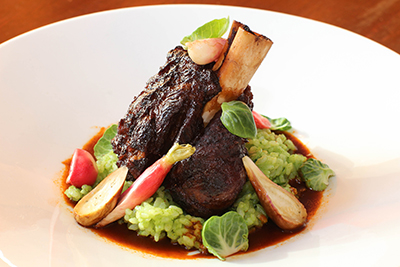 Braised Lamb Shank with Kabayaki Arroz Verde
(Serves 4)
4 lamb shanks (preferably fore shanks)
4 stalks celery; chopped
1 large white onion; chopped
2 large carrots; peeled and chopped
8 cloves garlic; smashed
1 tbsp grated fresh ginger
2 ancho chiles; seeded
½ c tomato paste
½ bottle of red wine
1 c tamarind paste
5 roma tomatoes; cut in half
tiny "pinch" fresh nutmeg
4 whole cloves
4 whole cardamom pods
2 bay leaves
kosher salt to taste
water to cover
2 cups cooked white rice; hot
1 c kabakayi sauce (found at specialty stores; unagi sauce will work as well)
4 tbsp cilantro chuntey (*A)
1 recipe pickled vegetables (*B)
cilantro leaves garnish
fresh limes
sea salt
Method:
Bring a large roasting pan to high heat on the stove.
Season the lamb shanks aggressively with salt and pepper.
Add enough canola oil to the bottom of the pan to cover and then add the shanks.
Sear the shanks until well browned on all sides and then remove and place on a plate on the side.
While the pan is still hot, add the carrots, tomatoes, garlic, ancho chiles, onions, ginger, celery, cardamom, nutmeg and tomato paste and cook until very well caramelized.
Once caramelized add back the lamb shank, bay leaves, tamararind and cover with water.
Season with salt, cover with foil or parchment paper and cook in the oven at 350 for 3 hours, or until lamb is very tender.
Once lamb is cooked, remove lamb from pot and toss in a large bowl with the kabayaki sauce.
Place the lamb shanks back in the oven and cook until well glazed, about 10-12 minutes.
Meanwhile, strain the braising liquid and put back on the stove.
Cook sauce until reduced to desired consistency (this step can be omitted and lamb can be served right out of the pot if so desired for a more rustic presentation).
Toss the warm rice with the cilantro chutney and spoon equal amounts of the rice into four warm service bowls.
Top the rice with a lamb shank and some of the reduced sauce.
Garnish with the pickled veg and cilantro leaves.
Season the shank with some fresh lime juice and a sprinkle of sea salt.
*A (Cilantro Chutney)
1 c greek yogurt
1 serrano chile; seeded and minced fine (can be adjusted to taste)
1 small garlic clove; smashed
1 tsp grated fresh ginger
12 mint leaves; rough chop
handful cilantro leaves; rough chop
salt to taste
Combine ingredients into the blender and pulse until well combined.
Season to taste with salt and reserve
*B (Pickled Vegetables)
¼ euro cucumber peeled and sliced medium thickness
1 medium sized carrot; peeled and sliced thin
½ small red onion; sliced medium
1 c rice vinegar
1 c sugar
3 thai chilies; split (Sub any small red chile)
1 tbsp salt
combine all ingredients in a large plastic container and stir well to dissolve salt and sugar.
Reserve overnight in the refrigerator.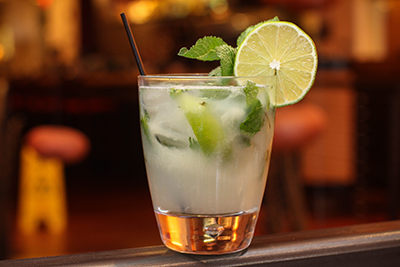 TK Calamansi Old-Fashioned
National Beverage Director Rob Day
Yields 1 cocktail
Ingredients:
1½ oz. Japanese whiskey
¼ oz. fresh Calamansi juice
½ oz. agave nectar
2 cherries, pitted
1 dash bitters
Orange twist for garnish
Procedure:
Build in shaker – add Japanese whiskey, Calamansi juice, agave nectar and bitters.
Then, pour it into a glass, and muddle two cherries and dash of bitters.
Garnish cocktail with an orange twist.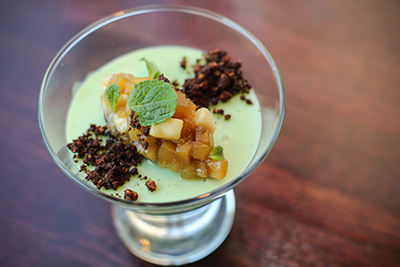 Avocado Panacotta with Tropical Fruit Preserve and Peanut Chocolate Cookie Crumbs
Recipe byCorporate Chef Jose Luis Flores
Ingredients for the Avocado Panacotta:
6 gelatin sheets
18 oz. whole milk
16 oz. heavy cream
Pinch of salt
1 Cup sugar
6 oz. fresh avocado
1 vanilla bean, scraped
2 drops green food coloring
Procedure:
Soak the gelatin sheets in a bowl with enough ice-cold water to cover, and let stand for at least 5 minutes.
In a medium saucepan over medium heat, bring the milk, cream, sugar and vanilla bean and vanilla bean seeds to a boil.
Boil for 1 minute, then remove from heat.
Add the squeezed out gelatin sheets or the mixture of milk and powdered gelatin and whisk until dissolved.
Strain though a fine mesh sieve into a large, clean bowl (preferably one with a spout) to remove the vanilla bean and any bits of zest or gelatin.
Cool in an ice bath stirring occasionally to prevent mixture from setting, but still allowing it to thicken, about 10-12 minutes.
In a blender or food processor, puree avocado pulp until smooth.
Add half of cream mixture and puree again until smooth.
Add pureed avocado cream mixture to bowl of remaining cream mixture and whisk to combine.
Pour into individual ramekins or tea or coffee cups.
Refrigerate uncovered until set, at least 2 hours.
The panacottas will keep in the refrigerator for 3 days.
Serve panacottas in ramekins or cups.
Ingredients for the Tropical Fruit Preserve:
1 Golden pineapple, small diced
3 Fresh Mangoes, small diced
2 cups brown sugar
Zest of 1 lemon
1 tsp. salt
½ cup Passion fruit puree
2 ripe bananas cut in small dices
Procedures:
In a medium sauce pan pour pineapple, mangoes, sugar, lemon zest and salt, simmer in a medium heat about ½ hour remove from the heat and place on an ice bath, passion fruit puree and bananas mix together and place in the cooler until ready to use.
Ingredients for the Peanut Chocolate Cookie Crumbs:
480 grams butter cut into squares
400 grams Brown sugar
350 grams All-purpose flour
50 grams cocoa powder
400 grams peanuts (ground)
Procedure:
Preheat oven to 325 degrees.
Mix butter and brown sugar until it is nice and fluffy (approx. 3 minutes on medium-high speed).
Add the dry ingredients and beat for an additional minute, until cookie batter is fully incorporated. Cut the dough with knife or fork until mixture forms lumps.
Sprinkle mixture over a baking sheet lined with parchment paper.
Bake for 14-16 minutes until the edges are nice and crunchy.
Remove from heat and allow the crumbs to stay on the sheet for an additional 15 minutes.
To Plate:
On a desire parfait glass pour 6 ounces of avocado panacotta place in the refrigerator for 20 minutes until set.
Remove the glasses from the cooler and top with a layer of fruit about 2 tablespoons, then sprinkle the cookie crumbs on top.
For reservations, menu pricing for specific locations, or additional information, please visit www.RichardSandoval.com.
About Richard Sandoval:
Growing up in Mexico City, Richard Sandoval would join his grandmother in the kitchen and gather around her large table with family to enjoy lively Mexican feasts prepared from scratch. From his grandmother, he learned to respect fresh, authentic, ingredients and to create the vibrant flavors that turned family dinners into celebrated events. Meanwhile, his restaurateur father imparted lessons in service and restaurant management. These early influences inspired Sandoval to enroll at the Culinary Institute of America. During the past 15 years, Sandoval's career as a chef and restaurateur has evolved to include serving as a culinary consultant, television personality and chef/owner of Richard Sandoval Restaurants (RSR), a leading international restaurant group with more than 37 concepts around the world.
To learn more about Chef Sandoval find him on Facebook, Instagram, and Twitter.
About Richard Sandoval Restaurants:
Richard Sandoval Restaurants (RSR) is a leading restaurant group founded by Mexican-born chef/restaurateur Richard Sandoval and based in New York City. Known for offering guests an unparalleled culinary experience, this internationally recognized contemporary Latin restaurant group successfully owns and operates more than 37 restaurant concepts around the globe. Spanning from California to New York, Colorado to Florida, Nevada to Virginia and Arizona to Washington, D.C. – as well as from Dubai to Mexico and Qatar to Serbia – chef Sandoval's "made from scratch" approach and passion for introducing Latin cuisine to the world continues to inspire him to combine authentic Latin ingredients with international flavors and inventive techniques to create one-of-kind concepts and cuisines that include modern and coastal Mexican, Latin-Asian, Peruvian and Pan-Latin. In fact, RSR was recently named one of the "25 Coolest Multi-concept Companies" by Restaurant Hospitality. For a complete list of RSR restaurants, or for more information, please visit www.richardsandoval.com.