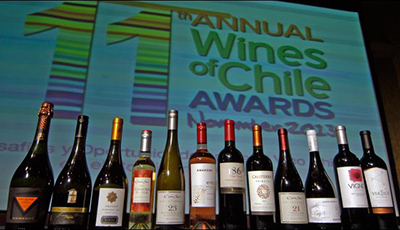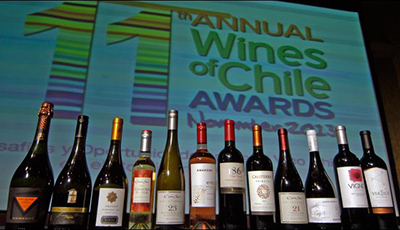 An international panel of judges celebrated excellence in wine at the 11th Annual Wines of Chile Awards (AWOCA), the country's premier wine tasting event that showcases the best of the Chilean wine industry. Taking top honors this year and earning its second consecutive medal for "Best in Show" was Viña Errazuriz's Don Maximiano 2011, a blend with Cabernet Sauvignon, Carmenere, Petit Verdot and Malbec.
Over 657 Chilean wines were tasted during the week-long competition—more than any other year in its running—by a panel of highly esteemed judges, resulting in the record-high award of 93 gold medals. Silver medals were awarded to 322 wines, comprising nearly half of the wines in show and representing the exceptional caliber of Chile's ever-growing wine industry.
Along with winning the highest honor of "Best in Show," Viña Errazuriz Don Maximiano 2011 also won the award for "Best Premium Red," demonstrating the wine's enduring popularity after winning both of the same awards in 2012. The "Best Premium White" award was presented to Casa Marín Sauvignon Gris 2013 from the Estero Vineyard, a unique wine varietal for Chile.
"This year's awards attest to the incredible changes in Chile's wine industry," said Marybeth Bentwood, Executive Director, Wines of Chile, USA. "Not only were a record-breaking number of medals awarded, but top honors went to a relatively unconventional varietal, Sauvignon Gris, and category icon Don Maximiano. Chile's dedication to quality, diversity and innovation couldn't be better demonstrated."
The panel of 12 international judges, from various countries throughout the Americas including Canada, Brazil, Colombia, Mexico and Chile, evaluated each wine in a blind tasting so as to maintain full objectivity. Top wines in each category are listed below.
The Best in Category winners of the 2013 AWOCA are:
Best of the Show: Viña Errazuriz Don Maximiano 2011
Best Premium Red: Viña Errazuriz Don Maximiano 2011
Best Premium White: Casa Marín Sauvignon Gris Estero Vineyard 2013
Best Cabernet Sauvignon: Viña San Pedro 1865 Single Vineyard Cabernet Sauvignon 2011
Best Carmenere: Viña Caliterra Tributo Carmenere 2011
Best Chardonnay: Santa Ema Amplus Chardonnay 2012
Best Late Harvest: Cono Sur Cosecha Noble 2012
Best Other Reds: Garcia & Schwaderer Vigno Carignan 2011
Best Other Whites: Cono Sur Single Vineyard Reisling 2012
Best Pinot Noir: Cono Sur Single Vineyard Pinot Noir 2012
Best Red Blend: Viña Ventisquero Vertice 2010
Best Rosé: Viña Anakena ENCO Special Reserve 2012
Best Sauvignon Blanc: Leyda Lot 4 Sauvignon Blanc 2013
Best Sparkling Wine: Viña Morandé Brut Nature 2009
Best Syrah: Viña Casas del Bosque Pequeñas Producciones 2012
For more information on the event or Wines of Chile, please visit www.winesofchile.org or the company's Facebook and Twitter pages.
About Wines of Chile
Wines of Chile is an organization committed to promoting the quality and image of Chilean wine throughout the world. It has offices in Santiago, London and New York, as well as representatives in Canada, Ireland and Denmark. Wines of Chile also works closely with ProChile to develop and offer promotional and educational programs in Asia, Latin America and Europe.