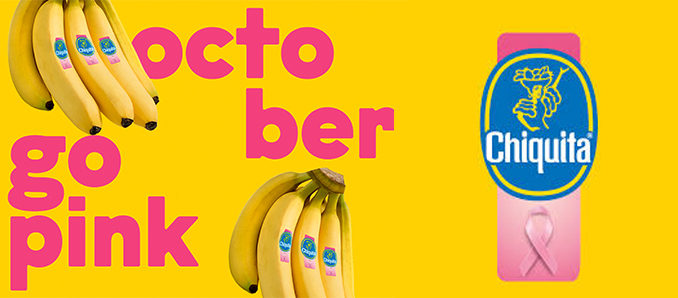 Chiquita Launches Pink Sticker Program to Remind Shoppers to 'Think Pink' This October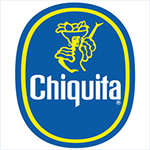 During National Breast Cancer Awareness Month, Chiquita will continue its support of the American Cancer Society® (ACS) with a $150,000 contribution. Women are Chiquita's largest audience, accounting for almost 80% of the brand lovers base. That's why Chiquita will launch its Pink Sticker program for a second consecutive year. Starting September 30 through October 28, more than 200 million Chiquita bananas across the globe will feature pink ribbons instead of the iconic Blue Chiquita Stickers to increase awareness for the cause.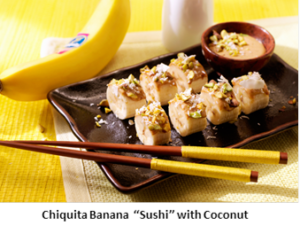 Chiquita is committed to helping the ACS and supporting its mission to save lives by making important advances in prevention, early detection, treatment, and care for those with cancer. The Pink Sticker program aims to heighten awareness and encourage action from millions of consumers in the fight against breast cancer. The Pink Stickers serve as a simple reminder to shoppers about the importance of eating healthy, donating, signing up for an event, or getting recommended screenings.
"We are excited to continue our ongoing partnership with Chiquita," said Brant Woodward, ACS Southeast Region Executive Vice President, "A woman living in the United States has a 1-in-8 lifetime risk of being diagnosed with breast cancer and partners like Chiquita play a huge role in helping to fund crucial research and providing healthy living programs which ultimately save lives."
In addition to Chiquita bananas wearing pink in the month of October, the company and the ACS teamed up to feature healthy recipes , including Vegan Baked Oatmeal and Banana & Coconut Breakfast Pudding. These recipes align with the ACS nutrition guidelines, which recommend a diet that emphasizes fruits and vegetables, whole grains, and lean proteins, and limits red and processed meat, to help reduce the risk of cancer. This partnership offers simple recipes for people looking for healthier breakfast and snack ideas.
"Chiquita aspires to be a 'Good Neighbor,' and is committed to making a difference with consumers and the communities we serve. We want to leverage our global recognition and the reach of our Blue Sticker, to increase cancer awareness.," said Jamie Postell, Director of Sales North America. "We hope the Pink stickers on our bananas will be a reminder that Chiquita continues to support well-being and an active lifestyle for disease prevention."
For more information about the ACS, visit cancer.org. The ACS does not endorse any product or service.
About Chiquita Brands International
Chiquita is a leading global produce company employing 20,000 people across 25 countries. Serving nearly 70 countries, Chiquita provides consumers and customers with the highest quality of fruit and service, making Chiquita the banana of choice. Chiquita helps create a positive impact by implementing the principles of sustainability in all its business practices under the "Behind the Blue Sticker" initiative. Starting in the 1990s, Chiquita was the pioneer in promoting good farming practices and continues to help protect the environment and support farming communities by working under better-than-industry standard agricultural work practices. Chiquita bananas are fat-free and cholesterol-free and are a great source of potassium and vitamins.
For more information about Chiquita, visit their website at www.chiquita.com