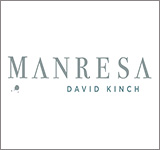 Chef and Proprietor David Kinch announces the September 19, 2018 reopening of Manresa, following a two-month closure due to a restaurant fire on July 16. The fire occurred while the restaurant was closed, and caused no injuries. The resulting damages required a partial rebuild of the kitchen and Chef Kinch has also installed custom carpeting and light fixtures. Half of the reopening menu features new dishes developed by Chef Kinch and his team during the closure and spotlights the last of the summer season heading into fall. Highlights include a new iteration of Chef Kinch's signature dish Into the Vegetable Garden, which will showcase fruits and tomatoes from the neighboring garden's bounty.
"It's hard to imagine going through a fire at Manresa, not once, but twice in a four-year span," Chef Kinch says, referencing the restaurant's six-month closure in 2014 due to an extensive blaze. "We've refocused, stayed positive, and embraced the time available to collaborate creatively, and conceptualize new dishes. We are ready to bring that energy and intensity back to the restaurant and share it with our guests."
"We are thankful for the support from not only the Los Gatos community and our fire and police departments, but also from the network of fine dining restaurants and wineries throughout the Bay Area," General Manager Jenny Yun says. "We are grateful and humbled by the outreach from our colleagues, many of whom offered staging positions to our front- and back-of-house team members. As a result, both the kitchen and the service staff return with new knowledge to enhance the Manresa guest experience."
A member of the Relais & Châteaux family, Manresa is located in the village of Los Gatos, at the base of the Santa Cruz Mountains 50 miles south of San Francisco. The restaurant serves a nightly tasting menu offering the finest of each season's products. For reservations or additional information, please visit www.manresarestaurant.com or call 408.354.4330.
About Manresa
At the Michelin three-star Manresa, Chef and Proprietor David Kinch presents inventive cuisine reflective of the restaurant's location in the foothills of the Santa Cruz Mountains and the heart of the oldest American Viticultural Area (AVA) in California. Chef Kinch's ingredient-driven cooking, combined with modern techniques studied around the world, results in delightful tasting menus, evoking the terroir, or "sense of place," of the California coast. Manresa is an esteemed member of the Relais & Châteaux family.