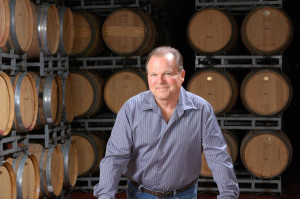 Founder of Caymus Vineyards Honored at 2015 AWS Annual Conference
The American Wine Society, the oldest and largest organization of wine consumers in North America, has selected Caymus Vineyards co-founder Chuck Wagner for the 2015 AWS Award of Merit. Wagner will receive the AWS Award of Merit at the AWS Annual Conference Grand Banquet.
"Being recognized by the American Wine Society is a great honor," said Wagner, who started Caymus in 1972 with his parents, Charlie and Lorna Belle Glos Wagner. "After more than 40 years in the wine business, I'm still learning, so the mission of AWS to help people discover and enjoy the world of wine means a lot to me personally."
Since 1971, the AWS Award of Merit has been given to a wine industry luminary. The basic criterion for the Award is substantial and meritorious achievement in at least one phase of wine activity, such as viticulture, enology, education, journalism or merchandising. For each nominee, consideration is given to his/her actual accomplishments in comparison to others in the same field, and their impact in improving the quality of wine, increasing or extending the consumption or appreciation of wine, etc., and the sum total of accomplishments over a period of time.
Past AWS Award of Merit winners include Konstantin Frank, Leon Adams, Maynard Amerine, Harold Olmo, Andre Tchelistcheff, Robert Mondavi, Louis P. Martini, Vernon Singleton, Warren Winiarski, Vincent Petrucci, Ann C. Noble, Peter M.F. Sichel, Mike Grgich, Kent Rosenblum, Zelma Long, and Gina Gallo.
"Chuck Wagner started Caymus Vineyards with his parents at a time when Napa Valley was barely on the map, and he played a huge role in changing that," said John Hames, Executive Director of the American Wine Society. "Today Caymus is a leading producer of Cabernet Sauvignon, but Chuck is still a farmer at heart, with a humility that belies his success. On many days, he can be found doing what he loves best – tending to the vines and working alongside his kids."