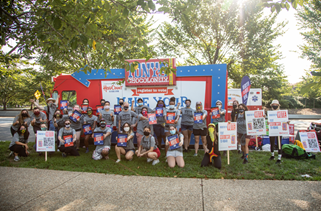 Tony's Chocolonely, a popular chocolate company, rolled their famous Chocotruck by the March on Washington to register voters for the 2020 national elections.
This past Friday, Tony's Chocolonely, a B-Corp and Fairtrade certified company on a mission to make all chocolate 100 percent slave free, took to the streets with their now viral Chocotruck to register voters at the March on Washington and NAN rally. In partnership with both Headcount, a non-partisan, non-profit organization that promotes participation in democracy, and Favored Nations, a non-profit organization co-founded by Noah Centineo and Josh Heller, Tony's encouraged all marchers and attendees to register for this year's upcoming election. Tony's Chocotruck was parked along the march route to serve as a registration hub while providing chocolate, JUST water cartons, and Favored Nations merchandise to marchers.
https://www.youtube.com/watch?v=5g_PWx-Q6TQ&feature=youtu.be
"While encouraging people to check their voter status and register to vote at the march, we witnessed over 50,000 people making their voice heard. We were inspired by their spirit and activism and hope it encourages others to use their voice and seek out change. Change comes from voting – let's be outspoken," said Tony's Chocolonely's Head of Marketing, Aidaly Sosa.
On Friday, Tony's was able to engage with over 3000 march participants and help over 200 register to vote, a win for democracy. Over the next two months, the brand will continue to engage voters for this year's election through ongoing partnerships with both HeadCount and Favored Nations by running empowering and educational digital campaigns.
Standing up and making change is in Tony's DNA. Tonys believes that if you want equality, you need to change things, and in order to change things you need to make your voice heard, in this case register to vote.
Images from the march can be found HERE.
About Tony's Chocolonely
Tony's Chocolonely exists to make chocolate 100% slave free. Not just its own chocolate, but all chocolate worldwide. It's an impact company making chocolate. Tony's Chocolonely was founded in the Netherlands 2005 by three journalists from the Dutch TV show 'Keuringdienst van Waarde' after they discovered that the world's largest chocolate manufacturers were buying cocoa from plantations that used illegal child labor and modern slavery. Since then Tony's Chocolonely has dedicated its efforts to raise awareness about the inequality in the chocolate industry. They lead by example by building direct long term relationships with cocoa farmers in Ghana and the Ivory Coast paying them a higher price and working together to solve the underlying causes of modern slavery. They want to inspire the industry as a whole to make 100% slave free the norm in chocolate. Tony's Chocolonely has grown to become the largest chocolate brand in the Netherlands and is now available in multiple markets like the USA, England, Germany, Belgium and Scandinavia.
Follow Tony's Chocolonely
ABOUT FAVORED NATIONS
The Favored Nations community inspires the world to GIVE A SHIT. We are a collective of citizens who want to use our voice to give back. Our aim is to shift culture and current human behavior to take better care of our planet and all of its inhabitants by opening the world of philanthropy to a broader audience. Officially launched in March 2020, Favored Nations is a registered 501(c)(3) non-profit organization that leverages massive social media platforms using e-commerce and various campaigning strategies to crowd-source funding and resources to those in need, all while raising awareness. Teaming up with leading activists, artists, influencers and creatives, Favored Nations sparks powerful awareness through user-generated activations and massive social media campaigns geared toward building audience participation and motivating us all to use our influence for good.
Follow Favored Nations
About HeadCount
HeadCount is a non-partisan, non-profit organization that promotes participation in democracy through music, culture, and digital media. Since 2004 the organization has registered over 650,000 voters and worked with a long list of musicians and partners including Ariana Grande, Camila Cabello, Dave Matthews Band, JAY-Z, Beyonce, March for Our Lives, RuPaul's DragCon, MTV, and Dead & Company. With 40,000 volunteers, street teams in most major U.S. cities, and presence at more than 1,000 events each year, HeadCount ranks as one of the most active grassroots civic participation organizations in the United States. Following COVID-19 restrictions, the organization quickly pivoted to an all-digital approach that led to innovation and online initiatives to fill the needs of the public in using their voices in democracy.
Follow HeadCount