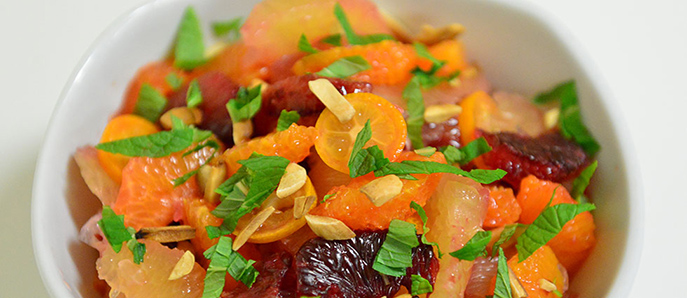 Ingredients
6 Kumquats
1 Organic Lemon Juice freshly squeezed
1/4 cup Lemon Grass (1 stalk)
2 medium Kieffer Lime Leaves
4 tablespoons Almonds sliced
1 tablespoon Mint gently packed and cut into chiffonade
Direction
Using a sharp, thin-bladed knife, cut off and discard the peel and white pith from the clementines, tangerines, oranges, grapefruit, and lime.
Working over a small bowl to catch the juices, cut between the membranes to remove the segments.
Put the segments in the bowl and squeeze any juice from the membranes.
Discard any seeds.
Pour 3/4 cup of the juice into a measuring cup and set aside.
Thinly slice the kumquats and discard any seeds.
Combine the kumquat slices with the citrus fruit segments.
Cover and refrigerate.
In a small saucepan, combine the lemon juice, reserved citrus juice, lemongrass, and lime leaves.
Bring to a boil over medium-high heat and remove from the heat.
Set aside for about 30 minutes to infuse with flavor.
Strain through a fine-mesh sieve into another bowl, cover, and refrigerate until chilled.
Preheat the oven to 350 degrees.
Spread the almonds in a single layer on an ungreased baking sheet and bake, stirring occasionally, for about 5 minutes, until lightly and evenly browned and fragrant.
Transfer to a plate to cool and halt the cooking.
Divide the fruit sections among 4 rimmed soup bowls.
Spoon 2 tablespoons of sauce over each serving, and garnish with the mint leaves and almonds.