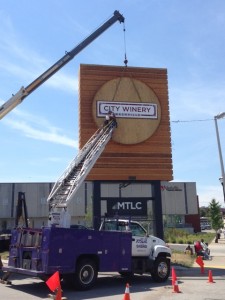 City Winery will open its doors in the warehouse district of SoBro this fall, it was announced today by City Winery founder and CEO, Michael Dorf. Situated at 609 LaFayette Street, City Winery Nashville will transform an existing 30,000 square-foot warehouse into a sophisticated, downtown hotspot with an intimate 300-seat concert hall, restaurant and private dining operation, as well as a fully functional winery, the first of its kind in Music City. The restaurant's Grand Opening is slated for Wednesday, October 1.
"We've been eyeing Nashville for a long time and we're thrilled to finally become a part of its flourishing cultural and culinary scene," said Dorf. "The heart of City Winery is its music and what better place than Music City to showcase all types of music in a unique, upscale setting with fine wine and food. We can't wait to open our doors and provide our guests with a one-of-a-kind concert and dining experience."
As its introduction to Music City, City Winery has partnered with the iconic Americana Music Association's Honors & Awards to host the event's official VIP after party on Wednesday, September 17, along with a full calendar of shows during the Americana Music Festival. The Festival shows will serve as a soft opening, bringing together distinguished members of the music community and a slew of revered artists to celebrate and enjoy the distinctive City Winery experience. The venue will also serve as the after-party location for the second annual Music City Food + Wine Festival.
"City Winery is one of my favorite places to play. Michael is truly focused on the artist and really respects the music. That in combination with his passion for wine and food results in an incredible experience for the fan," said renowned artist and frequent City Winery performer, Steve Earle.
Known for its high-caliber and eclectic music bookings, City Winery has announced its first round of scheduled shows below. Members of City Winery's 'VinoFile' program will be offered a special two week advance window to purchase tickets to these and all City Winery Nashville shows, along with other membership perks such as no additional ticket service fees, the ability to reserve one's favorite table using an online seat selector, and receive suggestions on wines from City Winery's expert virtual wine sommelier. For more information on the 'VinoFile' program and a full look at artists performing at City Winery Nashville, please visit http://www.citywinery.com/nashville/.
INITIAL CALENDAR OF EVENTS:
SEPTEMBER
9/17 – AmericanaFest Presents: The Deslondes, Sturgill Simpson & Caleb Klauder Country Band
9/18 – AmericanaFest Presents: Rodney Crowell, Laura Cantrell, Joe Henry, Grant-Lee Phillips & Robyn Hitchcock
9/19 – AmericanaFest Presents: Allison Moorer, Ethan Johns, Josh Ritter, Sarah Jarosz & Peter Bradley Adams
9/20 – AmericanaFest Presents: Cory Chisel's Soul Obscura, Joe Purdy (solo) & Holly Williams
9/21 – AmericanaFest Presents: Thirty Tigers Gospel Brunch hosted by Elizabeth Cook, feat. The McCrary Sisters, The Fairfield Four and special guests
9/26 – An Intimate Evening with Bobby Bare & Bobby Bare Jr.
9/27 – Steve Nieve Plays Elvis Costello: Piano Solo reinterpretations of Elvis' best songs with special guest Tall Ulysse
9/28 – Marc Broussard w/ Andy Suzuki & Mingo Fishtrap
OCTOBER
10/3 – Anders Osborne – A Special Solo Performance
10/4 – The Fauntleroys feat. Alejandro Escovedo, Nick Tremulis, Ivan Julian & Linda Pitmon
10/13 & 10/14 – Dr. Ralph Stanley & The Clinch Mountain Boys
10/15 – Markéta Irglová with Rosi Golan
10/17 – Sandra Bernhard
10/20 – Macy Gray
10/21 – Carbon Leaf
10/22 – Los Lobos performs La Pistola Y El Corazon
10/23 & 10/24 – The Wood Brothers
10/25 – Mindy Smith: One Moment More – 10th Anniversary Show
10/26 -Liz Longley & Marc Scibilia
10/30 – Leo Kottke
NOVEMBER
11/1 – Mike Doughty
11/5 – Howe Gelb & Grant Lee Philips
11/10 – An Evening with John Oates & special guests benefitting the T.J. Martell Foundation
11/13 – Daniel Lanois
11/14 & 11/15 – Sinéad O'Connor – I'm Not Bossy, I'm The Boss
11/18 & 11/19 – Leon Russell
11/20 – Griffin House
11/21 & 11/22 – David Grisman's Sextet
11/23 – Rhett Miller
11/30 – Dave Davies of The Kinks
DECEMBER
12/5 – Jackopierce
12/7 – Sonny Landreth & Cindy Cashdollar
FEBRUARY
2/15 – Dave Mason's Traffic Jam
2/17 & 2/18 – Arlo Guthrie – Alice's Restaurant 50th Anniversary Tour
City Winery's Nashville menu will offer signature City Winery dishes, as well as Music City-inspired creations. Guests will have the opportunity to select from the restaurant's extensive wine list, which features more than 400 wines, plus house-made City Winery selections available on tap. A head chef for City Winery Nashville will be named in the coming weeks.
About City Winery:
City Winery, founded in 2008, strives to deliver the highest-end combined culinary and cultural experience to urban wine enthusiasts. They are a unique facility located in several cities in the US including New York, Chicago, Napa and Nashville. The brand combines a fully functioning winery with intimate concerts, food & wine classes, private-events and fine dining. City Winery has created a compelling mix for their sophisticated clientele of foodies, and active cultural patrons bringing the wine country experience to the heart of large cities.