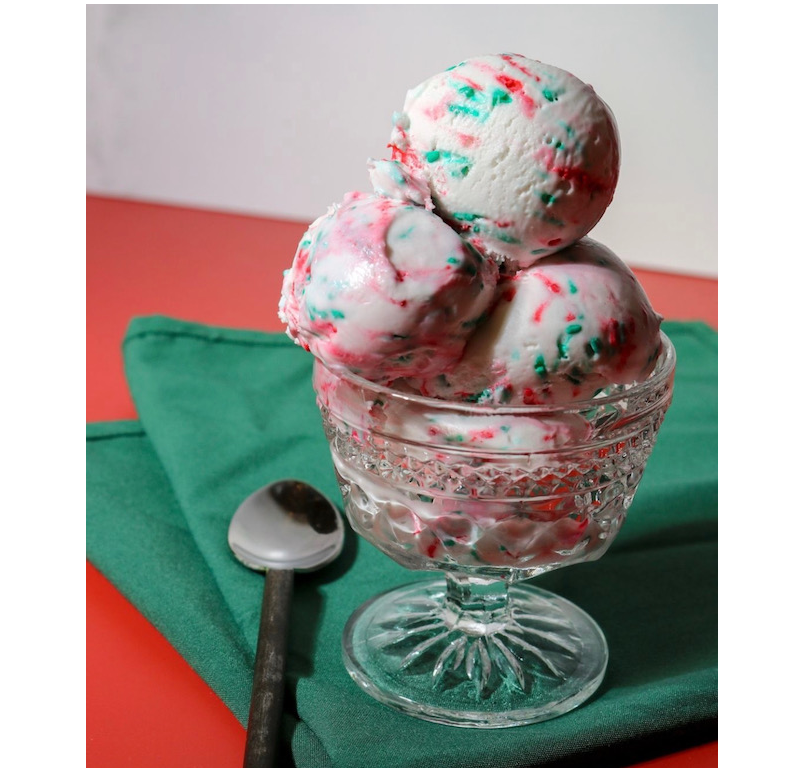 St. Louis-based microcreamery, Clementine's Naughty & Nice Ice Cream, announces today holiday ice cream collections with twelve ice creams (see full list below), complete with flavors to celebrate the Christmas and Hanukkah holidays. In the true spirit of the season to give back, Clementine's also collaborated with Bravo star and St. Louis native, Andy Cohen, to create a holiday flavor, Peppermint Andy, to benefit non-profit organization DOORWAYS St. Louis. The seasonal ice creams feature festive flavors of the season with new ice creams releasing the first three Fridays in December. Clementine's holiday flavors are available for nationwide shipping here in 4, 6, and 12-pint mix-and-match packs or in-person at Clementine's six St. Louis-based scoop shops.
"Ice cream brings people together. During the holiday season where we see friends and family, we wanted to offer some fun flavors, inspired by some of my favorite classic, comforting holiday treats and dishes," says Tamara Keefe, Founder and Flavor Temptress for Clementine's Naughty & Nice Ice Cream. "We are also honored to partner with Andy Cohen and DOORWAYS again this year on Peppermint Andy, a flavor inspired by his favorite flavor combination: peppermint and dark chocolate. Last holiday season, the flavor raised $12,498 for the organization. It's a wonderful way to celebrate the holiday season with a fantastic ice cream that will also benefit a great organization." DOORWAYS is a non-profit chosen by Andy that provides housing services for people living with HIV/AIDs.
From vegan specialty ice creams to naughty (boozy) ice creams reminiscent of revelry, Clementine's keeps the holiday spirit alive throughout the season with new festive flavors released through Friday, December 16. Detailed flavor descriptions and release dates, see below:
Currently Available:
Hanukkah Flavors

Challah Bread Pudding ($15; naughty): Rich challah bread, soaked in sweet egg custard and filled with brandied fruits, baked until golden brown in Clementine's Irish cream base. ⁠
Halva Chocolate Cherry ($12): Clementine's 16% dairy base with bubbling honey cooked with Israeli tahini, pistachio, dark chocolate and dark cherries.

Peppermint Andy ($12): pink peppermint ice cream with crushed peppermint candies and a decadent dark chocolate flake. Clementine's will donate 50% of sales from every pint sold to DOORWAYS St. Louis, a non-profit chosen by Andy that provides housing services for people living with HIV/AIDS.
Vegan Sugar Cookie ($15): Vegan non-dairy coconut milk base with crisp, sweet and warm sugar cookies fresh out of the oven with red and green jimmies.
Vegan Roasted Pineapple and Cherry Sorbet ($15): Oven roasted and caramelized pineapple whipped into a frozen treat with sweet cherries.
Polar Bäer ($15; naughty): A refined liquor made from 56 herbs, fruits and roots including citrus peel, saffron, ginger, anise and ginseng, this 'polar-izing' flavor is made into an unforgettable Jägermeister ice cream.
Champorado Pudding ($12): Our take on this Filipino favorite, chocolate with sticky rice with a swirl of sweetened condensed milk makes this ice cream reminiscent of the original comforting, rich and fulfilling childhood treat.
Available Friday, December 9:
The Nutcracker ($12): Pecan pralines, candied cashews, almonds and pecans wrapped in rich sweet cream dance merrily together in this festive concoction.
Sugar Plum Fairy ($12): Wisps of pink "fairy floss" (cotton candy) and sweet graham cracker crumble will have anyone on their toes with delight.
Mother Ginger ($12): Bright and fresh, this gingersnap cookie ice cream will have them begging for more.
Available Friday, December 16:
Jamaican Rum Cake ($15; naughty): Sweet cream combined with rich fruits soaked in both Myers's rum and Port wine, mixed with lime and pineapple and a touch of black treacle.
Cassata Cake ($12): Mascarpone cheese, a touch of glazed fruit peel and chocolate chips with a marzipan ribbon is part of every Italian's holiday memories.
For up-to-date information on Clementine's current flavors and upcoming flavor drops, visit their website at www.clementinescreamery.com, or follow them on Instagram at @clementinescreamery or Facebook @clementinescreamery.
About Clementine's Naughty & Nice Ice Cream: Clementine's Naughty and Nice Ice Cream is a St. Louis based microcreamery, the only microcreamery in the state of Missouri, featuring unique "nice" flavors, vegan options, and a "naughty" (booze infused) line of ice creams. In 2019 their Gooey Butter Cake Ice Cream was named to Oprah Magazine's "The O List" as the "sexiest ice cream alive". Founded in 2014 by Tamara Keefe when she quit her high-profile marketing gig in corporate America to pursue her lifelong passion for making ice cream, the company has grown to six locations in the St. Louis area and also ships nationwide, with plans to further expand with the recent purchase of 25,000 sq. ft. production facility. Clementine's places an emphasis on locally sourced ingredients as well as strong community ties. Clementine's also has six scoop shops in the St. Louis area. To order online or to ship nationwide, visit www.clementinescreamery.com.