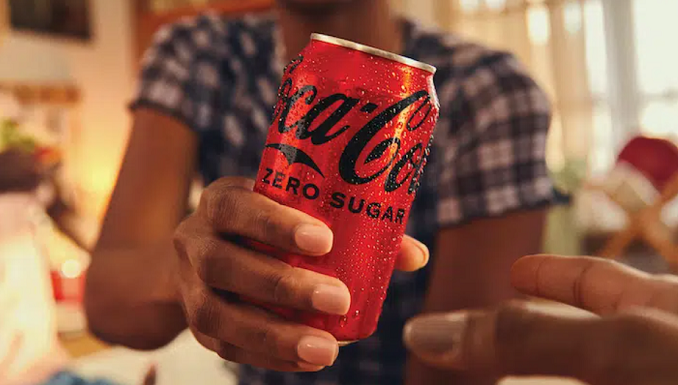 Coca-Cola Zero Sugar is rolling out an even more delicious and refreshing recipe—and bold new packaging—to deliver an even more iconic Coke taste.
The new recipe—which optimizes existing Coca‑Cola Zero Sugar flavors and existing ingredients—starts hitting shelves this month in the United States, with full nationwide distribution in the U.S. and Canada starting in August with full distribution in September. All listed ingredients and nutritional information remain the same.
A simplified packaging design is anchored by the iconic Coca‑Cola logo and red cues, with black Spencerian script signaling the Zero Sugar variety and "Now More Delicious" messaging highlighting the new formula in the U.S.. All Coca‑Cola Zero Sugar packaging—including 7.5-oz. and 12-oz. cans, fridge packs, and 13.2-oz., 16.9-oz., 20-oz., 1.25-liter and 2-liter bottles—will feature the streamlined graphics, as well as in Coca‑Cola Zero Sugar packaging in Canada – including 222 mL & 355 mL cans and 250mL, 300mL, 500mL, 710 mL, 1L and 2L bottles.
To celebrate and debut the launch of the new Coca‑Cola Zero Sugar, the brand will show up at "Manhattanhenge" on July 13 at 7:30 p.m. as New Yorkers gear up to check out the spectacular sunset.
"Manhattanhenge" occurs this year from July 12-13 in New York City, when the sunset perfectly aligns with east-west-oriented streets, framing the sun between skyscrapers as it dips below the horizon. The event draws thousands of New Yorkers and tourists annually.
Onlookers at key intersections on July 12th were handed a "first sip" of the product before the official launch, and billboards throughout the city — will spread the Coca‑Cola Zero Sugar news. And the excitement isn't limited to the Big Apple; fans across the country can download special Coke Zero Sugar Snapchat Lenses to take sunset selfies at home.
An integrated marketing and sampling campaign will invite consumers to try the product and find out if it's the "Best Coke Ever?" Creative will break next month across outdoor, retail, streaming audio/local radio, online video, digital and social media channels. Additional content in the fall will leverage the brand's longstanding ties with professional and collegiate football teams.
The reformulation, which is currently on shelves across Europe and Latin America, supports The Coca‑Cola Company's strategy to offer a broad portfolio of beverages that fit a variety of tastes and lifestyles—and moving quickly and experimenting in an intelligent and disciplined manner.
Coca‑Cola Zero Sugar, which launched in 2005, was reformulated in 2017 to bring its taste even closer to Coca‑Cola. Since then, the brand has consistently delivered double-digit growth.
"In order to continue to drive growth of our diets and lights category, we must keep challenging ourselves to innovate and differentiate just as other iconic brands have done," Suarez said. "The consumer landscape is always changing, which means we must evolve to stay ahead."